Lost Your Wallet? 15 Tips To Survive TSA Airport Visits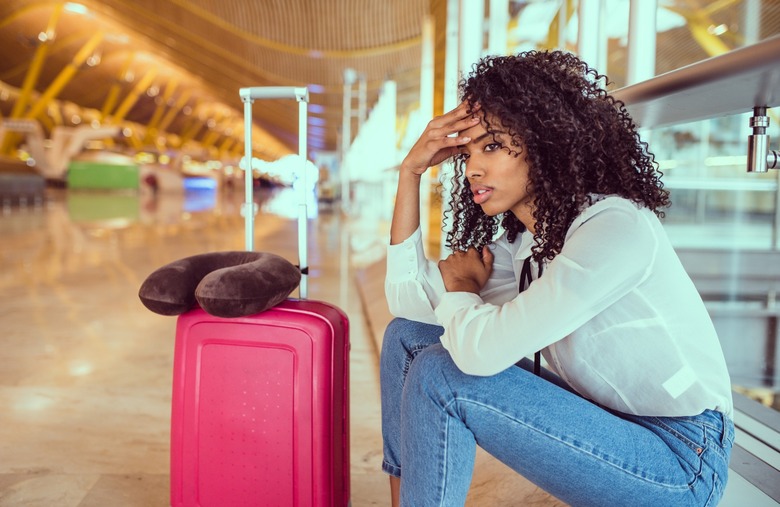 iStock
Perhaps the most dreaded part of air travel in America is dealing with the Transporation Security Administration, commonly referred to as the TSA. From standing in long lines to emptying your belongings into bins to having innocuous items confiscated, TSA's system can be a major headache. In the worst-case scenario, the lines and restrictions can even cause you to miss you flight.
In order to make this unavoidable process as painless as possible, there are expert tips and tricks you can follow to streamline your security screening and get you to your gate with minimal stress. If you're traveling with small children or have a mishap such as losing your wallet, there are many things you can do to survive your ordeal and make airplane travel as pain-free as possible using these tips for navigating TSA airport visits.
You can fly without an ID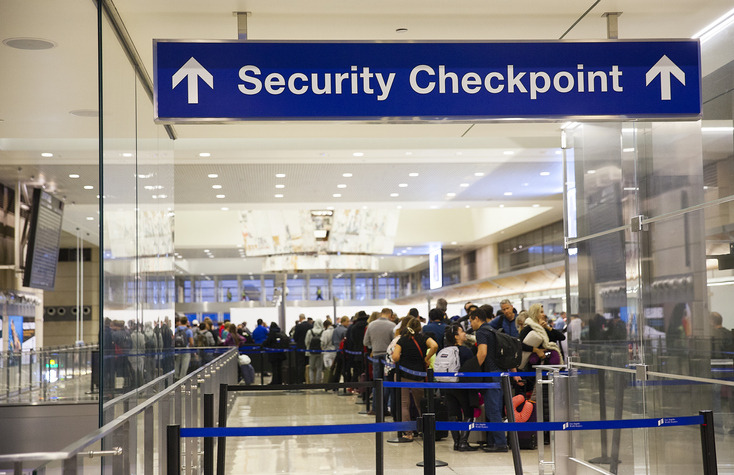 iStock
If you've forgotten your driver's license or other identification at home while heading to the airport, don't panic. TSA may still allow you to fly if they can otherwise verify your identity. They'll use information like your name and address to confirm your identity and put you through additional screenings, but you may still be allowed on your flight. Whether you're traveling domestically or abroad, it's helpful to save photocopies of your IDs to help in the process of verifying your identity.
Get TSA pre-approved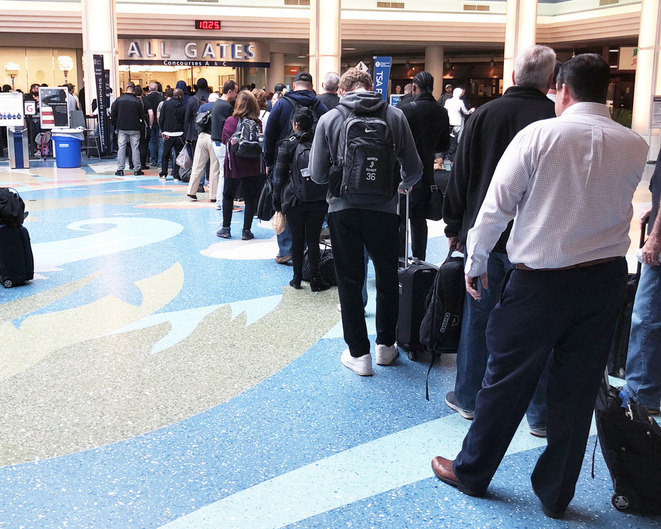 iStock
The surest way to guarantee a speedy security screening is getting TSA pre-approved. Travelers who pay for TSA PreCheck ($85 for five years) or Global Entry ($100 for five years) have their own expedited line and don't have to remove items like shoes, jackets and laptops during security screening. According to TSA, in December 2018, 94 percent of PreCheck passengers waited less than five minutes. And at airports like the bustling Atlanta Hartsfield-Jackson, the PreCheck line moves 2.5 times faster than the regular security line.
Check TSA wait times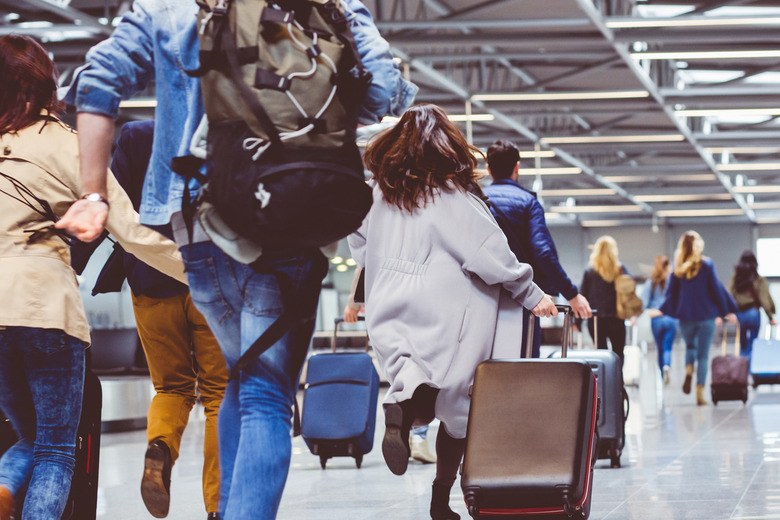 iStock
You can engineer an easier TSA process even before you get to the airport. You can check the wait time for security screenings in real time instead of just estimating. The TSA has an app with listed wait times based on reports from fellow travelers as well as approximate times for the day of the week and time you plan on traveling. You can use this to plan how early to arrive as well as which terminal to go through security in.
Bring the right kind of snacks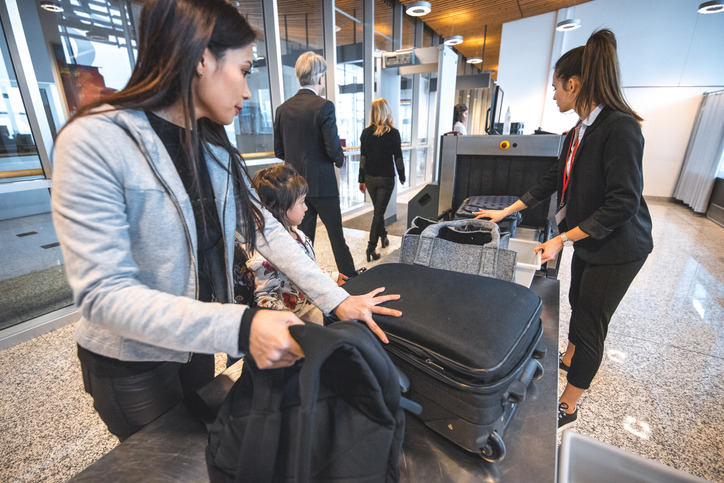 iStock
While you can buy food and drinks at the airport, it's often overpriced and leans toward candy rather than healthy, filling snacks. Bring an empty reusable water bottle with you and fill it up once you're past security. You can also bring protein powder or dried oatmeal and add water once you're on the other side. Even "liquid" snacks like yogurt and hummus can come through as long as they're less than 3.4 ounces and fit with your other liquid items. Nuts, jerky, granola bars, dried fruit, cheese and crackers are other great options.
Avoid items that need to be swabbed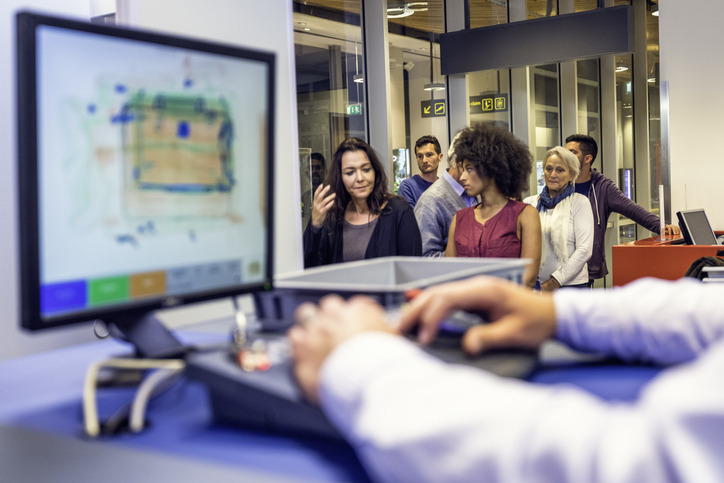 iStock
While you should bring snacks to sustain you during your travels, bringing too many food products will actually make things go slower for you with TSA. You now must remove any food items from your carry-on bags, and these items are often flagged for manual search in order to be swabbed, meaning you'll have to wait in another line for an agent to give your snacks the clear. While pre-packaged and sealed food items cause less of a holdup, certain foods like blocks of cheese or sausage actually look like explosives in the X-ray machine and will likely be flagged.
Bring your own power source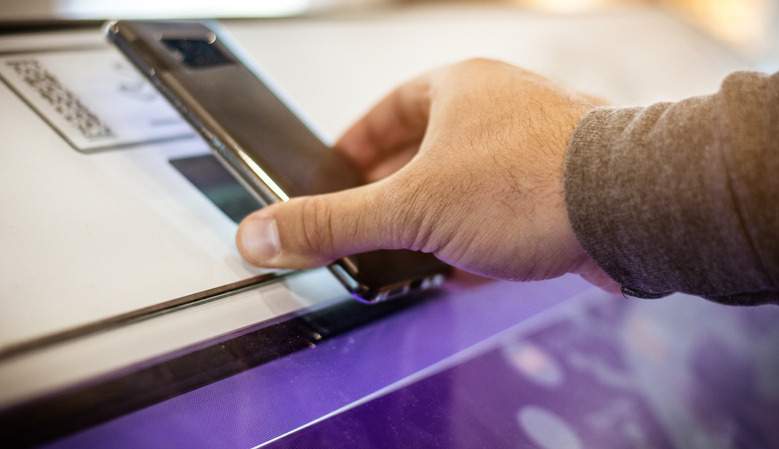 iStock
Checking in online and having a mobile boarding pass can certainly streamline things at the airport, but if you're using your phone in line to surf the web, check social media and stream videos, then you can easily drain your battery. If your phone dies before you get your boarding pass scanned, you'll have to get out of line to get a paper pass printed. So make sure you have plenty of charge or your own external power source.
Put everything in your pockets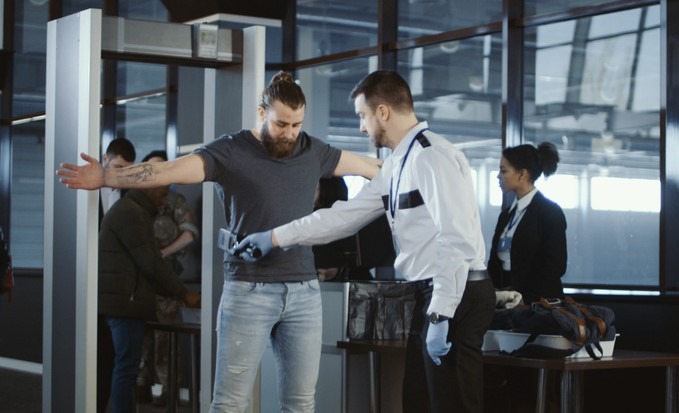 iStock
Most travelers know to take off their shoes and pull out their laptops once they make it to the front of the security line, but there's one easy tip to streamline getting your items into bins: pockets. TSA agents usually tell you to take everything out of your pockets. But if you wear a piece of outerwear with plenty of pockets, you can keep all the things you need handy, such as your phone, wallet, boarding pass, and other essential travel accessories. When it's time to put things in bins, simply slip off your coat and throw it in. That way you won't forget anything in your other pockets or have valuable things sliding around in the bin.
Streamline your outfit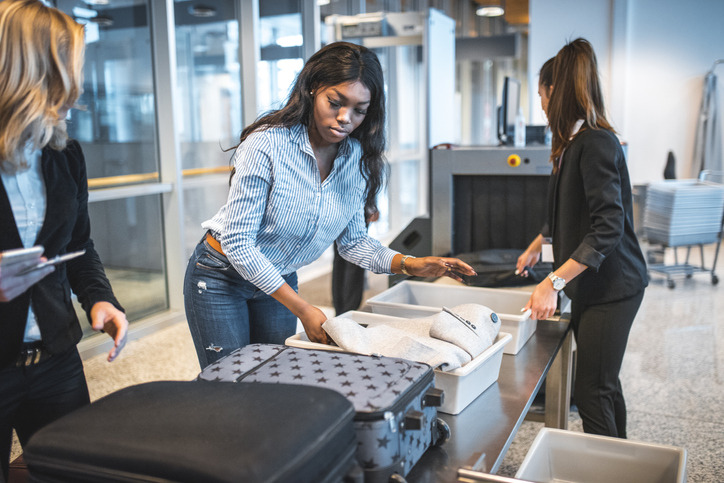 iStock
On top of opting for outerwear with pockets, make sure the rest of your outfit is easy to fly in. Clothing with lots of extra pockets, like cargo shorts, set off the scanner, as do lots of buttons, zippers or sequins.
Keep left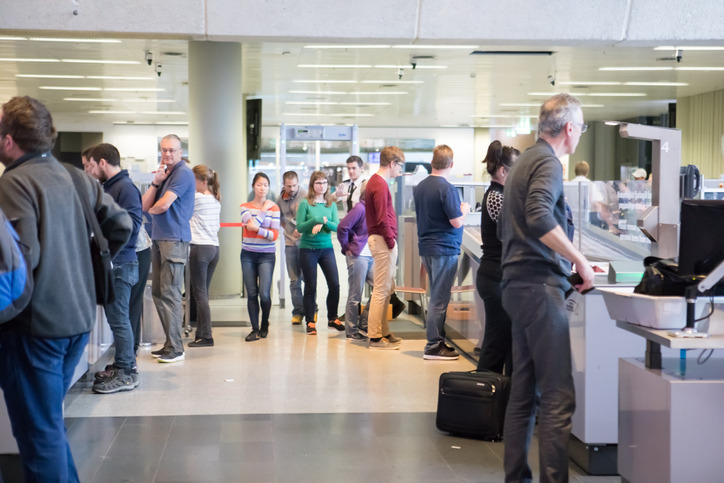 iStock
If you're faced with winding security lines, keep left. The majority of people are right-handed and naturally gravitate to the right, so the left-hand lines will likely be shorter and move faster.
Wear the right shoes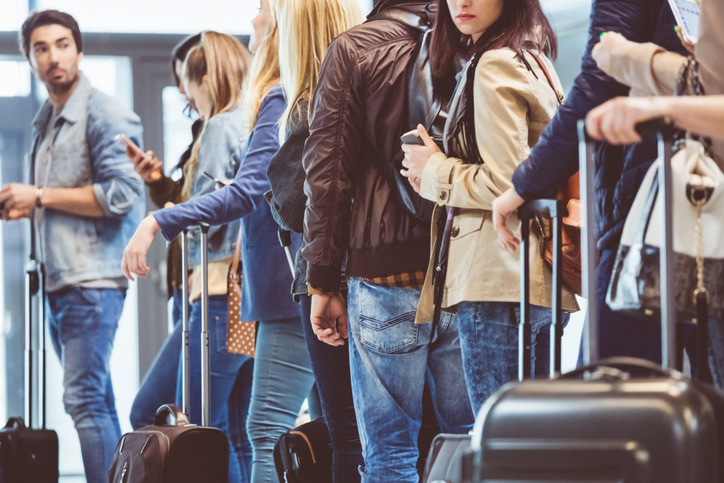 iStock
When many people make the same small mistakes, that adds up to big delays in the TSA line. When you're flying, remember to wear shoes you can easily slip on and off. Knee-high boots with feet of laces or shoes with complicated straps should stay in your bag. Flats or sneakers are your best bet.
Talk to the gate agent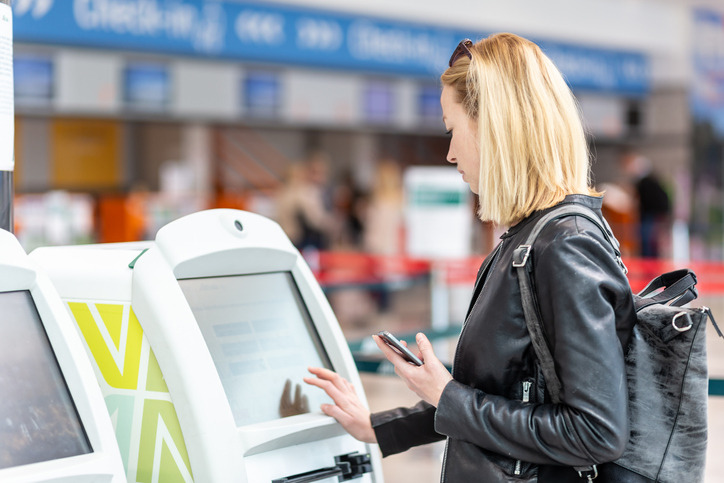 iStock
In our modern age, we're usually happy when computers make it so that we don't have to interact with people. Check-in kiosk machines make it easy to check in and drop off your bags with minimal conversation and wait time, but they also mean you miss out on potential help from an in-person agent. If you're traveling with small children or have mobility issues, head to the check-in counter where the agent might send you through a faster pre-check security line.
Fly off-peak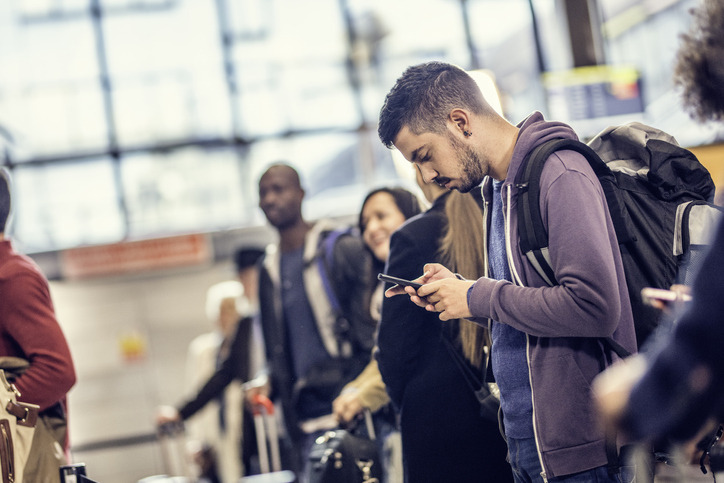 iStock
The best way to avoid long lines at the TSA is to fly on off-peak days and times. Mornings and weekend are the busiest time to fly, while mid-day and weekday flights, especially on Mondays, are usually much less crowded — as well as much cheaper.
Try another terminal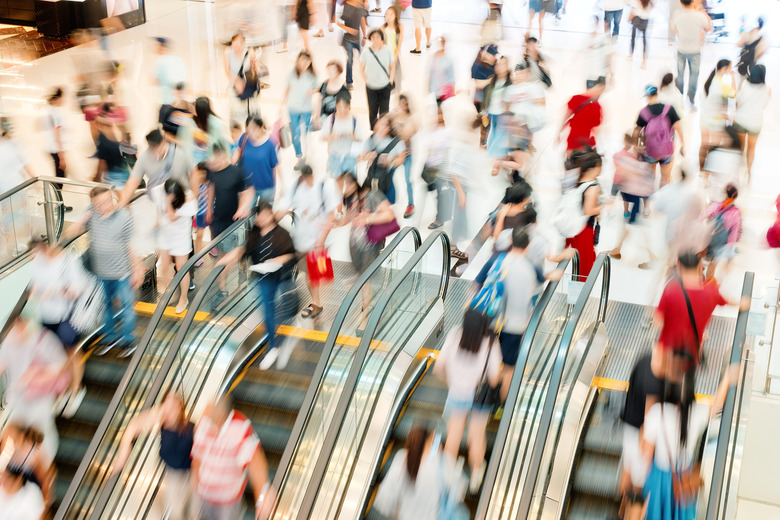 iStock
If you walk into your terminal only to see a queue stretching as far as the eye can see, it might be time to head to another terminal. For airports with interconnected terminals, such as Chicago O'Hare or Dallas/Fort Worth International Airport, you can actually go through security at a different domestic terminal. Find an airport employee to ask if another terminal is less crowded.
Choose an alternate airport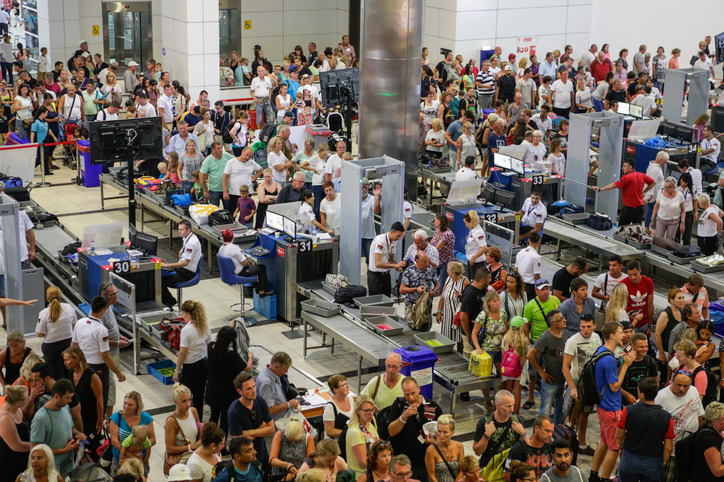 iStock
One clever way to avoid long lines at major airports it to fly into smaller regional airports for less lines and shorter TSA time. For example, Chicago Rockford International Airport is an hour and a half outside of Chicago, while Palm Beach International Airport is smaller and can be faster than the airports in Fort Lauderdale or Miami.
Be patient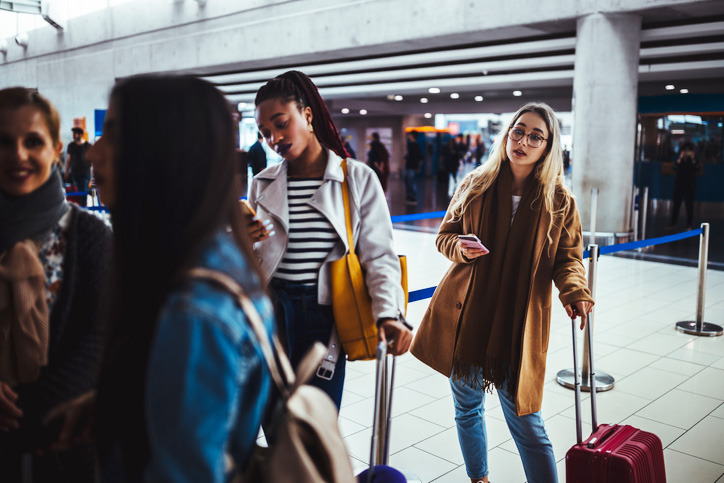 iStock