This Haunted Hotel Might Have A Portal To The "Other Side"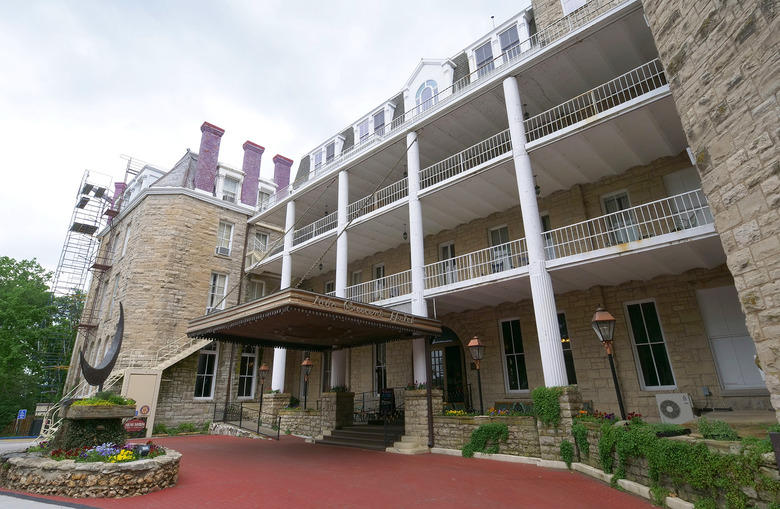 Shutterstock
The 1886 Crescent Hotel & Spa in Eureka Springs, Arkansas, is said to be one of the most haunted hotels in America. Over the years, many guests have reported ghost sightings and other paranormal activity, a fact that was known to Marty and Elise Roenigk when they bought the hotel in 1997. As a result, the Roenigks hired two certified mediums to do a reading of the building. The mediums found that the hotel showed signs of being a portal "to the other side," as in a "dimension that holds the spirits of the dead" and can be accessed by those "on the same frequency" as ghosts.
The Most Haunted Place in Every State
But just why is a supposed portal to the other side located inside a hotel?
According to legend, in 1937, radio personality and inventor Norman G. Baker bought the building and housed a hospital. There, he treated cancer patients despite lacking any training and, as a result, allegedly many people died. The apparent "portal" in the Crescent Hotel is located on top of what used to be the morgue of that hospital.
Since then, many guests have booked a stay at the haunted hotel and have experienced many classic signs that a place is haunted. People have reported seeing the ghosts of Baker's patients as well as that of Morris, a beloved cat that used to live in the hotel and is buried behind it. Because of these sightings, as well as the findings of the mediums hired by the Roenigks, the Crescent Hotel hosts ghost tours every night for guests who want to brave staying overnight in one of the country's haunted hotels.