Off-The-Grid Destinations Every Adventure Enthusiast Should Visit
Off-The-Grid Destinations Every Adventure Enthusiast Should Visit
Not only are more and more travelers looking for destinations that will allow them to unplug while they unwind, but they're also increasingly opting for more remote locations— off-the-grid destinations, if you will. A recent Tourism and Travel Trends Report by Resonance Consultancy found that 26 percent of U.S. travelers enjoy visiting "rare and remote landscapes like Antarctica, the Galapagos Islands or the Arctic," and 54 percent said they would eventually like to try visiting such places.
Additionally, the report found millennials may be the most adventurous types of travelers—71 percent said they want to participate in adventure activities (defined as physical activity, a cultural exchange or interaction and engagement with nature) that take them outside of their comfort zone when on vacation. Of course, regardless of when you were born, traveling to some of the more secluded areas of the earth can be a fulfilling and valuable experience in many different ways.
So, whether you're interested in seeing as much of this magnificent and massive planet as possible or you're simply interested in exploring some of the lesser-known, far-flung corners of the world, here a few of the most outstanding off-the-grid escapes that every adventure enthusiast should visit.
Amazonian Rainforest, Ecuador
For those who want to experience the true natural beauty of the Amazon jungle, there's hardly a better choice than The Huaorani Lodge. Located in a true Amazonian village, guests here lodge in palm thatched cabins, which are an authentic part of the culture of the Huaorani community and blend in with the surrounding environment. Plus, not only will visitors learn how to survive in the jungle from one of the most remote Amazonian cultures in the world, but they'll also have the chance to hike, hunt, swim, canoe and more.
Bhutan, South Asia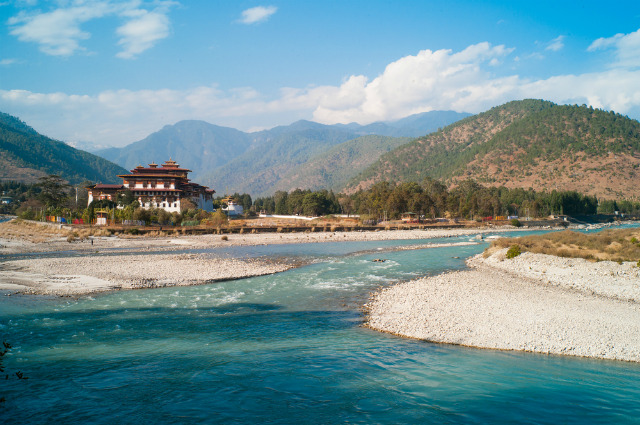 Shutterstock
"The world has few secrets left, but Bhutan is one of them," Kartie Hickman wrote in Dreams of the Peaceful Dragon.Nestled amidst the Eastern Himalaya Mountains this small, isolated kingdom only first welcomed outsiders starting in 1974. The outfitters at Zephyr Adventures call it "one of the most fascinating and welcome places on Earth," as there are numerous cultural and natural attractions to be admired including remote Buddhist monasteries, secluded villages and stunning mountain views.
Saba, Dutch Caribbean Islands
Saba is the smallest of the Dutch Caribbean Islands and widely considered one of the top diving destinations in the world, too. Its unique offerings go far beyond what's beneath the water, though. Referred to as "The Unspoiled Queen," Saba is quiet, serene and charming and home to a small, old-world village and plenty of opportunities for outdoor adventure including a trek up the aptly named Mount Scenery, a dormant volcano offering exquisite rainforest views. 
Gateway, Colo.
Situated in the spectacular red rock canyons of western Colorado, Gateway Canyons Resort & Spa offers a rare chance to commit to a once-in-a-lifetime experience. With limited Internet access and minimal cell service visitors here have the opportunity to truly disconnect from the digital world and reconnect with nature in a remote location. Plus, with backcountry activities that include everything from horseback riding and mountainside fly fishing to ATV exploration and mountain biking, every type of adventurer will feel both engaged and at home.  
Tatai, Cambodia
An ideal destination for travelers who truly want to get away from the fast-paced nature of everyday life, the 4 Rivers Floating Lodge sits in the heart of the rainforest of the Cardamom Mountains and offers a unique and comfortable home-base for visitors interested in experiencing Cambodia's natural ecology with the outfitters at Audley Travel. Accessible only by boat, the small resort features 12 safari-style floating tents and guests are invited to partake in activities like kayaking, hiking and boat trips to nearby fishing communities.
Taha'a, French Polynesia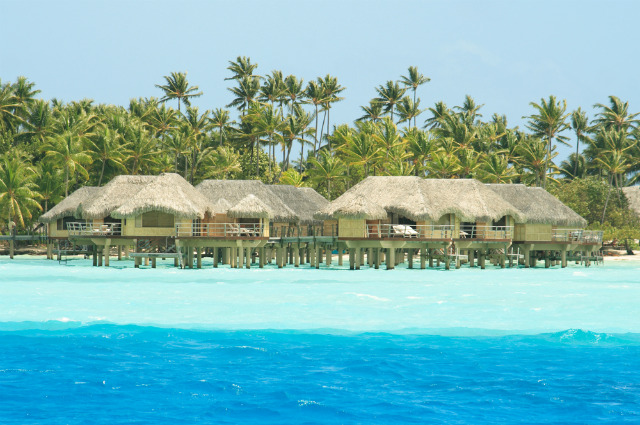 Photo Credit: Guido Amrein, Switzerland/Shutterstock
According to the Professional Association of Diving Instructors (PADI), the islands of Tahiti receive as many visitors in an entire year as Hawaii does in approximately 12 days, so for travelers in search of a secluded escape an island like Taha'a is no doubt an idyllic option. Known best for its picturesque beaches and dazzling views, the island also happens to be a top spot for diving, too. "If you dive the right side of the pass, you will discover a deep drop off coated in yellow coral and possibly some white tip sharks," PADI experts explain. "To the left, you'll experience shallower dives and witness eagle rays, tuna, moray eels and parrotfish swimming in the shallower waters."
Great Bear Rainforest, Canada
A trip to this road-less wilderness makes for the ultimate adventure escape. Great Bear Rainforest visitors must rely on the fjord-lined waterways while exploring this vast six-million hectare expanse. The only place in the world where the rare white spirit bear can be spotted, the Great Bear Rainforest is also home to majestic wildflower meadows and wide array of wildlife including grizzly bears, whales, wolves and bald eagles. 
Yangshuo County, China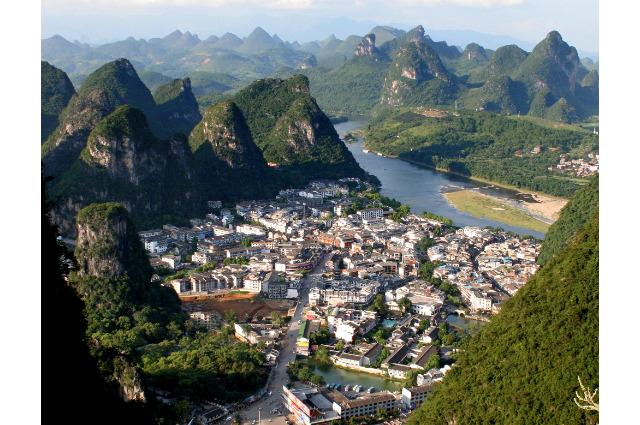 Photo Credit: "YangshuoFromTvTower" by Ericbolz - CC by Public Domain via Commons
"Yangshuo, China is one of the most gorgeous places I've ever seen," said Brendan Gibson, co-founder of New Life ESL, an organization that connects schools in China with individuals who want to teach English there. A small county located in China's Guangxi region, Gibson said it's surrounded by beautiful mountains and breathtaking views. "You can enjoy ancient temples and lots of hiking in Yangshuo," he added. "Also be sure to check out the mud caves for a day and be sure to get a selfie in one of the huge lily pad fields."
Azorean Islands, Portugal
Described as an adrenaline junkie's paradise, this Portuguese archipelago is still relatively undiscovered, yet still offers a wide range of adventurous activities. From canyoning and cliff diving to big-game fishing and paragliding, all types of adventure enthusiasts will find excitement here. Plus, the islands are free of hotel and restaurants chains, meaning a truly authentic adventure experience awaits anyone willing to make the trip.
Channel Islands National Park, Calif.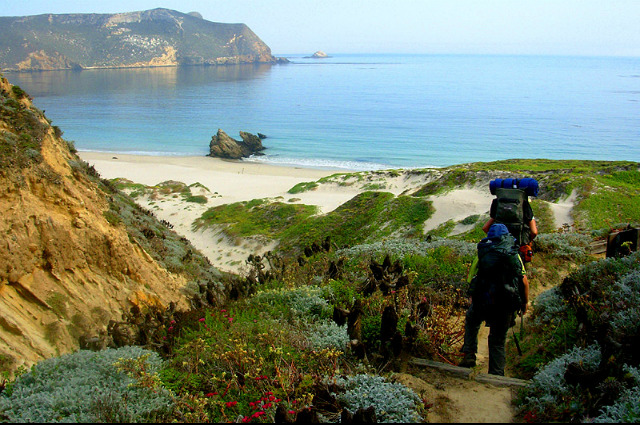 Photo Credit: "San-miguel-cuyler-hike" by Toddclark, CC BY-SA 3.0 via Commons
Often referred to as the "American Galapagos," Channel Islands National Park is a lesser-known treasure of North America. Five islands, each with its own unique, unspoiled environment, make up an enormous natural playground. From kayaking one of the largest sea caves in the world to snorkeling amidst one of the ocean's most vibrant marine biospheres there's hardly a shortage of opportunities for making a deep connection with nature. Visitors can opt to visit for the day, or plan a multi-day camping trip for a true chance to unplug and recharge using only Mother Nature' natural energy.  
Kalalau Beach, Hawaii
Located on the Nā Pali coast of Hawaii's Kauaʻi Island, Kalalau has much to offer by way of both adventure and escape. "This destination [is] an amazing adventure for those who seek both challenge and isolation," said Justin Jackson, managing editor and writer at Skilled Survival. According to Jackson there are only two ways to get to Kalalau, which he called a "soul-inspiring" destination—hike or kayak. "Both of these methods take significant effort and physical ability, which helps to keep this hidden gem both off-grid and natural," he said. "No crowds here, but also no amenities. It's a true backcountry backpacking and camping paradise for the adventure-seeking enthusiast."