Firefall Yosemite 2020: Natural Wonder Returns At The End Of February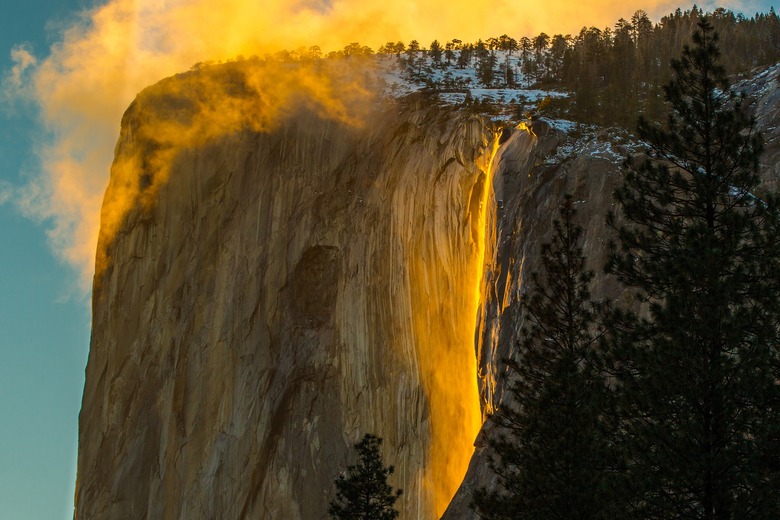 © Rinus_Baak | Dreamstime.com
As one of the top 10 most-visited national parks in the U.S., Yosemite draws more than 4 million visitors each year; many of whom consider the park a destination that everyone should see in their lifetime.
Covering more than 1,100 square miles, Yosemite is located in central California and whether you're a hiker or nature enthusiast, it's ideal for an extended vacation or even the perfect weekend getaway.
50 Undiscovered Wonders of the World
Half Dome, Yosemite Falls, Mariposa and the towering sequoias of Mariposa Grove are just a few of the park's most-visited tourist attractions, along with El Capitan, a formidable rock formation that draws rock climbers from around the world hoping to conquer its sheer drop.
Flowing over the eastern edge of El Capitan is another popular sight: Horsetail Fall.
At just 1,000 feet, Horsetail Fall flows only during the winter months and, in comparison to some of the more impressive waterfalls in the park, is pretty inconspicuous.
Except during the last two weeks of February, when visitors descend in droves to witness it "catch fire" at sunset.
Maybe one of the world's strangest natural wonders, it only occurs once a year when the angle of the setting sun illuminates the water from behind, creating a spectacular firefall effect.
Cascading down like a lava flow, the fall appears to glow a fiery red, yellow and orange and is nothing short of breathtaking.
Much like seeing the northern lights, conditions must be just right to view the natural phenomenon, which doesn't occur unless it's a clear evening, and according to the National Park Service website, "Even some haze or minor cloudiness can greatly diminish or eliminate the effect."
Due to the large crowds that gather at El Capitan to view the firefall, the National Park Service has put daily restrictions on viewing Horsetail Fall including lane closures and limits on pedestrian traffic.
You'll want to have your camera handy in order to capture the natural wonder. Even if you don't, seeing it in person just might be the travel experience of a lifetime.