Dollywood's Smoky Mountain Christmas Is The Must-See Holiday Theme Park Event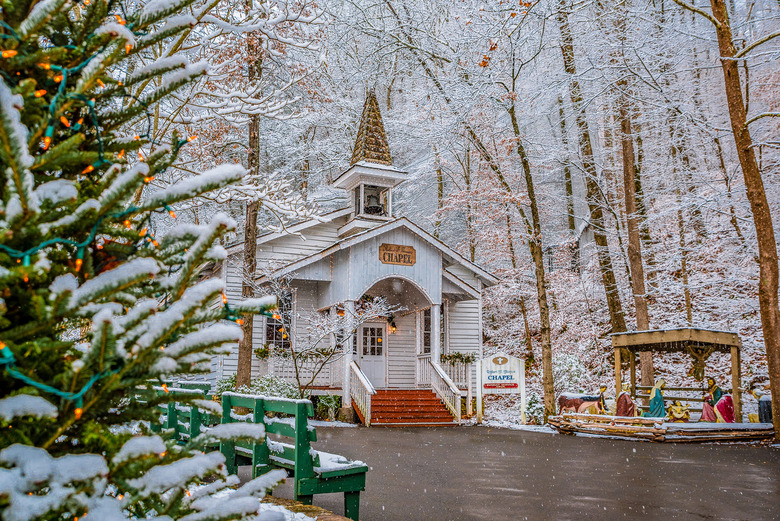 Courtesy of Dollywood
When you think of celebrating the holiday season at a theme park, your mind probably gravitates toward heading to Disney World for Christmas or perhaps hitting up an underrated regional theme park in your area. But for the past 10 years, one theme park in the hills of Pigeon Forge, Tennessee, has quietly been hosting the best Christmas celebration in the country.
The World's Most Magical Christmas Towns
Smoky Mountain Christmas at Dollywood has won the highly regarded Amusement Today Golden Ticket Award for Best Christmas Event every year since 2008, beating the likes of Magic Kingdom, Silver Dollar City, Hersheypark and Six Flags. In fact, it's the only theme park Christmas event to ever win this distinction.
Dollywood is by no means an unknown theme park. It's highly regarded for its thrill rides, friendly service, hearty food and ties to country music legend Dolly Parton, but what makes its holiday event so spectacular?
In true Dolly style, the shows are the best part of this annual event, with new spins on "A Visit From St. Nicholas," "It's a Wonderful Life" and the biblical Christmas story. The marquee show, however, is Christmas in the Smokies with a cast of 14 singers, dancers and actors who sing holiday songs about the mountains while accompanied by an eight-piece band. The park is also filled with music in nearly every corner, with a gospel band, folk band and a cappella group performing on various stages.
The holiday-themed entertainment doesn't end there at Smoky Mountain Christmas. There's also the remarkably charming Parade of Many Colors, which features brightly colored Christmas floats in the shapes of classic Dollywood symbols like guitars and butterflies as well as dancing snow globes, candy canes and elves. The Smoky Mountain Christmas experience is only getting bigger and brighter too. In 2018, the Glacier Ridge area was unveiled, complete with a 50-foot video motion Christmas tree that is lit nightly. It's one of the most spectacular Christmas light displays in the country.
Smoky Mountain Christmas will run from Nov. 9, 2019, through Jan. 4, 2020. If you can't make it to Dollywood this holiday season, you better not cry, you better not pout. Smoky Mountain Christmas is just one of the 20 theme park holiday celebrations worth visiting this Christmas.