The Coolest Rooftop Pools In America
Courtesy of The Dream Hotel
One of the best parts of summer is finally hitting the pool, whether it's to get in some tanning, relax by the poolside with a book, burn some calories with a good water workout, or to swim a few laps and splash around with friends. What can make a trip to the pool even more enjoyable, however, is when that pool is stunningly gorgeous. You don't need to be on a tropical getaway or out in the countryside to access a beautiful pool, however. While cities aren't usually the first place you think of when looking for amazing poolsides, cities are chock-full of the best kind of swimming oasis: the rooftop pool.
Rooftop pools can be found all over the country. Most commonly found on the top floor of a swanky hotel, you'll also find them at dayclubs and nightclubs where poolside parties are in full swing. In addition to poolside food and bar service, many have cabanas for rent and live DJs for entertainment. When creating a bucket list of which rooftop pools one should visit, we predictably found many in New York, California, and Las Vegas,  but we also found them in Texas, Boston, Atlanta, and even D.C. Nearly all were spectacular hotel pools, but a surprising number are open to the public. If you're looking for a great place to have some fun in the sun without getting sand in your pants, these rooftop pools are some of the coolest in the United States.
The Beach at Dream Downtown (New York, N.Y.)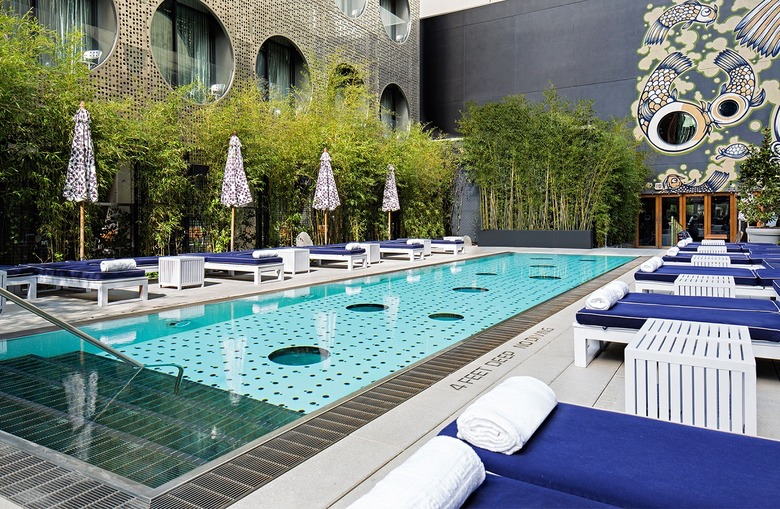 Courtesy of The Dream Hotel
The Beach, a rooftop pool at Dream Downtown in Manhattan, is as relaxing as its name implies. On the 5,000-square-foot deck, you'll find an 800-square-foot area of imported sand, as well as chaise lounges inspired by France's photogenic Côte d'Azur and two private cabanas. The most impressive part of the pool area, however, is the glass bottom of the pool itself, which allows you to look straight down into the lobby. After 12 p.m., guests must be 21 years or older to enjoy The Beach, which also includes a live DJ for you to enjoy as you drink a 10-pound Moscow mule or any of the delicious snacks or drinks from the bar and grill.
Boulevard Pool at The Cosmopolitan of Las Vegas (Las Vegas, Nev.)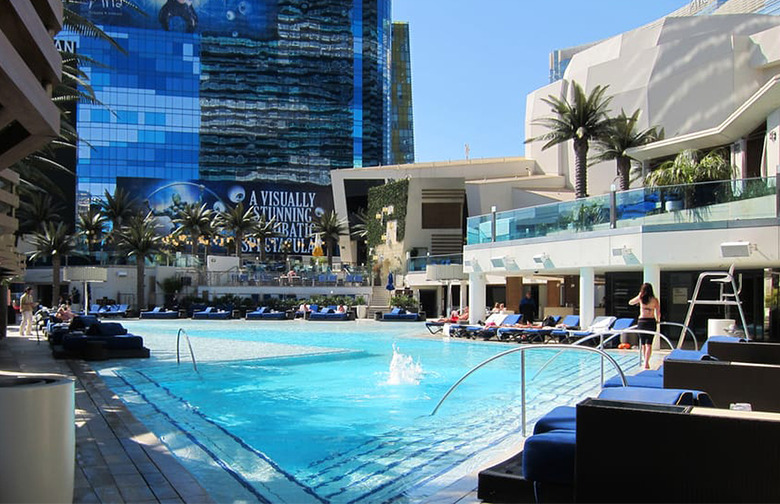 Eric S./Yelp
In addition to some of the best room service in the city, The Cosmopolitan of Las Vegas has three distinct and amazing pools with fantastic views of the Las Vegas strip. The best of the three, however, is the Boulevard Pool which has two decks, a walk-up bar, and a recreation area with foosball, billiards, and other games, as well as a lounge chairs and day beds that you can even lounge on in the pool. Boulevard Pool is known for its live musical performances as well as "Dive-In Movie" events, during which you can swim or lounge as you enjoy snacks and cocktails while watching films on a huge screen.
DNV Rooftop at The Kimpton Donovan (Washington, D.C.)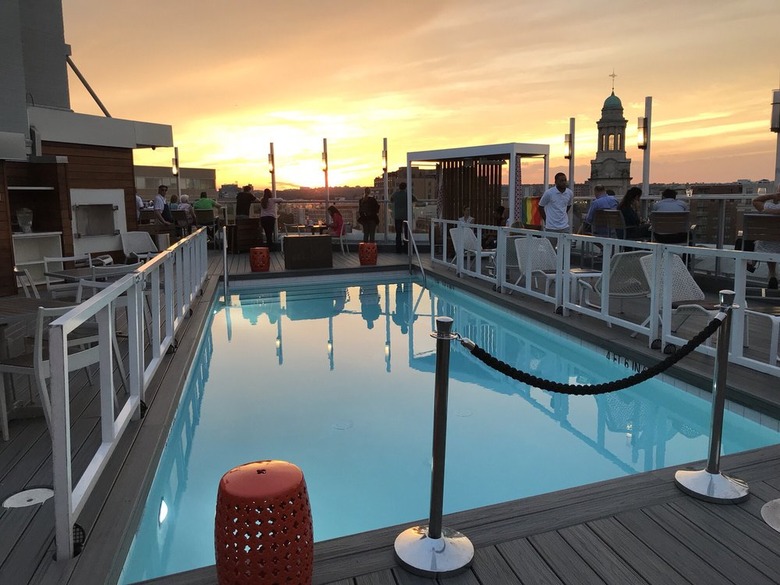 Phia Marie C./Yelp
With stunning views of national monuments, this DC hotel rooftop is a small yet lovely spot where you can enjoy East Asian-inspired tacos and tea-based cocktails poolside. Only hotel guests can swim during the day, but at 4 p.m. Monday through Friday and at 7 p.m. on the weekends, the rooftop lounge turns into a party where everyone can enjoy the bar's drinks and small plates.
Drai's Beachclub Pool at The Cromwell (Las Vegas, Nev.)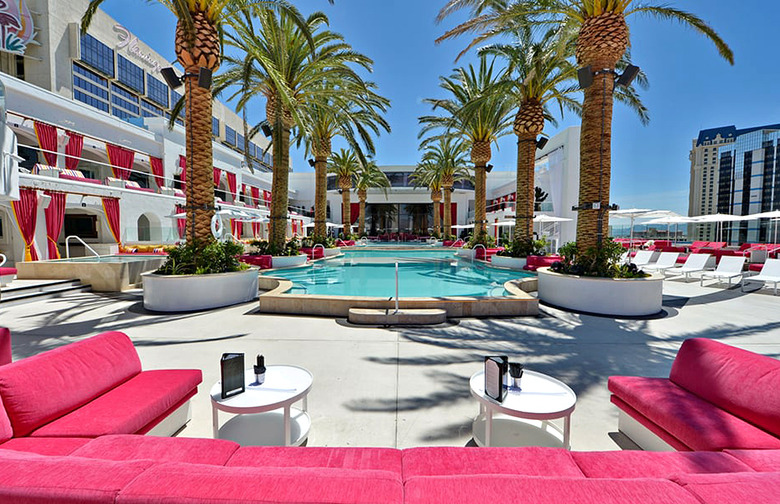 The Cromwell Las Vegas Resort & Casino/Yelp
Located on the rooftop of The Cromwell, Drai's Beachclub is a popular venue that enforces a strict dress code calling for "fashionable beachclub attire," and all guests must be at least 21 years of age to enjoy the club's eight luxury pools, two bars, and live DJ. Palm trees 35 feet tall and 40 poolside beds surround Vegas' only rooftop pool deck, and guests can also rent out one of 15 luxury cabanas, which even include private bathrooms fully equipped with showers, or 10 bungalows which include private spas.
Highbar at Dream South Beach (Miami Beach, Fla.)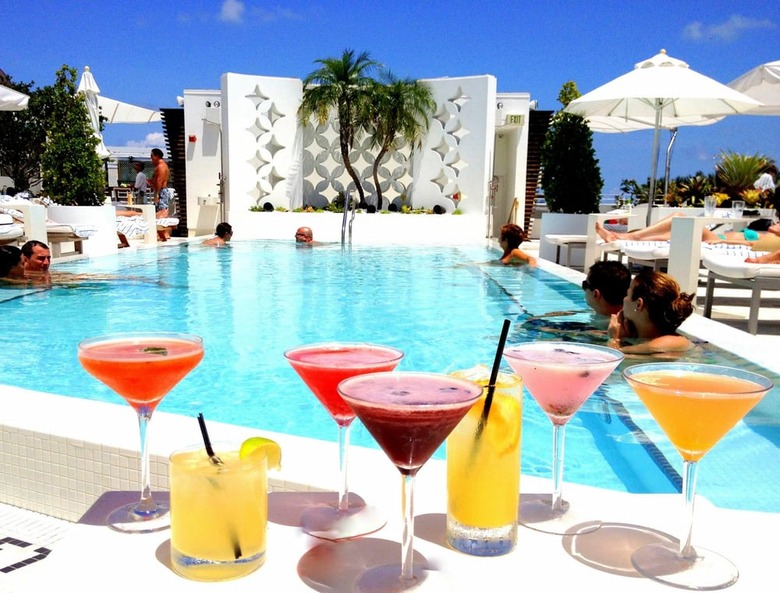 Highbar Miami/Yelp
Get that gorgeous South Beach look on the gleaming white rooftop at Dream South Beach, which has a super intense 1970s art deco vibe. Enjoy a refreshing fruity signature cocktail or some delicious Mexican food alongside the beautiful infinity pool. The pool is also only 70 feet from the beach itself, making for a stunning view past the lounge as well.
Infinity Pool at Four Seasons Hotel Seattle (Seattle, Wash.)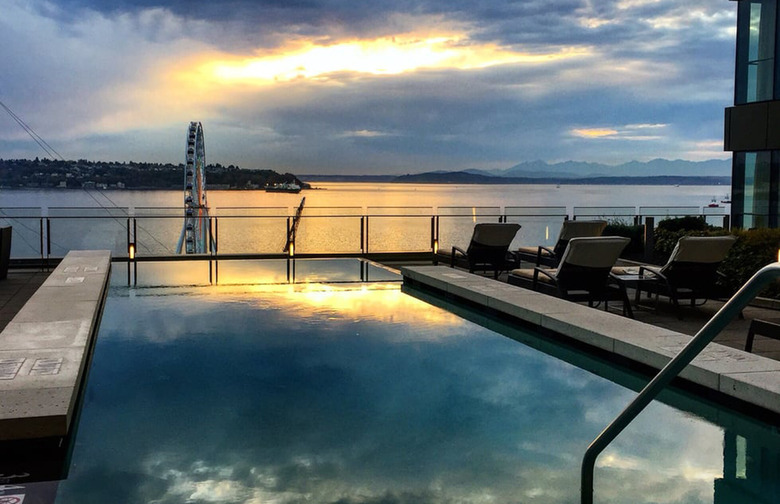 Garden of the Gods/Yelp
One of America's best kid-friendly hotels, Four Seasons Hotel Seattle is home to the city's only infinity hotel pool. The heated outdoor pool, located four stories up, is open year-round and has poolside service which includes chilled towers, and complimentary frozen treats and water. Enjoy a cabana or poolside lounge and umbrella as well as food and drinks from the poolside bar and grill.
Infinity Pool at The Joule (Dallas, Texas)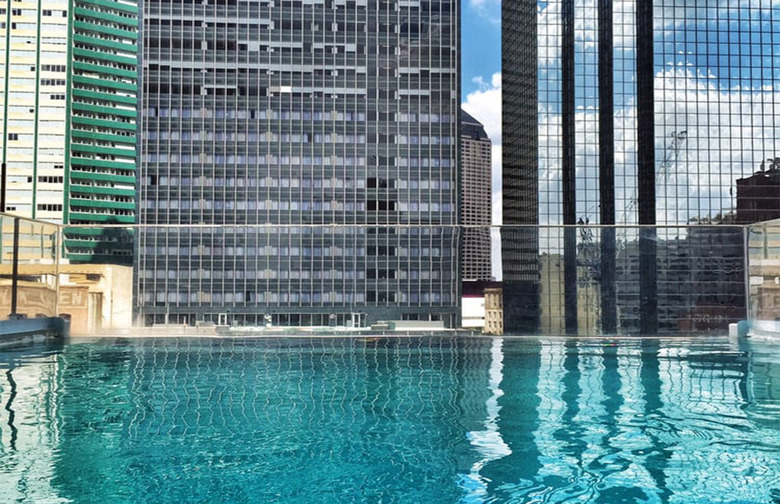 Tomer P./Yelp
The heated rooftop pool at The Joule, a beautiful boutique hotel in the heart of Dallas, juts out eight feet over the edge of the hotel, making for a stunning sight and a great way to enjoy the city. Only open during the spring and summer months, there are bungalows and sunbeds for you to relax in if the glass front of the pool kicks up your fear of heights too much.
Plunge Pool at 1 Hotel Brooklyn Bridge (New York, N.Y.)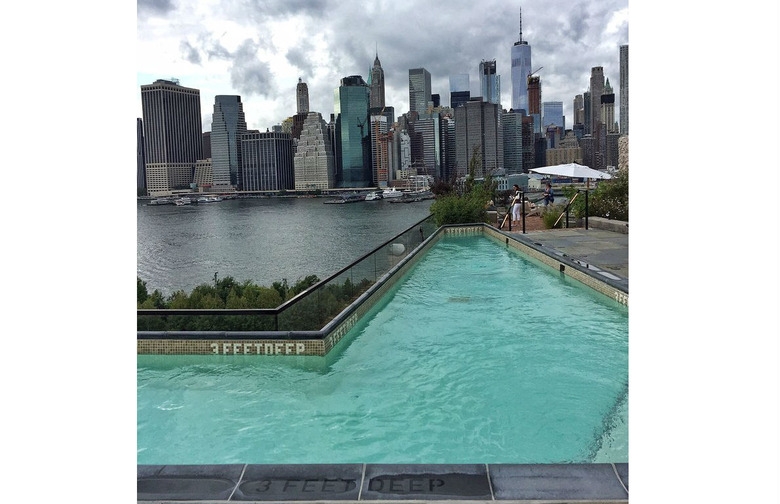 Philip T./Yelp
Exclusively for guests, the rooftop deck of 1 Hotel Brooklyn Bridge has a bar, lounge areas, and a beautiful pool with a great view of the East River. Enjoy handcrafted cocktails and a dip in the pool on any day or even hold a private event at this top Brooklyn spot.
Profundo Day Club at Ravel Hotel (New York, N.Y.)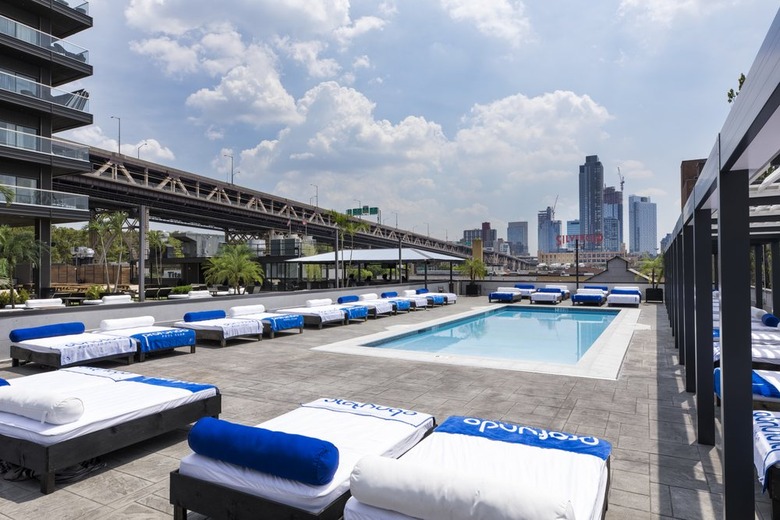 Profundo Day Club/Yelp
Located in the Queens neighborhood of Long Island City, Ravel Hotel is a lovely boutique hotel with a pool club on its rooftop that offers great relaxation during the day and full-on partying at night. Get a $50 day pass that includes a towel and Profundo Pool Bag or pay half-price if you're just coming in the evening. You'll have access to a premium menu and customized cocktails that you can enjoy poolside as you listen to live DJs, and you can also reserve a "Bali-inspired" day bed. The pool club also has a specific dress code that you should double-check before heading over that includes no socks with sandals, athletic wear, sweatpants, oversized jewelry, or speedos among others.
The Rooftop at The Standard (Los Angeles, Calif.)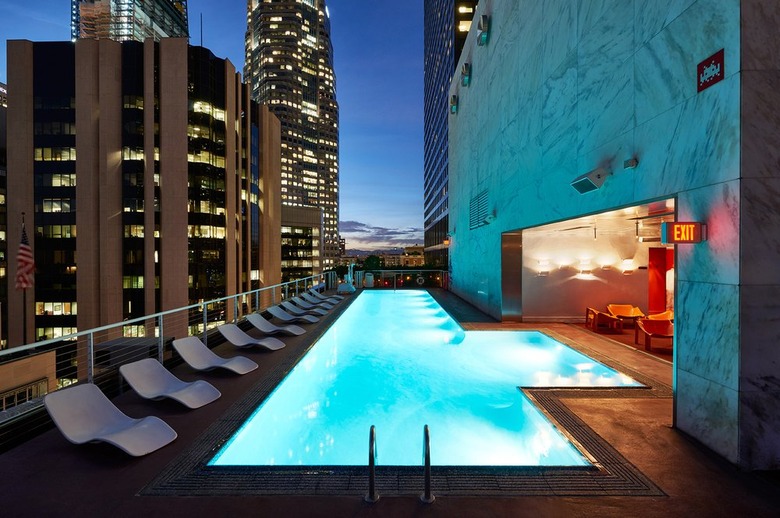 The Rooftop at The Standard, Downtown LA/Yelp
Set in downtown Los Angeles, The Standard is a modern hotel with a great location that you can seriously enjoy from its rooftop, which gives you a great view of the city and the mountains surrounding it. The pool itself is heated and has waterbed pods and a red AstroTurf deck. You'll have access to two bars, a private garden, and a ping-pong lounge, as well as an outdoor fireplace, dancefloor, and live DJs every night. The pool is open to the public Sunday through Thursday, but on Saturdays, The Standard holds rooftop parties that are only open to hotel guests.
The Rooftop by STK at Andaz San Diego (San Diego, Calif.)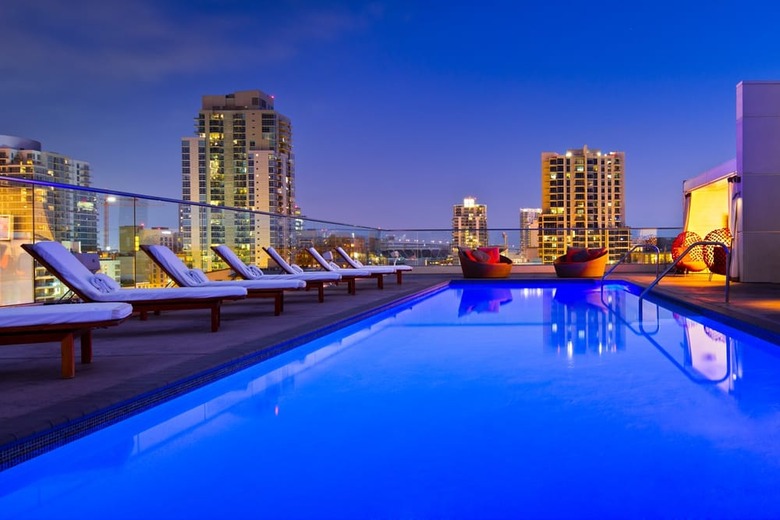 Rusty M./Yelp
Andaz San Diego, a Hyatt hotel located in the city's historic Gaslamp Quarter, has a rooftop with a bar and pool where you can relax or party to your heart's content. There are private cabanas by the pool that can be accessed from the hotel's suites, and the bar has some great food and drink specials, as well as entertainment from live DJs.
Rooftop Pool at Gansevoort Meatpacking NYC (New York, N.Y.)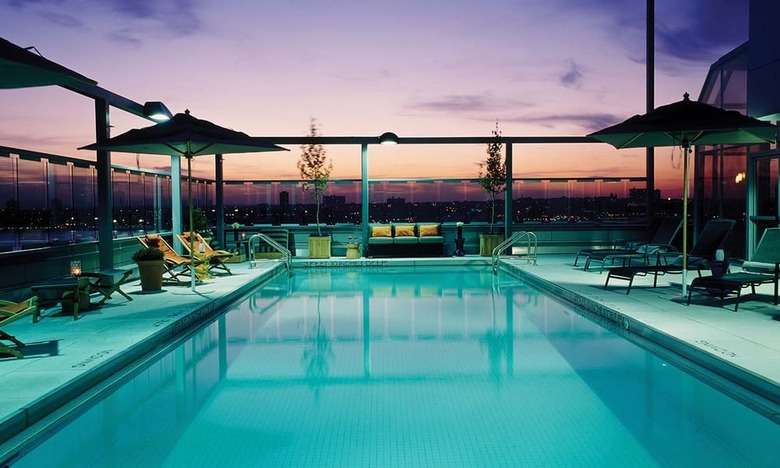 Gansevoort Meatpacking NYC/Yelp
Located in the Meatpacking district of Manhattan, the Gansevoort has an exclusive rooftop complete with a bar, lounge, and pool where you'll find a gorgeous view of the city. Dive into the pool and you'll also be treated to a view of the underwater lightshow along with some underwater music.
Rooftop Pool at The London West Hollywood (West Hollywood, Calif.)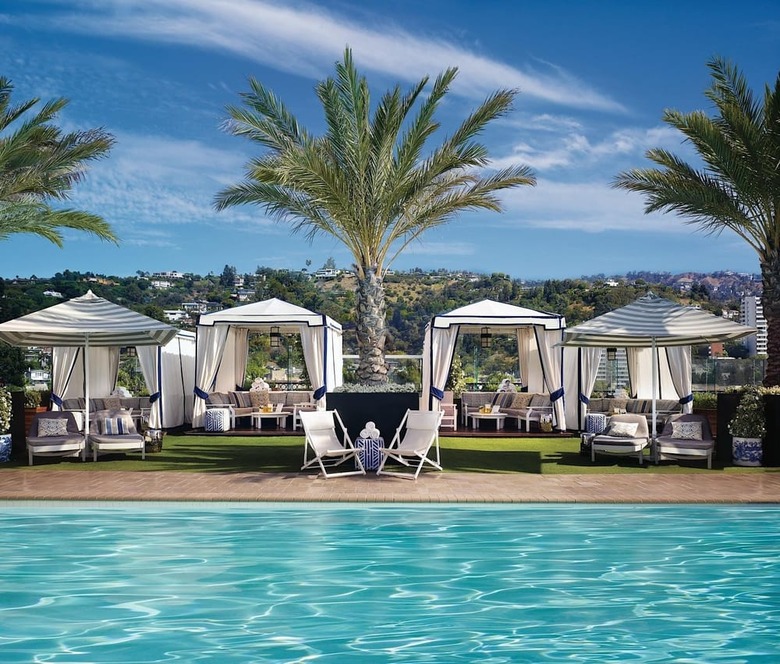 The London West Hollywood/Yelp
Enjoy a panoramic view of Los Angeles and Beverly Hills from atop The London West Hollywood pool deck which has private luxury cabanas for rent, comfortable couches, warm firepits, and a wonderful restaurant and bar. With an English garden feel thanks to Victorian-style loungers and calming greenery, this rooftop pool is absolutely gorgeous and has a working fountain too. Relax in the saltwater pool or kick back in one of the cabanas, which have mini fridges and TVS, as your Pool Concierge attends to your every need.
Rooftop Pool at Mondrian Los Angeles (West Hollywood, Calif.)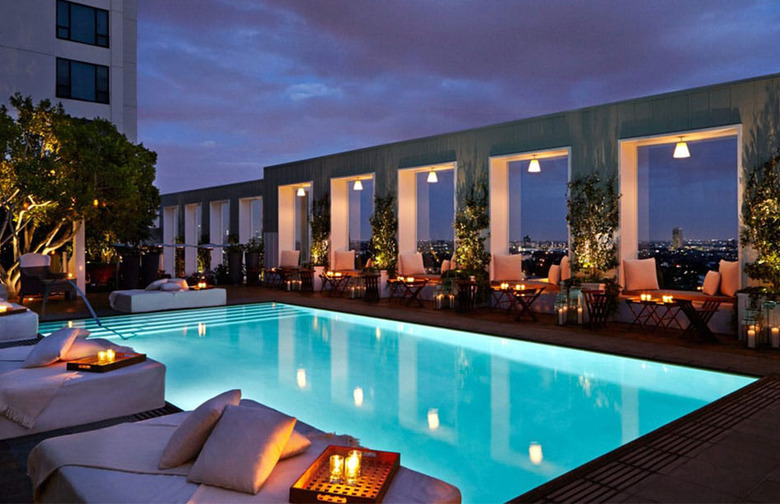 Mondrian Los Angeles Hotel/Yelp
Mondrian Los Angeles's rooftop pool is a stunning structure with an equally stunning view of the surrounding city. Teak and wicker furniture surrounds the poolside, as do beautiful flowers and trees, and at night lanterns decorate those trees, creating a romantic and luxurious vibe.
Rooftop Pool at RIO Nightclub + Dayclub (Austin, Texas)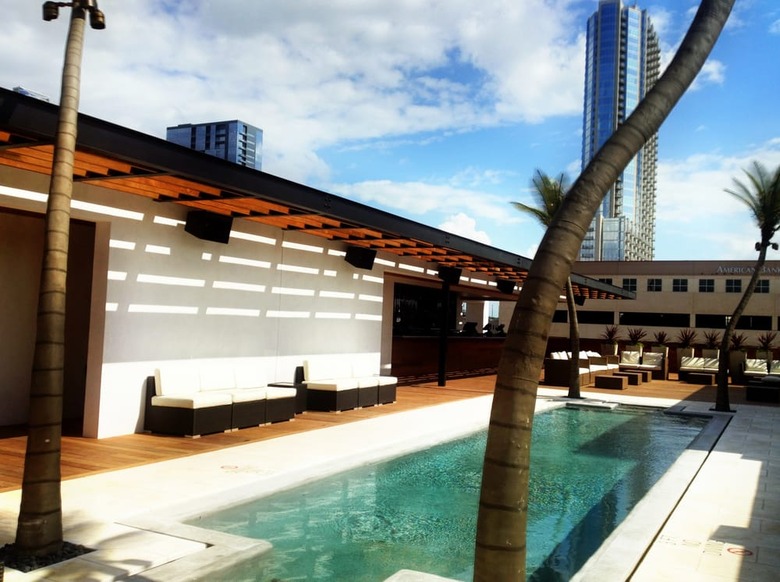 RIO Night Club + Day Club/Yelp
A popular spot for bachelor and bachelorette parties, RIO has a rooftop pool and lounge open from 2:00 pm to 9:00 pm on Saturdays and Sundays after which parties with a live DJ are held in the lounge part of the rooftop. From this third floor of the dayclub and nightcub, you'll get a beautiful view of the Austin skyline, bottle service, and even cabana and lounge seating, as well as access to the upscale dining just downstairs. The best part is that it's totally open to the public and there's no cover charge.
Rooftop@Revere at Revere Hotel Boston Common (Boston, Mass.)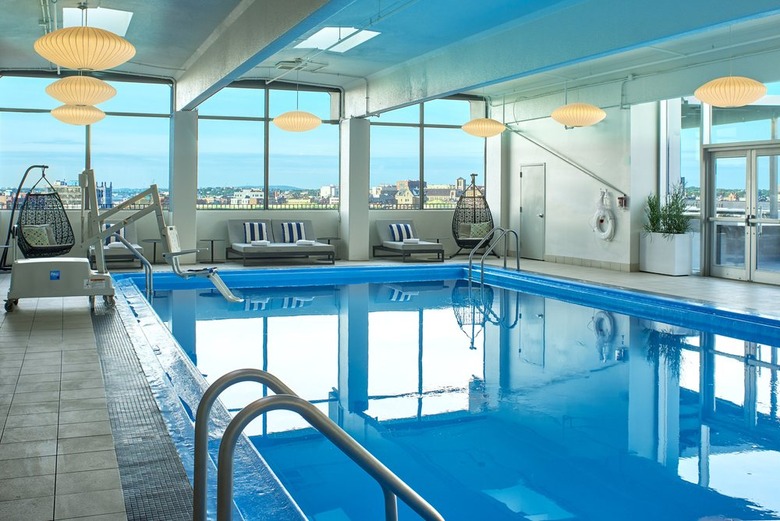 Revere Hotel Boston Common/Yelp
This rooftop pool is actually indoors and heated due to its location in the oft-chilly Boston Theatre District. You'll still have great views of the city through the windows, and you'll find the outdoor rooftop deck is ready with a bar full of great drinks and cocktails.
The RTP at The Colonnade Hotel (Boston, Mass.)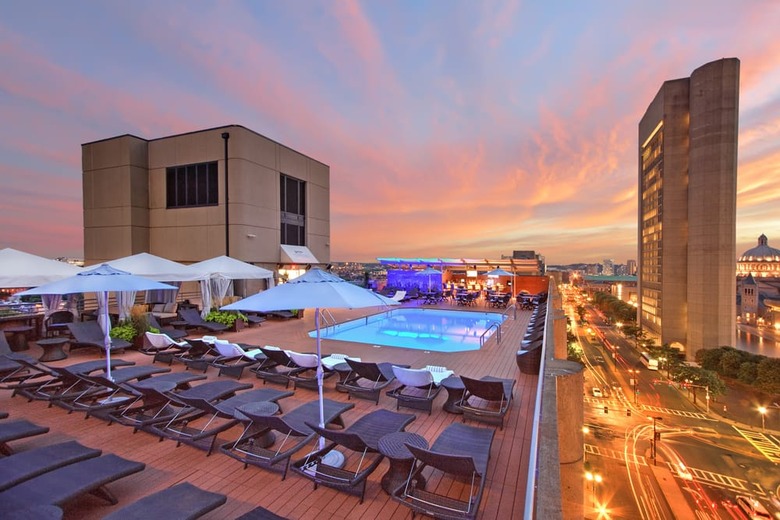 The Colonnade Hotel/Yelp
If you're looking for an outdoor rooftop pool in Boston, The Colonnade is home to the only one. Newly renovated, it's located 12 stories up, giving you a great view of the city. Plenty of events are held here, from yoga classes to concerts, and you can enjoy some poolside snacking and drinks here as well.
Tao Beach at The Venetian (Las Vegas, Nev.)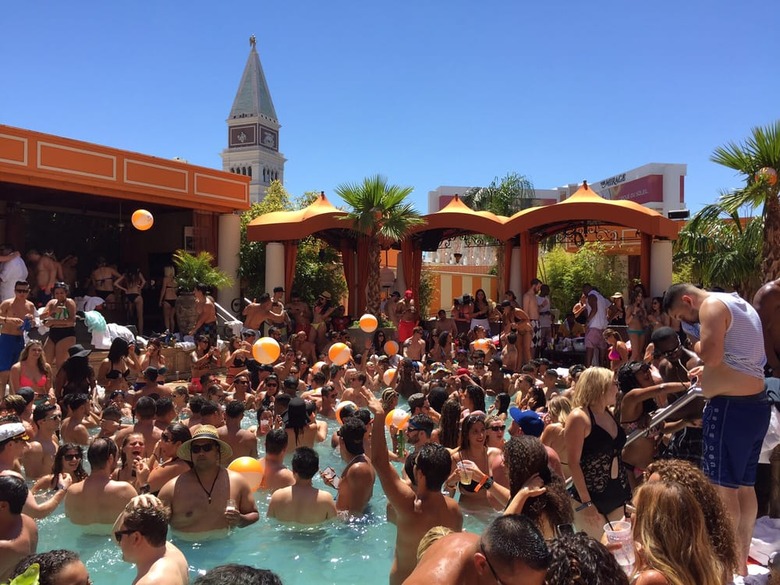 Iryna C./Yelp
The rooftop deck of The Venetian is one of the most Vegas parties in Vegas. Not only is it a nonstop party here with international DJs, wonderful cabanas and beds, masseuses on staff, and a 30-foot bar, but you'll also find quite a number of people going topless.
WET Deck at W Atlanta Downtown (Atlanta, Ga.)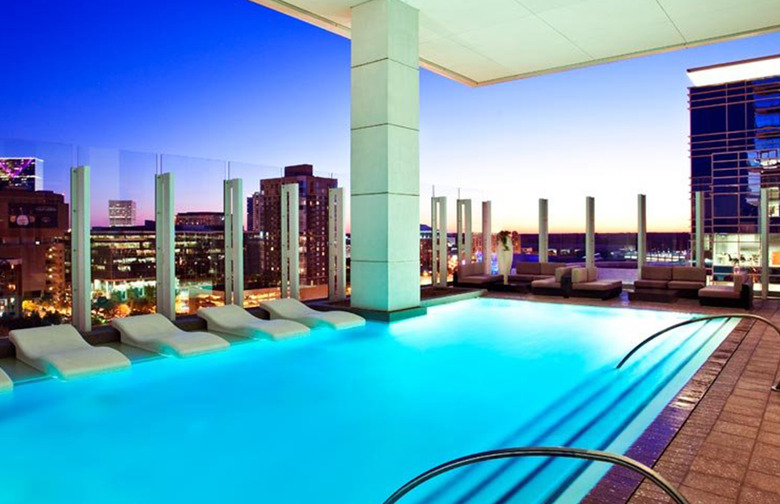 W Atlanta-Downtown/Yelp
W Atlanta Downtown is home to the only all-weather rooftop pool (and pool bar) in the great city of Atlanta, and it's a pool that gives you a beautifully panoramic view of that city as well. At WET Deck, you can enjoy one of WETBAR's signature cocktails and enjoy a plunge in the partially covered zero-edge pool or take part in one of the weekend events throughout the summer. Lounge on a luxurious-looking poolside chair with attendants serving all your needs regarding food and drink, as well as fun through poolside games.
Wet Republic at MGM Grand Las Vegas (Las Vegas, Nev.)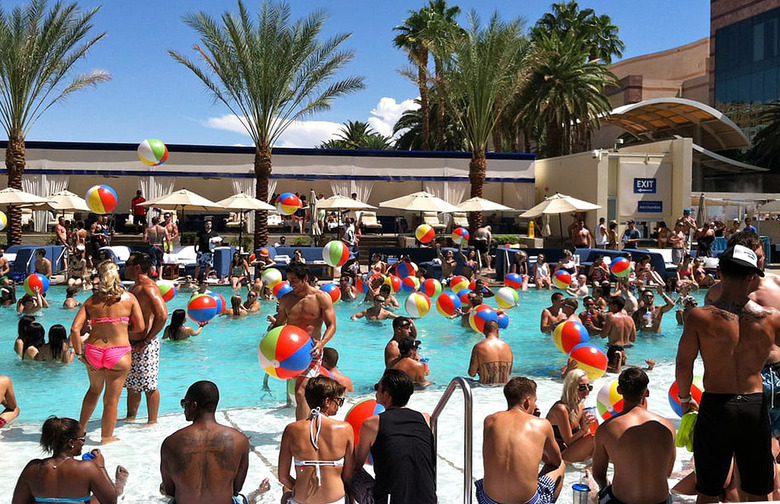 Denise L./Yelp
Referred to as "The Ultra Pool at MGM Grand," Wet Republic consists of over 6,000 square feet of pool area, all containing saltwater, with a DJ booth featuring an impressive 1,200-square-foot LED wall overhead and weekly events with top DJ talents. A calming white and blue color scheme throughout the pool area and the open-air covered lounge really gives off a vibe of luxury, as does a menu full of signature cocktails, premium bottle and pitcher service, and fantastic food, making this one of the world's most incredible hotel pools.