How You Can Live Like A High-Roller For A Night At This Private Casino Hotel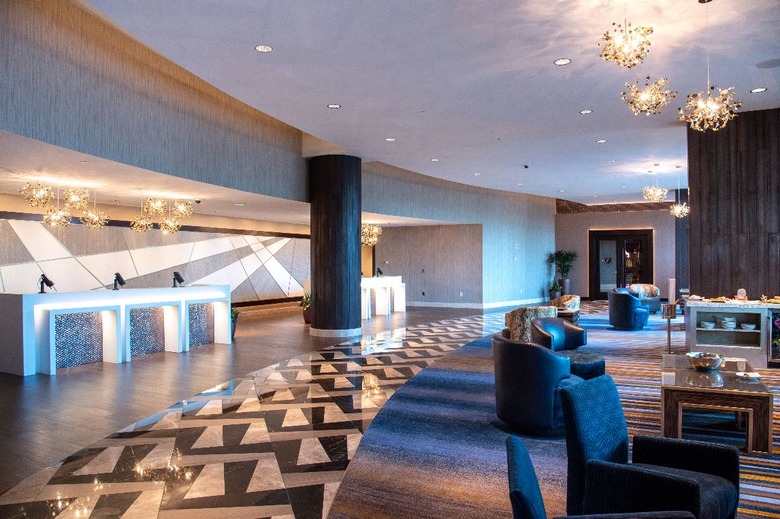 The hotel stay that is the subject of this review was provided at no cost to the writer.
A private entrance, a personal butler and high-tech appliances might sound like something reserved for only the rich and famous. But at this new casino hotel, anyone can live their best high-roller life for a night — if they've saved up for it.
Mohegan Sun is huge casino-resort in the Connecticut wilderness. Frequent visitors may know that there are two hotel towers on the property, but even regulars might not know that there's a luxury hotel-within-a-hotel perched on the top floors of the resort's Sky Tower that boasts some seriously wild ammenities. It's called Aspire, and The Active Times was invited to check it out at Mohegan Sun's invitation. 
The Biggest Mansions in America
The new addition, which officially opened in spring 2019, has its own private valet entrance and lobby, with an express elevator that transports guests up to its lofty heights. 
Aspire's occupies floors 33-36. The beds are super-soft, the minibar is stocked with top-shelf spirits, the bathroom is all marble and the amenities are from L'Occitane. All the appliances are also "smart," meaning you can control everything from the lighting and temperature to the "do not disturb" indicator from an iPad.
Standard rooms measure about 450 square feet, but there are five additional types of suites, from the 894-square-foot River Suite to the 2,200-square-foot Presidential Suite, all the way up to the absolutely insane Royal Suite, which clocks in at 3,500 square feet.
The Royal Suite is indeed fit for royalty. It has two master bedrooms, and both of them have their own Jacuzzi. There's also a massive living room with a large circular couch as well as a butler's pantry and kitchen.For travelers who need to catch a private jet at a local airport, complimentary limo service will take them there.
All Aspire guests also have their very own personal butler on call to do their bidding. Yes, a butler. A hotel rep told us that past requests have included providing meals (from the on-property restaurants as well as specific foods that can't be found on-property), decorating rooms for special occasions, personal shopping and walking dogs (because yes, dogs are welcome).
Thirty-Three, the private lounge located on the 33rd floor, is complimentary for Aspire guests and serves a lavish buffet of gourmet fare including shrimp cocktail, crab claws, grilled sirloin steak with chimichurri and a dessert spread. There's also an open bar stocked with top-shelf booze including Michter's Small Batch Rye, Jack Daniels Single Barrel, high-end Johnnie Walker Blue and the prized Glenlivet 18 and Macallan 18. The house Champagne? Moët & Chandon. We've seen hotel club lounges before, but none have offered complimentary pours of Johnnie Walker Blue! Now that's the high-roller life.
Food is served all day (breakfast, lunch and dinner), and the lounge is open from 7 a.m. to 11 p.m. during the week and until 2 a.m. on the weekends. Thirty-Three also has private blackjack and roulette tables.
So if someone wants to live like a high-roller for a night, how much can they expect to shell out? During the week, standard Aspire rooms start at less than $400 per night, and average over $900 per night on the weekend. According to a rep, suite prices are "generally in the thousands."

And as for that Royal Suite? The rep said "a night in the Royal Suite can cost into five figures." Loyal Momentum (Mohegan's loyalty program) members, though, could possibly get a complimentary stay, a rep confirmed. And after check out, guests might as well jet off to one of the most expensive restaurants on Earth.