The Most Breathtaking Abandoned Places On The Planet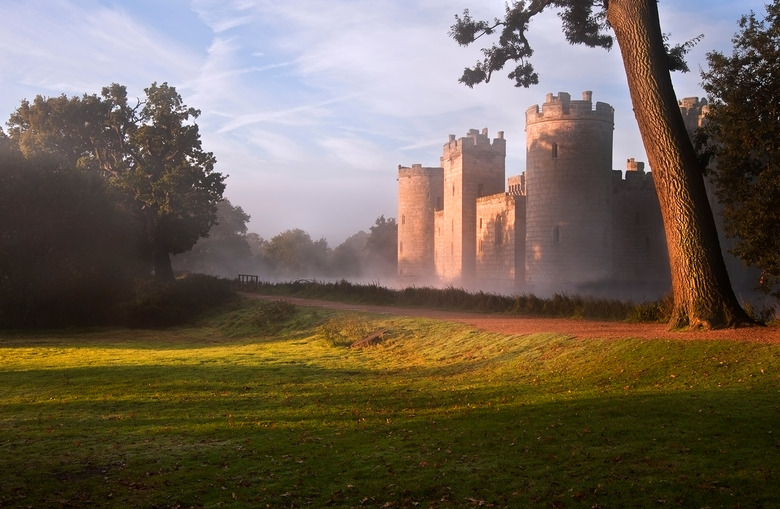 Matt Gibson/Shutterstock
From famous monuments of historical significance to old textile mills, many locations that were once bustling with people have been abandoned. The decaying walls, overgrown grass and broken glass left behind all tell a story, and though some might find it eerie to wander through the remains, these locations are more beautiful than they are haunting.
Kolmanskop, Namibia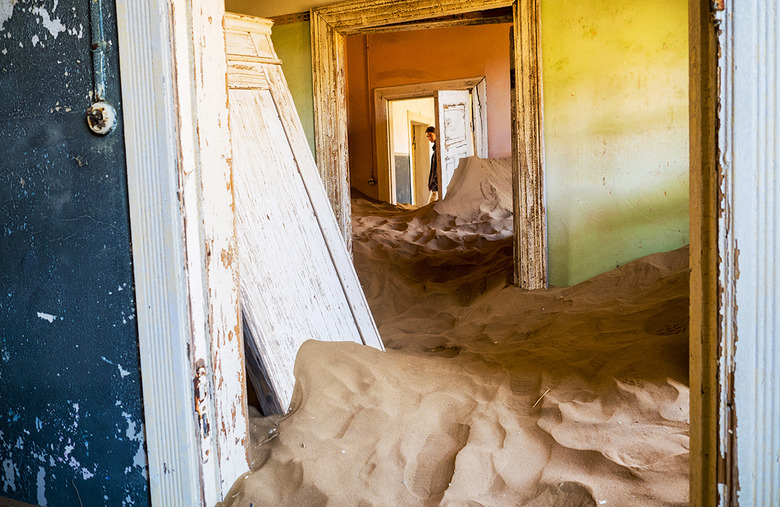 Philip Volkers /VW Pics/Universal Images Group via Getty Images
Located in southern Africa's Namib Desert, Kolmanskop is a ghost town that has been abandoned since 1956. Dunes have spilled into once populated homes and community gathering places. Many of the town's structures are at risk of being completely buried in time. But it wasn't always this way. In 1908, diamonds were found by a Namibian railway worker shoveling railroad tracks. Soon, Kolmanskop was overflowing with prospectors hoping to strike it big. By 1912, the town was producing close to 12% of the world's diamonds. Rigorous mining led to a depletion of the area's diamonds in the 1930s, and shortly after, townspeople fled to the south, where more diamond mines had been discovered. Tourists can visit Kolmanskop and tour the sand-filled town.
Hashima Island (Nagasaki, Japan)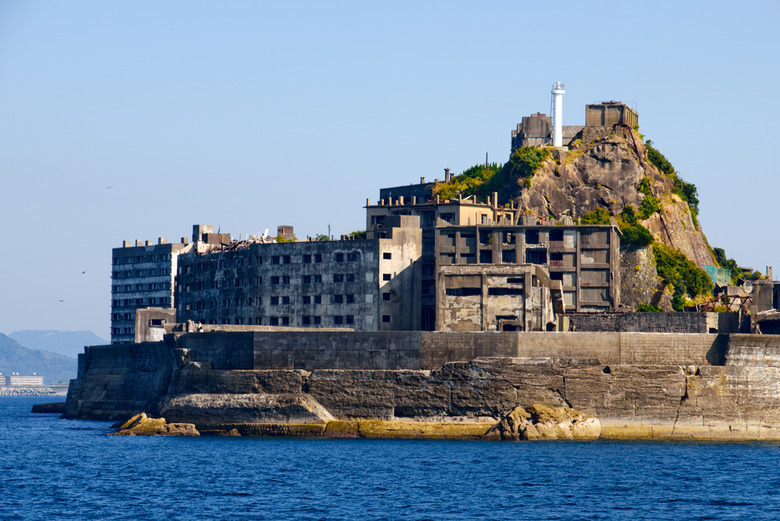 Grassflowerhead/Shutterstock
Vibrant grass and flowers have sprouted through walls on Hashima Island, a once densely populated area home to thousands of miners. The land was owned by Mitsubishi Corporation, Japan's largest trading company, and below it was an underwater coal mine that supplied fuel for the country. When the use of petroleum replaced coal, the mine closed and workers and families fled the island. By 1974, the land was completely abandoned. It has since been used as a filming location for multiple movies, including the 2012 James Bond film, "Skyfall,"  and it's a popular destination for travelers to Nagasaki.
Buzludzha Monument (Buzludzha Peak, Bulgaria)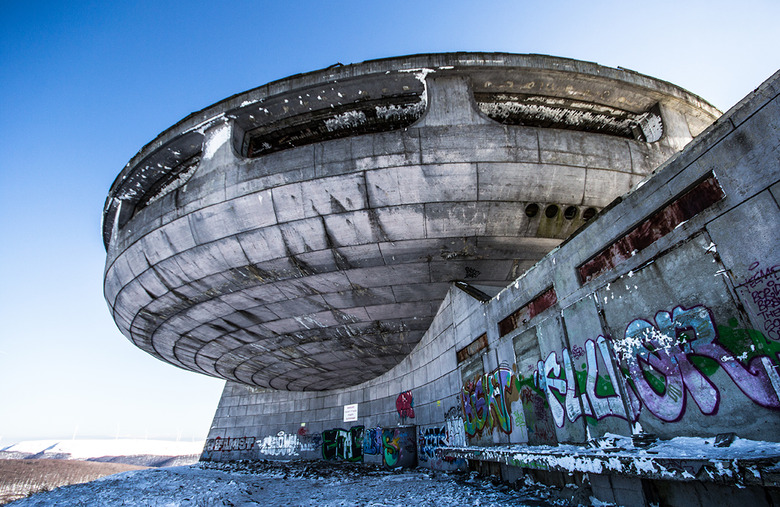 Ioanna Sakellaraki / Barcroft Im / Barcroft Media via Getty Images
The murals, broken windows and decaying structure all bring character to the Buzludzha Monument. The 230-foot-tall extraterrestrial-like dome opened in 1981 as an homage to the Bulgarian Socialist Party. But by the early 1990s, a sweep of western culture in Bulgaria eliminated the desire for any monuments dedicated to the country's socialist past. In 1999, the monument was abandoned by government officials and left open to the public. Looters quickly stripped it of its valuable material and destroyed the walls and ceilings. Twenty years later, the Buzludzha Monument can still be visited by curious parties.
Bannerman Castle (Fishkill, New York)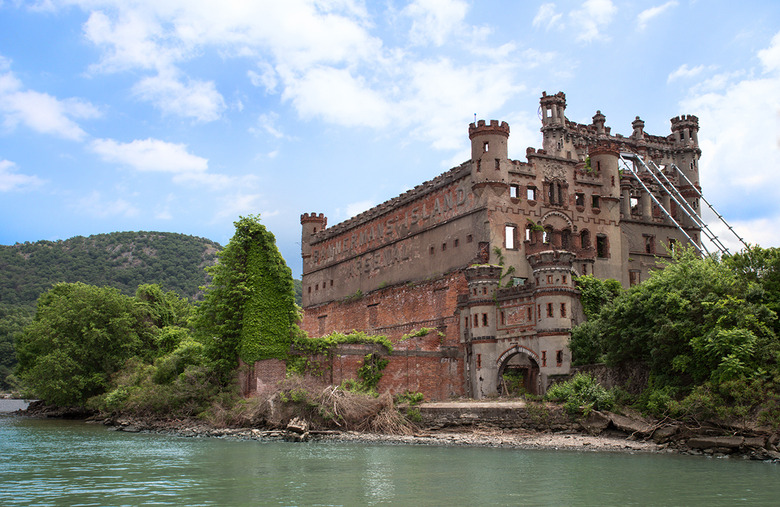 littlenySTOCK/Shutterstock
50 miles north of New York City on an island in the Hudson River sits Bannerman Castle. Francis Bannerman — a Scottish immigrant who made his fortune by supplying military goods — was in need of a new location to store his surplus equipment and ammunition when he stumbled upon the castle. The castle in its entirety no longer remains, but the crumbling remnants covered in bright shrubbery and flowers still hold a bit of magic.
Bodiam Castle (East Sussex, England)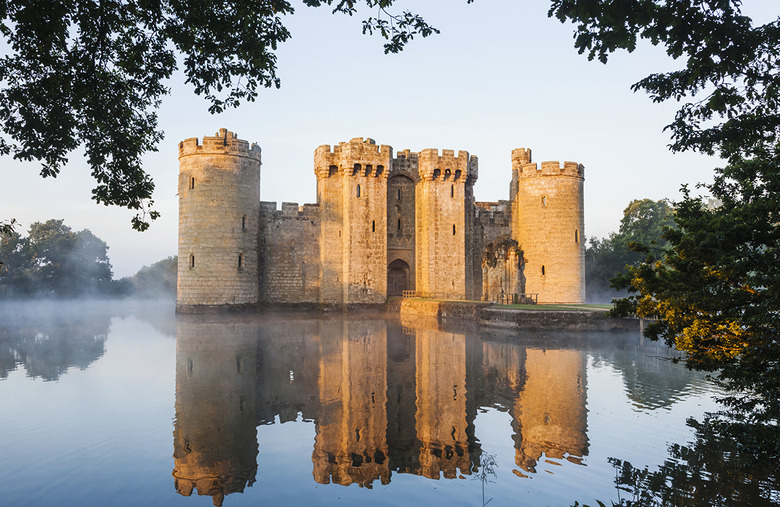 Prisma Bildagentur/Universal Images Group via Getty Images
Bodiam Castle looks like it was plucked straight from the Medieval Times. The castle — originally built in 1385 by Sir Edward Dalyngrigge, a knight, in East Sussex, England — has long since been abandoned, but visitors can still tour the grounds and learn more about the history of the castle and the wildlife that now call it home.
City Hall subway station (New York, New York)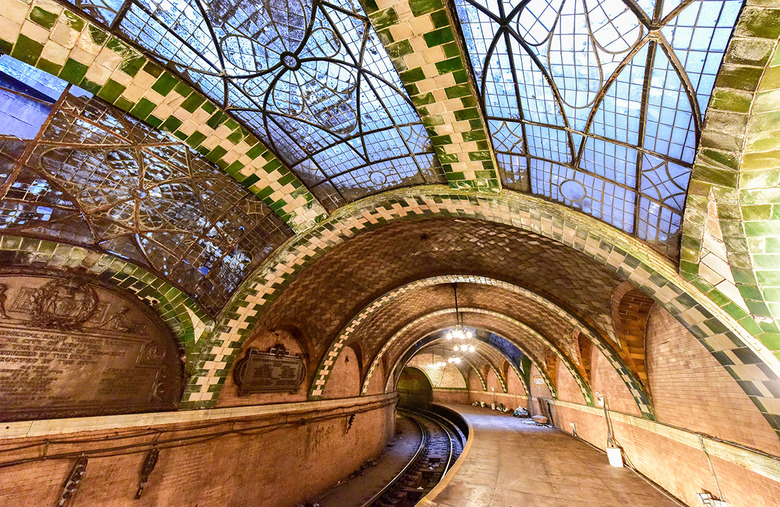 Felix Lipov/Shutterstock
New York City's first subway ride left the City Hall station in 1904. Close to 15,000 New Yorkers visited the new station where sunlight glittered through skylights in the morning and chandeliers illuminated the night. But on December 31, 1945, trains made their final stop at the station. In the 40-plus years between the station's opening and closing, new developments made boarding train cars at the stop unsafe, and many commuters opted to walk to and from the nearby Brooklyn Bridge station instead. The station was left abandoned in all its glory. The New York Transit Museum offers tours of the station for explorers wanting to view the vaulted tile ceilings elegant fixtures that remain.
Pripyat, Ukraine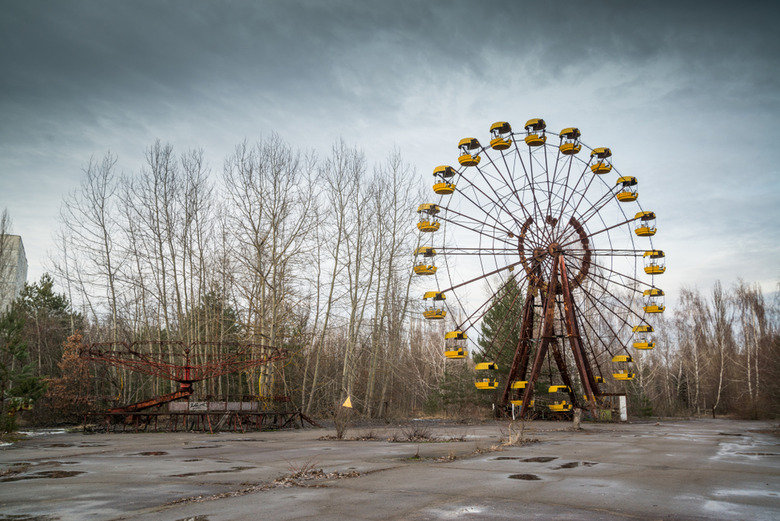 Pe3k/Shutterstock
The Ukraine city of Pripyat was once home to over 49,000 residents. In 1986, a life-threatening catastrophe at the neighboring nuclear plant in Chernobyl forced the town to evacuate in 36 hours. An explosion released radioactive contaminants into the air, and those in close contact died from exposure to radiation or, in later years, radiation-induced cancer. These days, travelers are welcome to tour the city without any safety concerns. Vibrant shrubbery has overtaken much of the town, but one iconic site remains: a yellow Ferris wheel.
Craco, Italy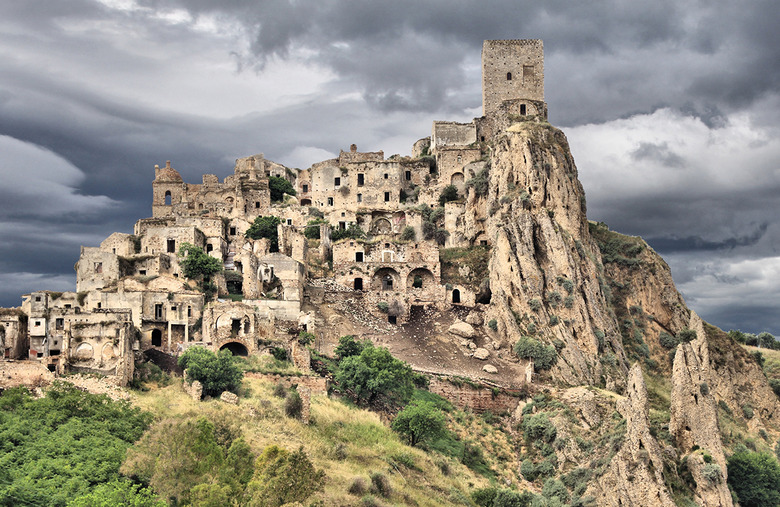 © Tupungato/Dreamstime.com
Natural disasters like landslides, floods and earthquakes forced close to 2,000 people out of their homes in Craco, Italy. Craco has been uninhabited ever since, but old chapels and churches grand in beauty remain.
Kilchurn Castle (Argyll and Bute, Scotland)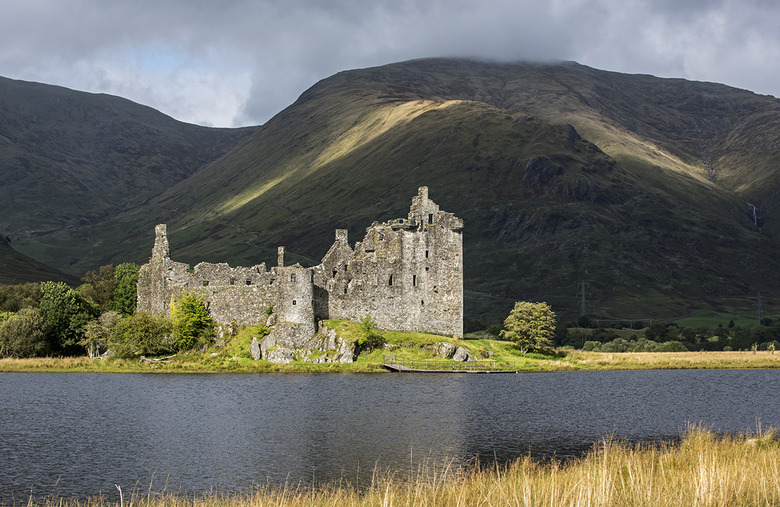 Arterra/Universal Images Group via Getty Images
Sir Colin Campbell, the 1st Lord of Glenorchy, built Kilchurn Castle in the mid-1400s. For 150 years, the Campbell lineage maintained and lived in the castle. But by the late 1700s, it was abandoned. More than three centuries later, the castle still stands. Violent weather led to the erosion of the castle throughout the years, but the tower house still stands substantially complete. Today, Kilchurn is one of the most photographed castles in Scotland.
Spreepark (Berlin, Germany)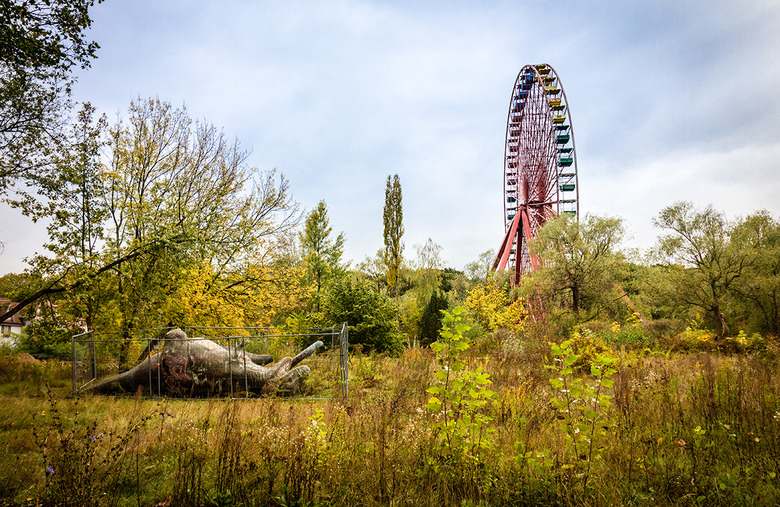 RobertKuehne/Shutterstock
Rusted rides and an idle Ferris wheel are all that's left of what was once a bustling amusement park. Located in Berlin, Germany, Spreepark launched its last ride in 2002. Since its closing, the amusement park has been completely overtaken by shrubs but the colorful rides and toppled animal monuments remain. Visitors can take guided tours through the amusement park and relive a small piece of Germany's past.
Bodie State Historic Park (Bridgeport, California)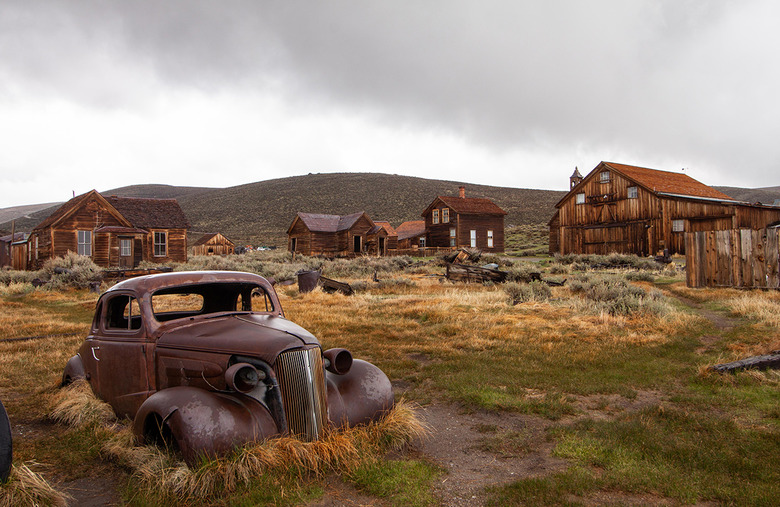 Boris Edelmann/Shutterstock
Nearly 10,000 people lived in Bodie in the late 19th century. The town was named after Waterman S. Body, a man who stumbled upon gold and silver in the area. By the 1880s, Bodie became a gold-mining boomtown where people flocked in hopes of striking gold. But the California Gold Rush eventually lured Bodie's townspeople to surrounding areas. The last mine closed in 1942, and in 1962, Bodie became a National Historic Site and a State Historic Park. Bodie is in a state of arrested decay, meaning state officials aren't working to improve the site, but are preventing it from deteriorating. Travelers can take a tour of the town.
Valle dei Mulini (Amalfi, Italy)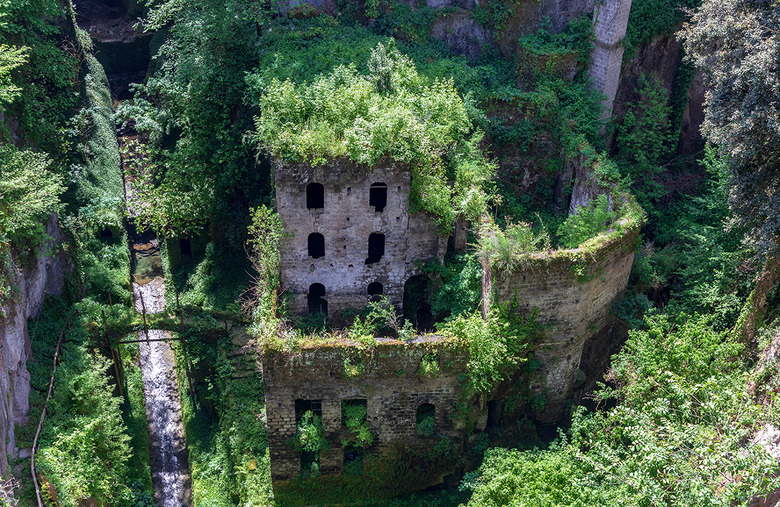 Jef Wodniack/Shutterstock
Valle dei Mulini, or Valley of the Mills, is an area on the Amalfi Coast composed completely of abandoned 13th-century paper mills. Tourists hoping to explore the mills can go on a hike inland from the sea for a spectacular view.
Ross Island (Andaman Island, India)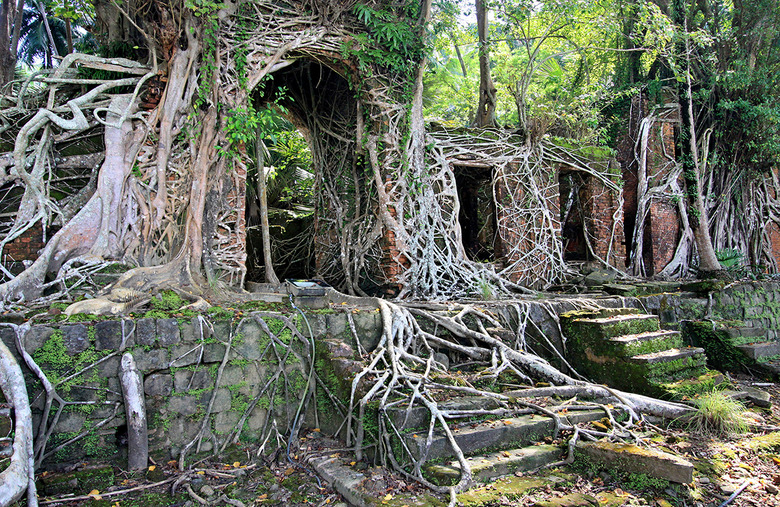 Rostasedlacek/Shutterstock
Ross Island was once the British administrative headquarters for the Andaman Islands. Today, it resembles a jungle with century-old ficus tree roots entangled in what were once churches, homes and hospitals. Along with a stellar view of nature, visitors who stop by the island will also be treated to a light show.
Slab City (Slab City, California)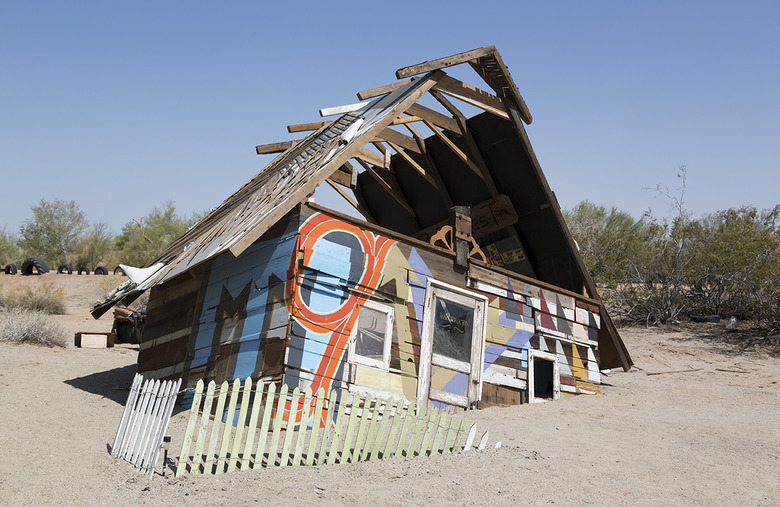 Carol M. Highsmith/Buyenlarge/Getty Images
Slab City is located on what was once a U.S. Marine Corps base 50 miles north of the U.S.-Mexico Border best known as Camp Dunlap. In the 1940s, the camp was used as a laboratory to test whether concrete lasted in the Sonoran Desert, but the government ended all operations after World War II, abandoning the camp. Since the camp's demise, squatters have found their way to the city to explore what's left of the base. There are large structures of art scattered throughout the city, which is now known as "the lawless desert."
Abbey Mills Pumping Station (Mill Meads, London)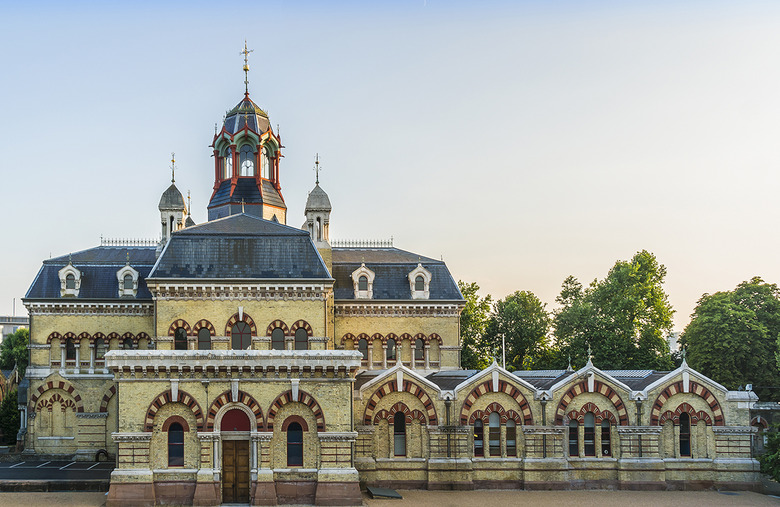 Kiev.Victor/Shutterstock
Described as the "cathedral of sewage," the original Abbey Mills Pumping Station was built in the late 19th century to stop sewage from going downhill into the city's streets and flooding the sewers. After a century, the pumping station could no longer contain the sewage, and a newer, more advanced, pumping station was built in 1997. Visitors can tour the now-abandoned castle-like building and learn more about London's sewage system while they're at it.
Kennecott Mill Town (Alaska)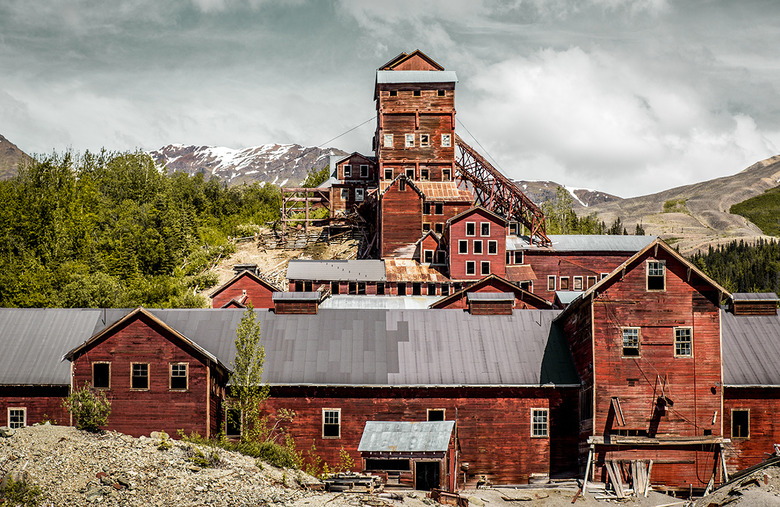 Emma Rogers/Shutterstock
Kennecott Mines is a former copper mining camp in Alaska's Wrangell-St. Elias National Park and Preserve. An estimated $25 million was spent on a 196-mile railroad and bridges in 1900 when prospectors discovered that the land was rich with ore. Operations eventually ended in 1938, but not before the 600 men employed at the mine extracted $200 million in copper.
Silver City, Idaho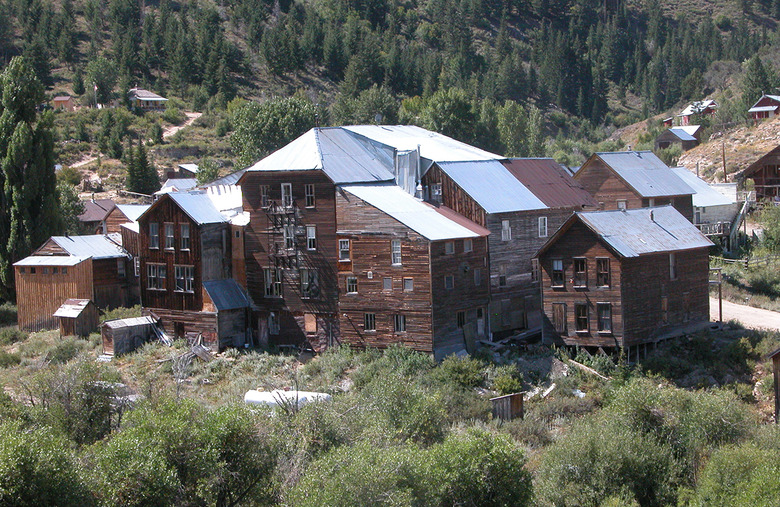 © Martynelson/Dreamstime.com
More than 150 years ago, Silver City, Idaho, was a lively city kept afloat by the booming mining industry. Crystallized gold and ruby silver were plucked from the mountains, hotels were thriving and the city founded Idaho's first newspaper. But the mountains quickly dried up, and by 1942, the mines shut down all operations. It became a ghost town and travelers today will find the town almost perfectly preserved.
New Manchester Manufacturing Company (Sweetwater Creek State Park, Georgia)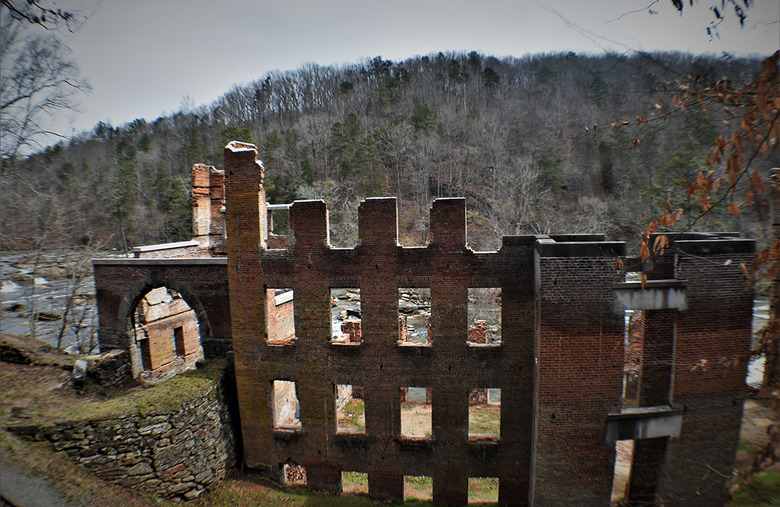 DevanStewartPhoto/Shutterstock
The New Manchester Manufacturing Company was a textile mill that burned down during the Civil War. Most of the mill was destroyed by the flames and  left abandoned. Today, the remains have been kept intact by the Georgia Department of Natural Resources. A guided hike is the only way you can gain entrance to what is left of the mill.
Scotty's Castle (Death Valley California)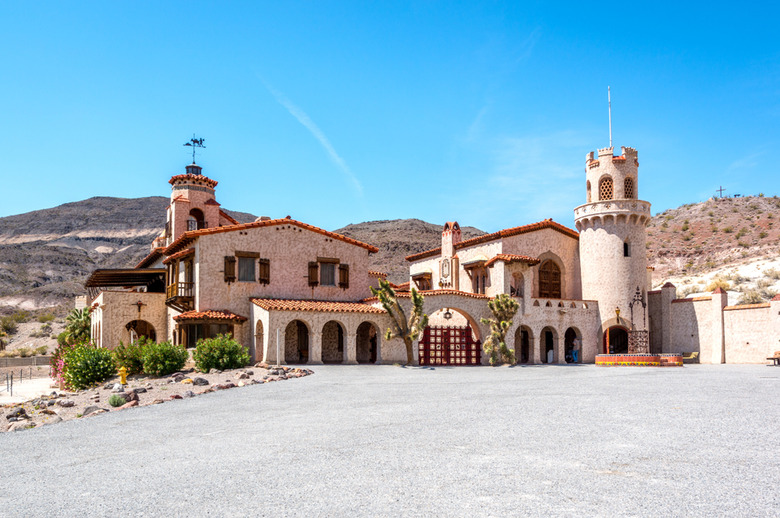 Nadia Yong/Shutterstock
Scotty's Castle, located in the Death Valley Ranch, is named after Walter Scott, a conman who swindled the likes of Chicago millionaire Albert Johnson by tricking him into investing in a fake gold mine. In 1922, Johnson began construction on a $1.5 million desert retreat, working with Scott to fund the venture. But in 1931, construction stopped when Johnson realized the land he was building on actually belonged to Death Valley National Park. Though he was able to later buy the land, his insurance company went bankrupt and he was unable to finish the project. Though Johnson was the one who constructed the home, Scott took credit for the structure publicly, hence the name. Scotty's Castle now belongs to the National Park Service and is an abandoned villa that can be toured by visitors.
Eilean Donan Castle (Scotland)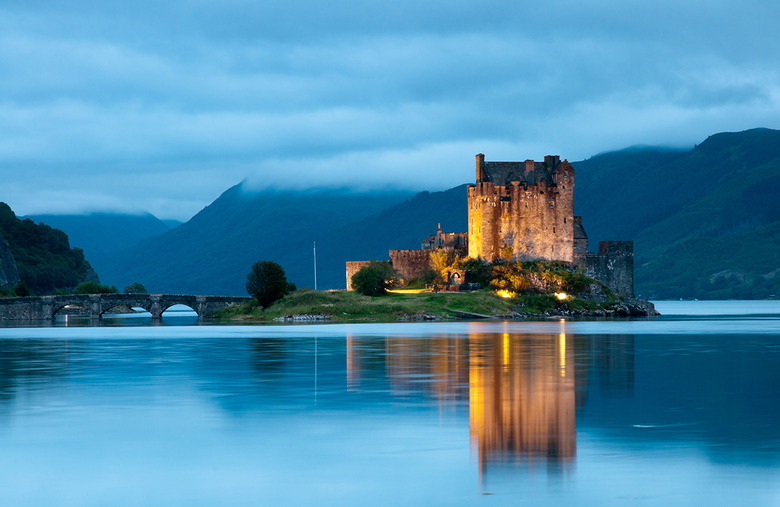 stocker1970/Shutterstock
Named after a sixth-century Irish Saint, Eilean Donan Castle was first constructed in the early 13th century but expanded and contracted in size for more than four centuries. In 1719, the castle was demolished by English soldiers in a battle with Spanish soldiers. For 200 years, the castle remained a barren, demolished mess. But in 1932, the castle was restored to its original beauty by Lieutenant Colonel John MacRae-Gilstrap after he purchased the island where the castle sat. The castle is empty, but visitors can tour the castle in all its glory in one of the most beautiful countries in the world.