11 Thrilling Adventures In Australia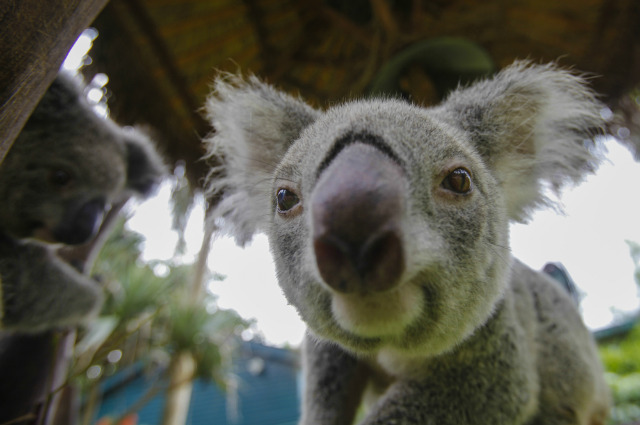 Shutterstock
11 Thrilling Adventures in Australia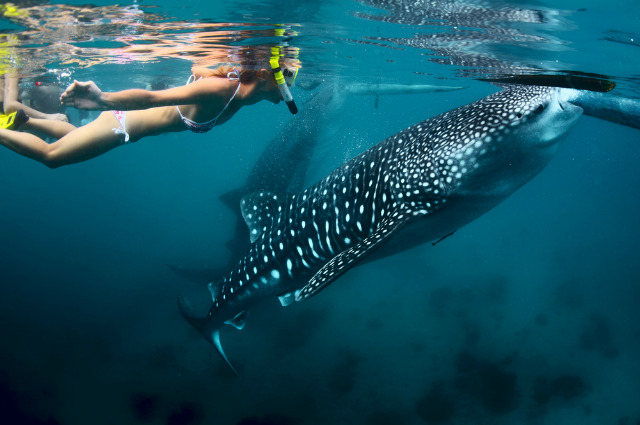 Shutterstock
Ask almost anyone who's been and they'll tell you Australia is easily one of the most thrilling and adventurous countries in the world. From opportunities to see and interact with some of the world's most unique and fascinating species (both on land and at sea) and backcountry beach camping to big wave surfing and everglade kayaking, this wild and expansive continent truly has no shortage of exciting expeditions to choose from.
Elizabeth Avery, founder of SoloTrekker4U.com, says of the 62 countries she's visited in her lifetime, Australia easily falls within the top three. "I especially liked day trips from Melbourne to Philip Island," Avery said.
Of course, as you'll soon learn, there are many, many more bold and exhilarating excursions to choose from while visiting the land down under. Suggested by adventure-seeking jet-setters from around the world, these are just a few of the most thrilling ways to explore Australia. 
Hand Feeding Dolphins at Tangalooma Island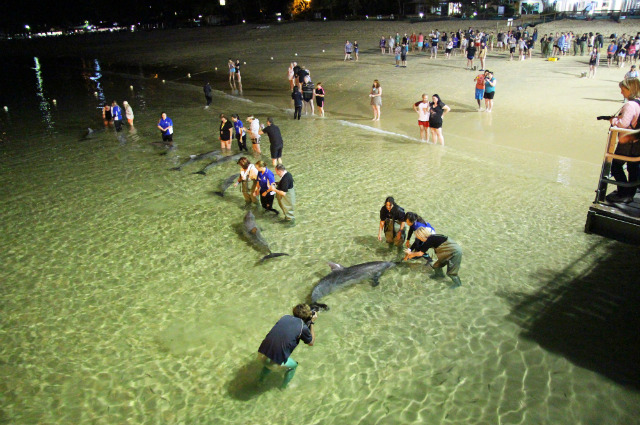 By S. Newrick (Own work) CC BY-SA 4.0 via Wikimedia Commons
There's swimming with dolphins (thrilling in its own respects) and then there's hand feeding dolphins, an Australia experience, according to independent travel agent Siera Duiser, you definitely won't want to pass up. The Tangalooma Island Resort says two "tight-knit" family groups of dolphins have been swimming up to the Island's shores since 1992. Because these bottlenose dolphins are completely wild, visitors can expect to see them display behaviors like tail-slapping and fish play. Some of the dolphins stop by so regularly they even have names.
Flying Over the Whitsunday Islands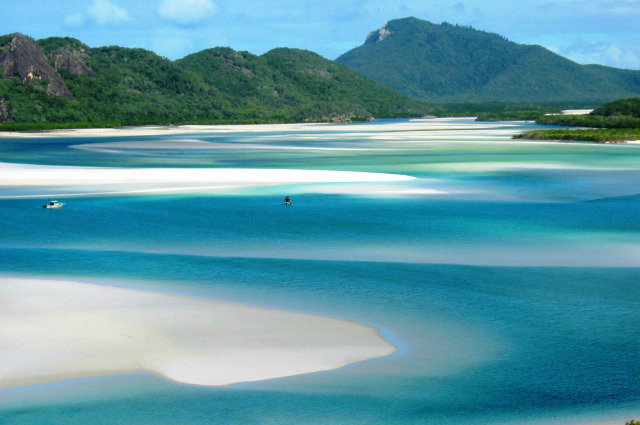 "HillInlet ST 03" by Ester Inbar, available from Wikipedia User "ST", Licensed under Attribution via Wikimedia Commons
One memorable and exciting highlight of her trip to Australia, says Stephanie DeLaGarza, a travel writer and blogger at Two Brauds Abroad, was flying over the stunning Whitsunday Islands off the coast of Airlie Beach. "A collection of 74 islands, it boasts a beautiful sandy beach called Whitehaven where deep blue waters mix with super white silica sand to create designs that from above, are a work of art," she said. "The flight in a small Cessna plane was $99 for 25 minutes and well worth the money."
Surfing Lessons at Bondi Beach
Flickr/glennharper CC by 2.0
"For active travelers, surfing lessons — popular at beautiful Bondi beach — and ocean-fed pools are part of the Aussie experience that's hard to find elsewhere," says Christel A. Shea, managing director of Tour Matters. Outfitters at Let's Go Surfing offer lesson packages for surfers of all levels and even cater to families, groups and kids. One user on TripAdvisor says surf lessons with Let's Go Surfing at Bondi Beach are a "must do" while in Sydney. "We had a great time and the instructor was very gracious and nice," they wrote. "We were nervous at first but as long as you can tread water, I highly recommend trying this out while in Sydney."
Bush Camping on Fraser Island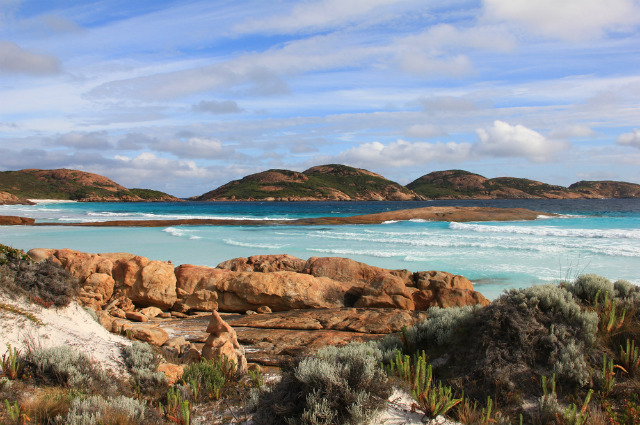 Shutterstock
"Unlike the average tourist to Fraser Island, who stays at the gated resorts near the ferry port, we joined a bush camp group and set a tent up on the sand near the beach at the far side of the island," says Lina Stock, a travel blogger at Divergent Travelers. "By doing this we got to experience sunsets that melted into the water and had to fend off dingoes while cooking in camp. It's a true adventure experience." Stock especially enjoyed Fraser Island for its teal freshwater lakes, sand dunes and dramatic coastlines.
Swimming with Whale Sharks at Ningaloo Reef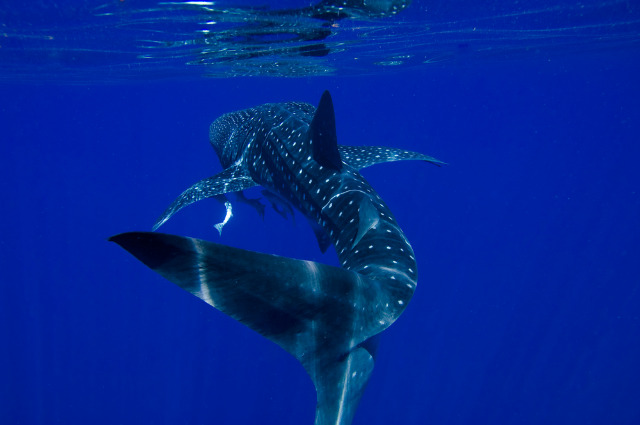 Shutterstock
While there's no contesting the magnificence of The Great Barrier Reef, divers hoping to explore waters off Australia's west coast should head to Ningaloo Reef near Coral Bay. "Here you can swim with the biggest shark in the world, the whale shark," says Diane Hall, an Australia native and director of GoWalkAbout Travel. If you want to avoid stereotypical, tourist-packed areas, she says heading to the western coast for a visit to Ningaloo is one of your best bets.
Hiking the South Coast Track in Tasmania
Shutterstock
Hall says that of the many stunning hikes available in Australia, the South Coast Track in Tasmania is easily her favorite. "[It's] nine days and approximately 80 kilometers through  mountains, forests and also coastal areas of our amazing little island at the bottom of Australia," she said. "This trip really gives the active person a  truly unforgettable experience of a place that many people who travel to  Australia never actually get to see. What is a better combination than fresh air, seeing the night sky, amazing scenery and fitness to boot?"
Kayaking in the Australian Everglades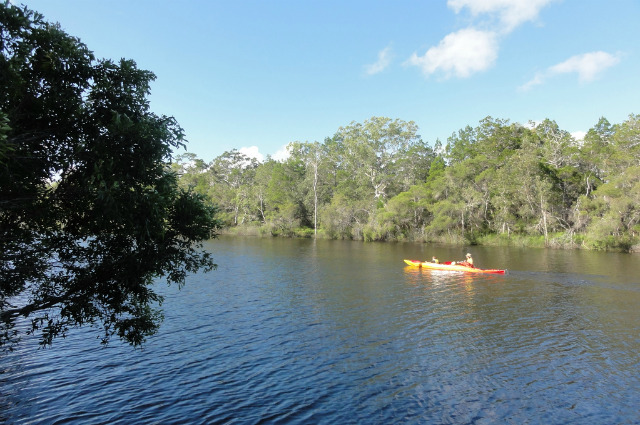 Flickr/eguidetravel CC by 2.0
GypsyNester travel blogger Veronica James suggests a visit to Queensland's Great Sandy National Park "for a day of peaceful drifting along the Noosa River, and the lakes, swamps and ponds that form its everglades." She says in addition to being a protected national park, this area of stunning wilderness was named a UNESCO Biosphere Reserve in 2007. Her kayak adventure was a great opportunity for wildlife viewing. In addition to black swans and other waterfowl she spotted  an Australian monitor lizard, one of the continent's larger reptiles, she said, and also known as a goanna. 
Diving with Wobbegong Sharks at Shelly Beach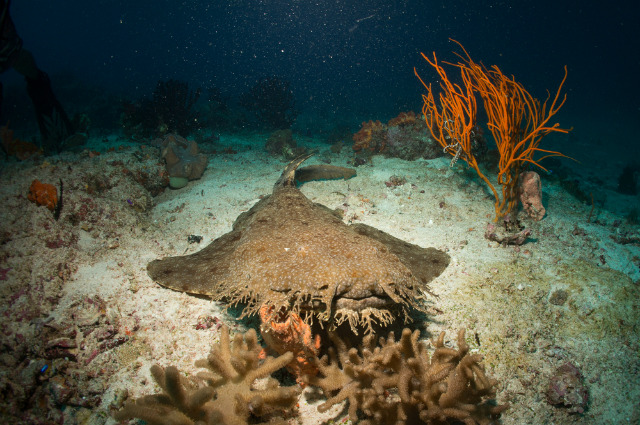 Shutterstock
"The scuba diving in Australia is top notch," says Jess Smith, an Australian by birth who now lives in the U.S."  "You can't miss the Whitsundays in Queensland, where the Great Barrier Reef offers the best coral and sea life imaginable, but if you're anywhere coastal — which is likely — there's bound to be amazing diving right there as well. Shelly Beach in Sydney is a perfect spot to learn to dive, and to see wobbegong sharks. And you're right near iconic Manly beach and the ferry ride over to Circular Quay for even more adventuring."
Wildlife Viewing at Cleland Conservation Park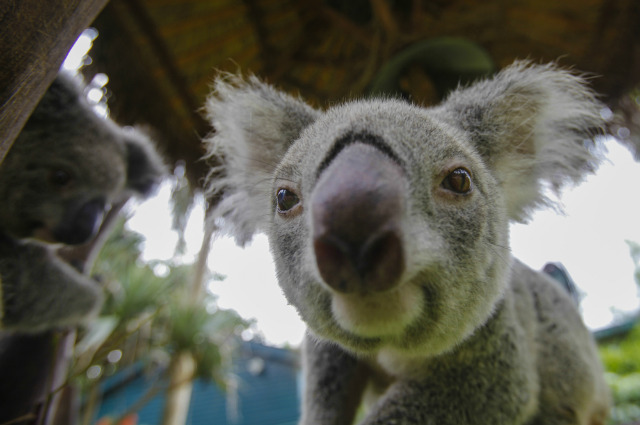 Shutterstock
"Cleland Conservation Park in Adelaide allows you to see wombats, Tasmanian devils, echidnas, wallabies, kangaroos, dingoes and koalas in a natural habitat," says Lenore Hirsch, a travel writer and blogger at My Leash on Life. "I loved having wallabies eat from my hand, seeing so many kangaroos up close with babies on board and having my picture taken holding a fifteen-pound koala. Koalas are awake so few hours a day and the eucalyptus they eat is so lacking in nutritional value, the handlers had to make sure the little guys were chewing and swallowing throughout the photo session. After this visit I was able to pick out the koalas in the trees all the way back to the hotel."
Rainforest Trike Tours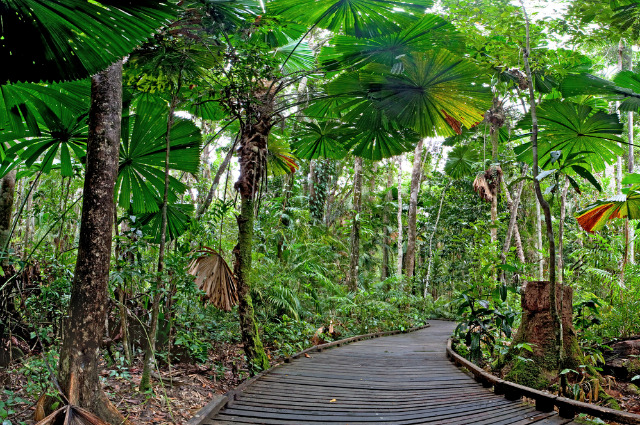 Shutterstock
"One of the great things about Australia was that there were a lot of unique tours you can't find in North America," says Melissa Jirovec. She and her husband visited Australia for their honeymoon earlier this year after they'd both recovered from a serious accident. "We really wanted to see the rainforest, but my husband couldn't hike or walk, so we signed up for Grub's Trike Tour, and it was quite the adrenaline rush. My husband hadn't done anything so exciting since his accident and he was all smiles. The trike ride was not only thrilling, but the views were awesome. We stopped at a resort for a unique fruit platter and relaxed while we took in the view. It was unlike any tour we had ever been on." 
Walking The Sydney Harbour Bridge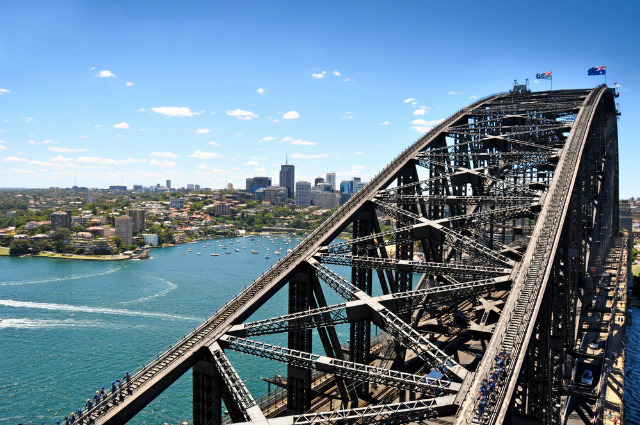 Shutterstock
Yes, it's one of the more typical, "touristy" Australian adventures, but many travelers that we spoke with said it's one not to be missed. Avery says that strapping on a harness and walking high above (about 200 feet) Sydney was "beyond" her and definitely one of the more memorable parts of her trip to Australia.