The One-Pot Gourmet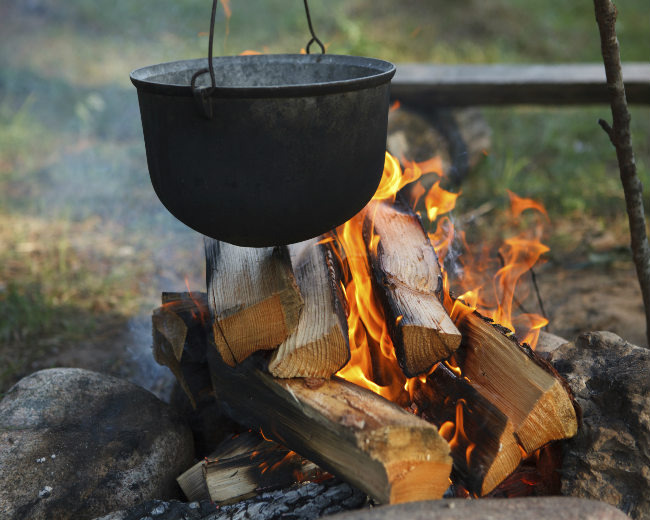 iStockphoto/ThinkStock
You don't have to own a Top Chef-class RV to whip up a nice backcountry meal. With a little pre-planning, even backpackers can move beyond standard hobo fare to something approaching Saveur respectability. And after a hard day of bike touring,  hiking, or just floating downriver on a cooler of beer, there's nothing like a tasty, star-lit  meal — with minimal cleanup. Here are three easy recipes that won't require a full titanium cookset.
Note: Prepare ingredients in advance for shorter trips.
Pork Pozole
Serves 4
Ingredients
¼ cup vegetable oil
2 lbs pork butt, cut into bite-size cubes
1 yellow onion, diced
4 garlic cloves, minced
2 tbsp dark chili powder
½ tsp ground cumin
½ tsp ground cayenne
1 15-oz can hominy, drained
2 quarts water or chicken stock
Salt and black pepper to taste
Optional: lime wedges and diced avocado for serving
Directions
1. In a large pot, heat vegetable oil over medium heat. Add pork cubes and cook, stirring infrequently, until browned on all sides.
2. Add onion to pot; cook until translucent and tender.
3. Add garlic, chili powder, cumin and cayenne, and stir constantly until fragrant, about one minute.
4. Add chicken stock and hominy, and bring to a simmer.  Cook until pork is tender (about an hour). Season to taste and garnish with lime wedges and avocado.
–
Quick Veggie Curry
Serves 3-4
Ingredients
3 tbsp vegetable oil
1 large yellow onion, diced
1 pint mushrooms, washed and quartered
2 cloves garlic, minced
2 tbsp tomato paste
1.5 tbsp curry powder
2 carrots, sliced thinly on a bias
3 medium red potatoes, scrubbed and diced
1 head cauliflower, rinsed, cored and cut into bite-size florets
Water (and veggie stock or base if you have it)
1 cup white rice
Salt and pepper to taste
Optional: chicken
Directions
1. In a large pot, sauté onion until translucent over medium heat. Add mushrooms and cook until tender.
2. Add garlic, tomato paste and curry powder. Cook, stirring constantly until fragrant, for about 1 minute.
3. Add carrots, potatoes and cauliflower. Stir thoroughly to coat in curry paste, add just enough water or stock to cover the vegetables and bring to a simmer.
4. Add rice; cook until all vegetables are tender, and rice is cooked through. Add water or stock as needed while the rice is cooking, making sure the rice doesn't soak up all the liquid. The consistency should be a thick, chunky stew. Season to taste.
Note: If you want to add meat to your curry, dice two chicken breasts and sauté with the onion and mushrooms. Substitute other vegetables to meet your cravings.
–
Black Bean and Sweet Potato Stew
Serves 3-4
Ingredients
3 tbsp olive oil
1 cup chopped onion
1 bell pepper, seeded and chopped
2 cloves garlic, finely chopped
1 tbsp chili powder
1.5 cup diced peeled sweet potato
1 can Mexican- or Italian-style stewed tomatoes
1 can black beans
3 tbsp chopped cilantro
½ tsp Tabasco or hot pepper sauce
Salt and pepper to taste
Directions
1. Heat olive oil in large pot. Add onion, green pepper and garlic. Cook over medium heat for about four minutes until the vegetables begin to soften. Stir in the chili powder and cook one minute.
2. Add one cup water and sweet potato. Cover and cook until potatoes can be pierced with a sharp knife, about 10 minutes.
3. Add the stewed tomatoes and beans, and break the tomatoes up into small chunks. Simmer uncovered over medium-low heat for about eight minutes until the potato is tender. Mash about a quarter of the beans to thicken.
3. Stir in cilantro and season with Tabasco and salt and pepper.