Late Bloomers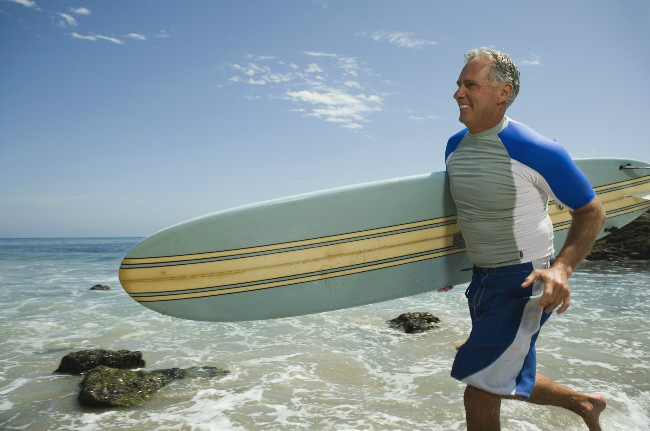 Brand X Pictures/ThinkStock
Let's face it: The main reason we love stories of late-blooming superstars is we'd all like to think there's some latent talent tucked away inside us, just waiting to be uncovered the first time we pick up a surfboard or stumble into a bagpipe store. But stories of age-defying athletes don't just foster our inner Laird Hamilton fantasies—they also inspire us to fight for our dreams, no matter how statistically unlikely they are in today's world of pint-sized mountaineers and marathoners. Rest assured, entering your golden years doesn't have to mean hanging up your wetsuit and settling into an armchair for an endless "Wheel of Fortune" marathon. If you're anything like the following five athletes, the best is yet to come.
Kathryn Martin
Martin was in her late 40s when she discovered her talent for running and, by 51, had her own (provocative, we might add) Nike Commercial advertising her 5:08 mile. Now, at 60, she's unbeaten in her age group worldwide and has set National and World records in distances from 800 meters to 50K. "I hope I do this until the day I die," she told the New York Times. "I want to be all used up, just a wisp of dust left."
George Alford
We've all heard of surfers staying stoked in their 60s and 70s, but how many don't start until they're 58? After George Alford's wife passed away from cancer, he took to the waves and started winning surf comps against more experienced masters. In 2010, after just six years on a board, he caught a monster wave to win the Eastern Surfing Championships Grand Legends title.
Lynn Knutsen
Faced with empty nest syndrome after her daughter went away to college, Knutsen did what any self-described suburban wife and mother would do—she climbed the highest peak in Africa—Kilimanjaro—at age 63. Oh, and two other African peaks within three weeks, ultimately raising over $13,000 for charity. Check out this interview with Knutsen on how she was drawn to the Peaks Foundation and how she trained for her big adventure.
Jim McConica
61-year-old McConica is a masters swimmer with 46 FINA Masters World Records in everything from 100 meters to 1,500 meters. Though he has been a highly competitive swimmer since his youth, he took a hiatus to raise a family. When he returned to the sport as a master, focused training allowed him to actually improve his long-distance freestyle times between ages 42 and 52. He swam the English Channel in 2004, the Catalina Channel three times between 1982 and 2004, and is generally hailed as a badass.
Ed Earle
Earle started kayaking at age 40 and made it to Nationals at age 50. In 2010 at age 72, he had won the Run of the Charles Open Canoe and Kayak Race for three years in a row. He plans to keep racing and winning with his "will of iron" and apparent youthful spirit. "I don't feel 72," Earle said. "I feel probably more like I'm 48 or 52."