How Long Does Laundry Detergent Last?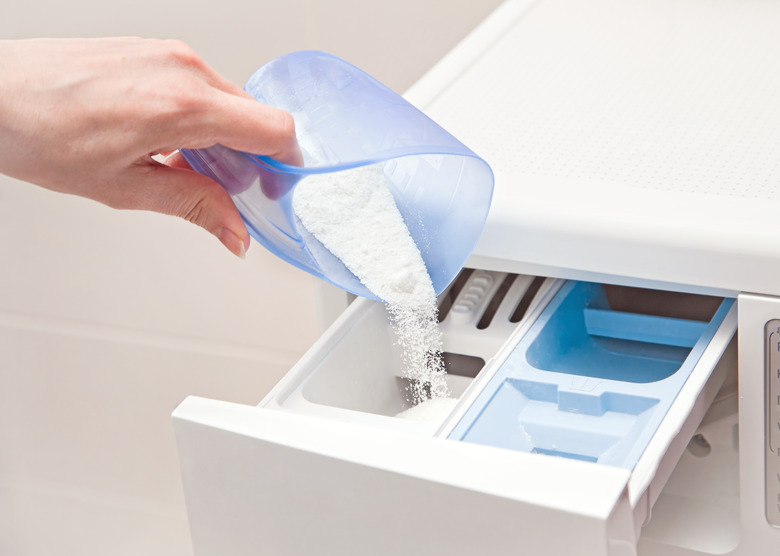 glo/Shutterstock
Considering how often you need to wash jeans, bedsheets and everything else in your life, it's usually a pretty safe bet to buy your laundry detergent in bulk. After all, doing so is one of the best ways to save money on everyday cleaning supplies. But before you buy that extra-large container of Tide next time you head to the store, you may want to be aware of a little-known fact: Your laundry detergent can expire.
Deep Cleaning House Tips From The Pros
If you're buying liquid laundry detergent, it has quite a long shelf life of about 18 months. This is the best option for people who live alone or don't tend to do their laundry very often as it has the longest shelf life out of the different forms of laundry detergents.
If you're a fan of laundry detergent pacs like Tide Pods, know those will last about 15 months. These are packed with super-concentrated detergent, odor fighters and stain removers to make laundry easier. And that's a good thing, because washing your clothes frequently is one of the easiest ways to create a healthier home.
And while you may think a giant tub of powdered laundry detergent is money-savvy, that isn't necessarily the case. Powdered laundry detergent has a shelf life of just six months.
Cleaning supplies don't tend to have best-by dates on them, so if you're unsure whether or not your laundry detergent is still good, you can call the manufacturer of your product. They may ask you for your barcode or other serial numbers on your packaging, so have your bottles and boxes handy. And while you're checking up on your detergent, it may be good to read up on the shelf life of all your cleaning supplies.