Great Hikes: Thunderhead Mountain, Great Smoky Mountains NP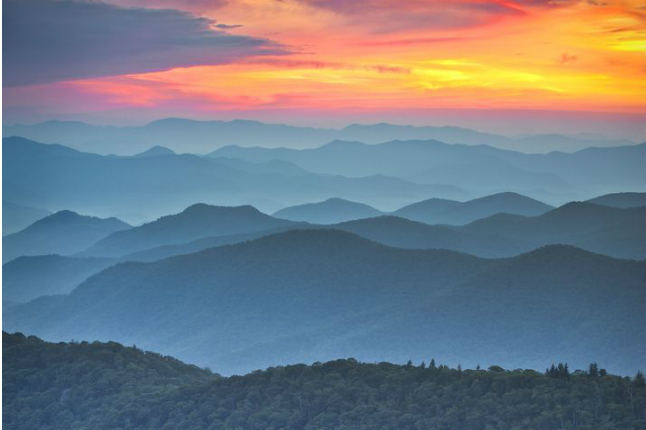 Shutterstock
Sometimes a hike is so beautiful that it makes you want to sing. The views from this hike inspired the whole of Tennessee. One of the peaks on Thunderhead Mountain, Rocky Top, was the namesake for a state song. The lyrics include these lines:
"Rocky Top, you'll always be, 
Home sweet home to me. 
Good ole Rocky Top, 
Rocky Top Tennessee."
So what's all the fuss about?
The first stop along the trail is Spence Field. You'll stroll through this meadow with outstanding views of the Smokies in neighboring North Carolina. In the late spring, you are greeted by a spectacular display of the soft pink flowers of mountain laurel.
Once you reach Rocky Top, you have panoramic views that include Fontana Lake, Cades Cove and the nearby towns of Townsend and Maryville, not to mention the undulating hills of the Great Smoky Mountains.
While the fall foliage is beautiful, spring is a great time to see both mountain laurel and blooming rhododendron. Nine species of rhododendron live in the park including the white-budded rosebay rhododendron, the purple-budded Catawba rhododendron and the flame azalea. When pioneer botanist William Bartram discovered this last species in 1791, he wrote that the flame azaleas were "certainly the most gay and brilliant flowering shrub yet known."
Distance:  12.5 miles
Elevation Change:  3,600 feet
Difficulty Rating:  Difficult
Duration:  Allow a full day.
Best Time to Go: Year round, although the rhododendron along the trail bloom in the spring and summer.
How to get there: The closest nearby airport is in Knoxville, TN. You'll need to rent a car to make the drive south to the national park. The hike starts from the Anthony Creek Trailhead in Cades Cove.
Have a favorite hike? Submit it to mmorrison@theactivetimes.com or tweet at us.