Europe's National Parks: Romania's Protected Treasures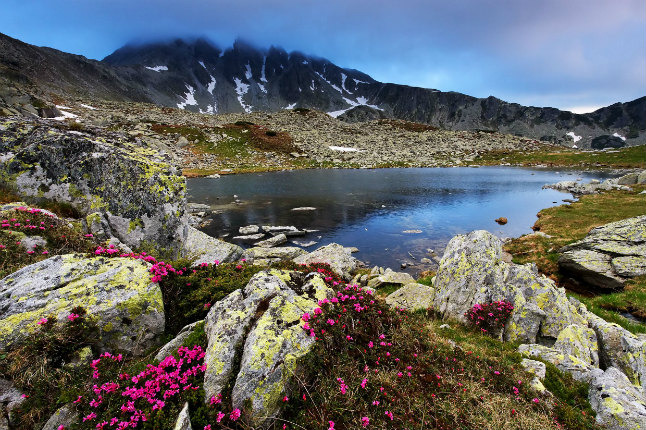 Shutterstock
Most people know one thing, at best, about Romania: It's home to Dracula's castle. If you ask them to imagine it, they might talk about tall spires and mysterious passageways on a dark and stormy night. Only a select few will tell you about the amazing landscape that surrounds it. In fact, Castle Bran—as the locals call it—sits on the edge of Piatra Craiului National Park. 
In fact, Romania is home to 13 national parks full of breathtaking views, ample opportunities for outdoor recreation and rare flora and fauna. So, if you're planning a visit, make sure you leave enough time to visit more than just Transylvania. 
Domogled-Valea Cernei National Park
Size: 232 square miles
Location: Domogled-Valea Cernei National Park stretches over three counties in the southwestern corner of the country and includes parts of the Cerna, Godeanu, Vâlcan and Medinti Mountains
This national park is the largest in the country and home to unique thermal caves, thermo-mineral springs, and more than 100 species of endemic and rare flora and fauna. With more than 30 hiking trails, there's plenty of opportunity to explore the streams, beech forests and canyons within the park. As you hike, count how many species of butterfly you see. There are of 1,500 different types in the park.
Rodna National Park
Size: 179.1 square miles
Location: Rodna National Park is located in the Rodna Mountains of Northern Romania
The Rodna Mountains are best suited for hiking in the summer and skiing the rest of the year—even as late as June or July.  If you're there when the weather is warm, you can plan a hike across the ridge of the Rodna Mountains. At around 35 miles, an east-to-west trek should take between three to five days.
Retezat National Park
Size: 146.9 square miles
Location: Retezat National Park sits in the Retezat Mountains in Hunedoara County
This national park is located in one of the most beautiful mountain ranges in the Carpathians. The area boasts more than 60 peaks over 7,500 feet and more than100 crystal-clear glacial lakes. This park is home to one of Europe's last remaining old-growth forests and the continent's largest single area of pristine mixed forest. About 1,190 plant species—over one-third of Romanian flora—can be seen in the area. You can also find wolves, bears, deer and wild boar. With the highest number of mountain peaks (more than 20) in Romania, hiking this National Park will not be a breeze, but hikers will witness breathtaking views of the famous glacial lakes, alpine and sub-alpine meadows and other natural features that make this park and its location so unique.
Cheile Nerei-Beușnița National Park
Size: 143.2 square miles
Location: South of the Anina Mountains in Caraș-Severin County
With moderate winters and warm summers, a large variety of flora and fauna thrive in this park, and visitors can take advantage of the temperate climate to explore the beautiful landscape. The protected area boasts the longest gorges in Romania and plenty of things to do for adventurers. Popular activities  include boat trips on the river and lake, climbing on specially arranged routes, rafting on the Nera River in the spring and early summer, horse-back riding and cycling on forest roads.
Semenic-Cheile Carașului National Park
Size: 141. 6 square miles
Location: Semenic-Cheile Carașului National Park  is located in the Anina Mountains of Caraș-Severin county.
Some popular activities in this national park include trekking and caving. The area boasts more than 500 caves, including the famous Comarnic Cave and Cave Popov.
Călimani National Park
Size: 92.8 square miles
Location: Călimani National Park lies in the Călimani Mountains and occupies four counties in north-central Romania:  Mureş, Suceava, Harghita and Bistriţa-Năsăud.
This protected area is a volcanic plateau with traces of old craters and the largest volcanic caldera in Carpathians. While you're in the area, hike to the highest point in the Romanian volcanic chain, Pietrosu Peak (6,896 feet). You can also check out the unique rock formations caused by the natural erosion process. Three of the most notable formations are in the 12 Apostles, Red Stones and Nefertiti geological reserves.
Cozia National Park 
Size: 66 square miles
Location: Vâlcea County
This national parks offers hiking trails, rock climbing, ice climbing hot springs and a large variety of flora and fauna. In addition, you can visit the numerous monasteries in the area. The monks often host workshops on subjects such as wood carving or glass painting.
Piatra Craiului National Park
Size: 57.1 square miles
Location: Craiului National Park lies in the Piatra Craiului Mountains in the Southern Carpathians.
The amazing scenery in Piatra Craiului National Park was the backdrop for the film Cold Mountain. The area is home to the longest and highest limestone ridge in the country, known as one of the most beautiful places in the Carpathians. The ridge is more than 15 miles long and 6,561 feet high, and is bordered by glacial lakes. You can tackle the north-south trail along the ridge in two days, and visit traditional Romanian villages while in the area.  
Munţii Măcinului National Park
Size: 43. 7 square miles
Location: Tulcea County
The Măcin Mountains, home to this national park, are some of the oldest in Romania.  The area is prime for bird watching, especially in the autumn when numerous raptor species arrive. Expect to see long-legged buzzards,  short-toed eagles, booted Eagles, Levant sparrowhawks and Saker falcons.
Defileul Jiului National Park 
Size: 42.9 square miles
Location: Gorj and Hunedoara County
Take advantage of the various eco-tourism programs offered each season, including biking, rafting,  monastery visits and canyoning. Night camping is available from March to October. 
Ceahlău National Park
Size: 32.4 square miles
Location: Neamţ County in the Ceahlău Massif
This park shelters species rarely seen elsewhere in the country, such as the black goat and three-clawed woodpecker. Take one of the seven trails up Mount Ceahlău or ski down the slopes in Durău. Camping is permitted in a few places: Durău, near Dochia Chalet and in Izvorul Muntelui. Other highlights include the Duruitoarea waterfall and the rock formations of Dochia and Cusma Dorobantului.
Cheile Bicazului-Hășmaș National Park
Size: 25.4 square miles
Location: Northeastern Romania in the Eastern Carpathians mountain chain
If you visit this park, make sure to check out the Bicazului Gorges—the most spectacular road pass in Romania due to its massive limestone rock faces. Farther into the park, and depending on the season, you can kayak The Red Lake, hike, visit local communities or cross country ski.
Buila-Vânturarița National Park 
Size: 16.1 square miles
Location: Caraș-Severin County on the middle course of Nera River and on the upper Beu River.
The smallest national park in Romania is home to a spectacular limestone ridge that rises almost 6,000 feet above the surrounding area. In the Jurassic period, the ridge was a coral reef. It is now a great place to look for fossils. While you're in the area, visit the cultural and historic sights, including the Orthodox Pătrunsa Monastery.