The Best Two Person Tents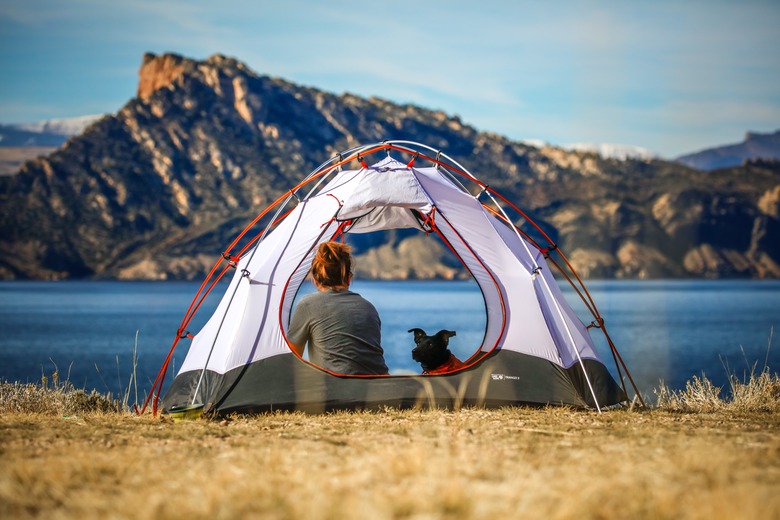 Patrick Hendry / Unsplash
We may receive a commission on purchases made from links.
By Daniel Meagher, OnRamp
Looking to get closer to nature? Camping is an exciting way to disconnect, relax, and enjoy the outdoors. But if you don't have a quality tent to help shelter you from the elements, that dream get-away can turn into a rainy nightmare. Choosing a two-person tent can be hard, especially since there are so many darn options out there. That's why we've whittled down the options to the very best of the best. Read on to discover our top five favorites in two-person tents, so you can stay prepared, rain or shine.
Coleman Sundome Tent
Best Overall: Spacious, easy to set up, and a bargain to boot. Camping has never been easier with the Coleman Sundome Tent. Perfect for one or two people, this tent will keep you dry in the rain and cool in the sun, all for a great price.
A high-quality tent for two, the Coleman Sundome Tent is our top choice when it comes to sturdy, comfortable shelter—rain or shine. The "Weathertec" welded floors keep you dry in the rain, while large windows and ground vents will keep you cool in the sun. This beauty also provides plenty of space for two campers (and maybe even a little dog), measuring 7 feet long by 5 feet wide with a 4-foot center height.
Pros:
Waterproof
Good size
Nice comfort features such as awning, windows, and vents
Cons:
Takes longer to set up than some other tents
Coleman Cabin Tent with Instant Setup
Best for Beginners: Want to go camping but worried about all the effort involved? Take one of the tasks out of the picture with a spacious tent that can be set up in 60 seconds or less.
Not the best at putting things together? If so, this is the camping tent for you. With instant setup, get this spacious tent set up in under a minute. Not only that, unlike some of the tents in our round-up, this tent can comfortably fit up to four people, perfect for the family or for beginners who may not be as used to the tight quarters of a typical two-person tent. Like many other Coleman tents, Weathertec lines the floor to keep water out from your sleeping bag.
Pros:
Easy to setup
Spacious
Waterproof
Cons:
Heavy, not suitable for backpacking
Alvantor Camping Tent
Best on a Budget: Not sure if camping is your thing? With this tent, at least you'll find out without breaking the bank. Suitable for all ages, this tent can fit more than two people if necessary and is a hard-to-beat bargain.
Our bargain pick, the Alvantor Camping Tent can typically be found at a price that can't be beat. It's pretty large, easily fitting two campers, and takes only minutes to set up. It's a basic tent, most suited for camping on flat grounds and in good weather, but for the price, it's hard to beat. Note that it is not waterproof, so avoid this tent if you expect inclement weather.
Pros:
Easy to setup
Good price
Lightweight
Cons:
Not waterproof
Minimal features
ALPS Mountaineering Zephyr 2-Person Tent
Best For Experienced Campers: Are you a serious camper? If so, this tent is for you. Perfect for rugged terrain, sweltering heat, and more advanced trails, the ALPS Mountaineering Zephyr is a great choice for those with camping experience.
The ALPS Zephyr series is a go-to for the serious camper. Lightweight yet sturdy, this 2 person model can be easily set up in a matter of minutes. It offers protection from the rain and harmful UV rays. And at only 5.5 pounds in weight, this pick is perfect for tossing in your backpack. Best of all, the walls feature excellent ventilation thanks to the mesh lining and thoughtfully-engineered design that maximizes air circulation.
Pros:
Lightweight, great for being on the move
Rain and sun protection
Quick to setup
Ample storage space
Cons:
Not as suited for heavy rain or snow
Frequently Asked Questions
Can I use any tent for backpacking?
Not every tent is suitable for backpacking. A heavy tent will be quite a burden to carry on a hike. Look for lighter, smaller tents, if you plan on carrying your tent a long time before settling down to take in the sights.
Do I need a waterproof tent?
Whether or not you need a waterproof tent depends on the climate of where you plan on using it. If you mostly camp in desert climates, you may be able to get away with a cheaper tent that isn't waterproof. However, unless your budget restricts you, we recommend always getting a tent with at least some protection from the rain. Remember, not all waterproof tents are created equally; some can withstand significantly more rain and water than others.
How difficult is it to set up a tent?
The difficulty level of setting up a tent depends largely on the tent. Most simple one- and two-person tents can be set up in under 10 minutes, with some, including one of the tents in this guide, in under one minute. The easiest tents to setup are 'pop-up' tents. These tents are usually pre-assembled and essentially snap into place. Look for key phrases like 'pop-up' or 'instant setup' if setup time is a major concern.
Daniel Meagher is a freelance writer covering the latest in technology and all things outdoors for OnRamp. The Active Times partners with OnRamp for informational product guides. OnRamp and The Active Times may earn a commission if you make a purchase through OnRamp product links. The Active Times is not involved in OnRamp content creation.
Distributed by Tribune Content Agency, LLC.