7 Reasons You Should Surf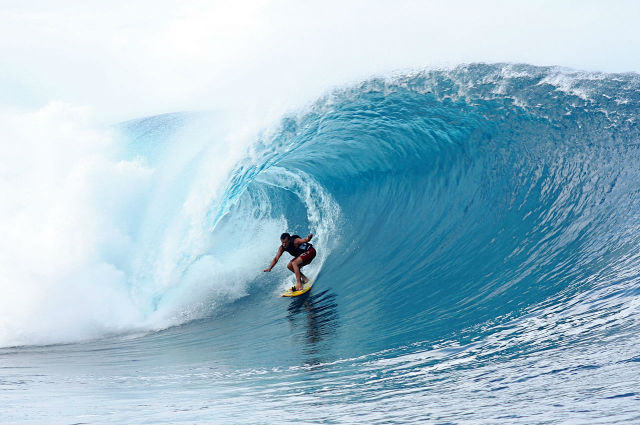 "Teahupoo1" by The Last Minute - Flickr. Licensed under CC BY 2.0 via Wikimedia Commons.
We've said it before—the great outdoors will forever be our favorite fitness center. Being active is always beneficial, but when you're outside doing something you love it feels that much more rewarding. Surfing is one such activity that offers major physical benefits in some of the most beautiful settings on the planet. The benefits of surfing are seemingly endless, but if you haven't been convinced yet, we've outlined some of the major perks that come with grabbing a board and paddling out.
#1 Surfing is a full body workout. Lately it seems that every new workout fad makes two major claims—that it's a full body workout and that it's "the perfect blend" of cardio and strength training. While that may or may not be true of these new fads, surfing is the classic tried and true total body workout. From paddling out to riding waves, every aspect of surfing tests your strength, balance, agility and stamina.
#2 Surfing teaches patience. Any new sport or activity takes time to learn and for most people surfing takes a little longer than, say, running or biking. Getting good takes a while, but when you hit milestones, like standing up for the first time or mastering a new move, the reward will be that much greater.
#3 It's a great excuse to travel. Let's be honest, no one ever really needs an excuse to travel—just the opportunity—but a trip can be more fun when you have plans to do something you're passionate about. Exploring new territory and meeting local surfers can renew your love of surfing, or if you've never tried surfing, your next beach-bound trip could be a great time to start.
#4 Cross an item off your bucket list. Whether or not you have a written-out bucket list, and regardless of whether or not surfing is on there specifically, the premise of these lists is expanding your horizons, doing something that scares you and hopefully coming back with a story worth telling. Learning to surf or surfing in an extraordinary destination would be a great addition to that list, so write it down and then work on crossing it off.
#5 Surfing brings you closer to nature in a unique way. From the one-of-a-kind look at ocean life to the sensation of actually moving with the water, one of the benefits to surfing is perspective. That perspective applies to both personal lives and the wellbeing of the world. Surfers have respect for the ocean and the rest of the planet, because they rely on the tides and see the effects of pollution first-hand.
#6 You'll get tan without trying. Everyone loves that sun-kissed look, but a natural tan requires spending some serious time outdoors. While getting outside hardly seems like a burden, runners, cyclists and hikers are synonymous with terrible tan lines. Surfers, on the other hand, are known for their flawless bronze skin. Vitamin D is good for you, wear your sunscreen and get out there.
See Also: The Best Sunscreens for Protecting Your Skin This Summer
#7 The subculture is popular and celebrated. Everyone knows the stereotype about surfers, the laidback guys and girls with long hair, tan skin and a deep appreciation for the ocean. As far as stereotypes go, the typical surfer one isn't all that bad. In reality, the culture is deeper and more obscure than that, but for the most part, the focus is on conservation of the ocean, enjoying the sport and sharing waves. Not a bad tradition at all.
Related:
Surfboard Types: Explained
The World's Most Surprising Surf Spots
How to Survive a Rip Current