4 National Parks For Fly Fishing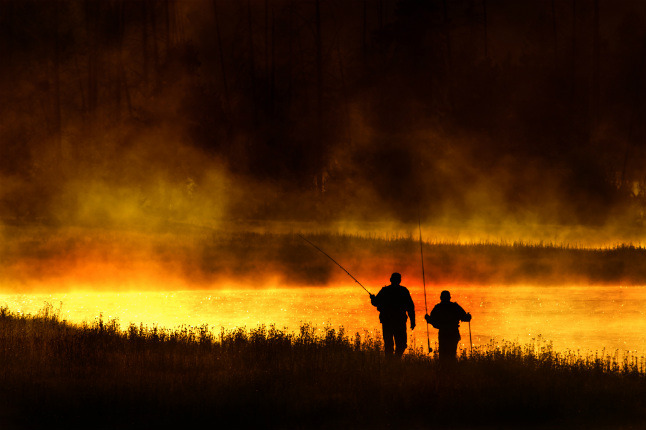 Shutterstock
As the ice melts from North American waterways, fly fishing season is officially upon us. Get your gear ready and head to these national parks for some of the best angling around.
Yellowstone National Park—Wyoming
One of the most popular national parks in the U.S., Yellowstone is also a big hit with those who fish. More than 100 lakes, a thousand miles of streams and seven varieties of gamefish make the park a prime spot come spring. Top spots for fly fishing in spring and early summer include Firehole, Madison and Gibbon Rivers—as well as both Yellowstone and Trout Lakes.
Banff National Park—Alberta, Canada
Canada's oldest national park, set in the Rockies offers visitors plenty of lakes, rivers and streams initially formed by glaciers and now prime with fish. Get your permit and head to the Bow River or Isabella Lake to cast out.
Glacier National Park—Montana
Montana is known for incredible fishing and Glacier National Park lives up to the state's reputation. You can book a trip with an outfitter or take the adventure yourself through the nearly endless park. With more than 130 named lakes there is no shortage of fishing spots. Try Flathead Lake, Red Rock Lake or Trout Lake, but be sure to read the park regulations first.
Great Smoky Mountains National Park—Tennessee and North Carolina
Great Smoky Mountains National Park is the single most visited national park in the U.S., but even in the height of summer you can still find peace, quiet and a nice place to cast in the 521,000 acres of the park. Seeing all that territory and more than 700 miles of trout-supporting streams can be intimidating, there are no shortage of great spots in the Great Smoky Mountains. A few top spots include Lynn Camp, Cataloochee Creek, Greenbrier and Abrams Creek.