Outdoor Aficionados Will Love The Breathtaking Views At This Southern US State Park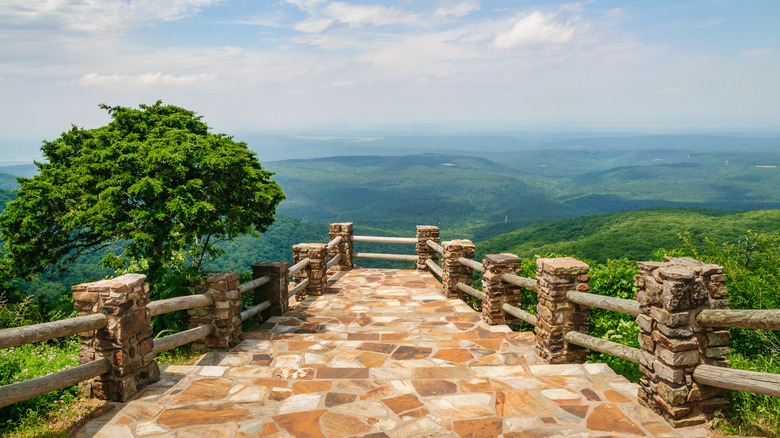 Zack Frank/Shutterstock
Arkansas may not be the first state that comes to mind when contemplating your next outdoor wilderness expedition. Yet, every state has its fair share of hidden gems, and Mount Magazine is one of Arkansa's most sought-after destinations by wayfarers around the country. Nestled within the Ozark St. Francis National Forest, rocky bluffs, flowering plateaus, and a canopy of blossoming foliage give this park its stunning beauty. At the cornerstone of this Ozark state park is Mount Magazine, the highest summit in Arkansas. 
Teeming with flourishing flora and fauna, Mount Magazine State Park is home to several rare species that bring the forest to life in a brilliant display of vibrant colors, regardless of season. If you don't mind the chill, winter is one of the best months to take in the panoramic scenery amidst the frozen icicles. Fall foliage is at its peak during the harvest months, promising auburn leaves and vermillion treetops. Temperatures in summer can soar, meaning early morning hikes are a traveler's best friend if planning a trip during the warmer months. 
Maple-leaf oak, yellowwood, and Ozark chinkapins are just a few unique species that cover the grounds and breathe new life into the forest. With endless beauty to explore, Mount Magazine State Park is a gateway to adventure for every wilderness enthusiast, from camping and backpacking to rappelling the towering sun-soaked cliffs ascending into the clouds.
Criss-cross the wilderness by trail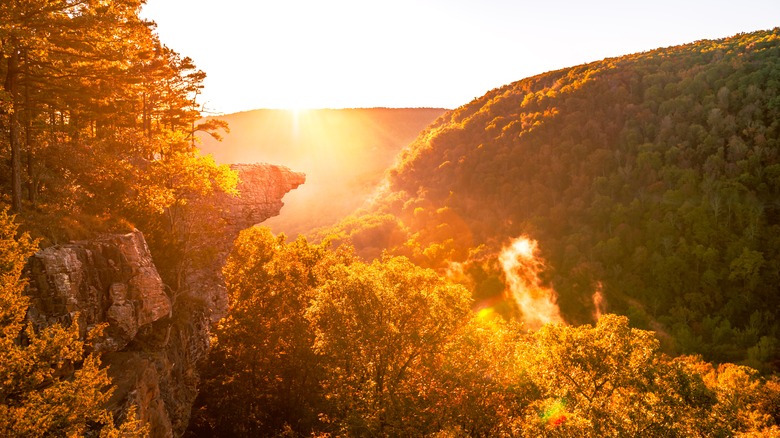 ksnyd_10/Shutterstock
Navigating the forest by foot is perhaps the best way to experience the authentic beauty and rawness of nature in Mount Magazine State Park. Its collection of trails crisscross the backwoods of Arkansas, allowing trekkers to glimpse the forest from a perspective lost to those traveling by road. At nearly 3,000 feet above sea level, Signal Hill Trail leads wayfarers on a gentle stroll through the forest. The trail bypasses Cameron Bluff campground, the Mossback Ridge Trail, and connects to the Lodge at Mount Magazine. 
Bear Hollow and North Rim Trail offer equally stunning views. While Mount Magazine State Park is home to a thriving black bear population, Bear Hollow Trail is more commonly known for its spectacular lookout points. Sunrise Rock, Inspiration Point, and Shoal Creek are just a few stopping points you'll want to mark on your trail map. Journey along the narrow trailhead on North Rim Trail as it skirts the edges of Cameron Bluff Overlook and Dill Point and blazes through the heart of this state park. Both trails offer picturesque forest views from atop the rocky cliffs. 
In the fall, its treetops are painted a vivid montage of orange and brown. After the last leaf cascades to the forest floor, icicles and frost turn the woodlands into a winter wonderland before reviving in springtime with a sea of wildflowers.  In the early months of summer, fields of butterflies flourish in the flower meadows that cover the sloping terrain. 
Choose your mountainside accommodations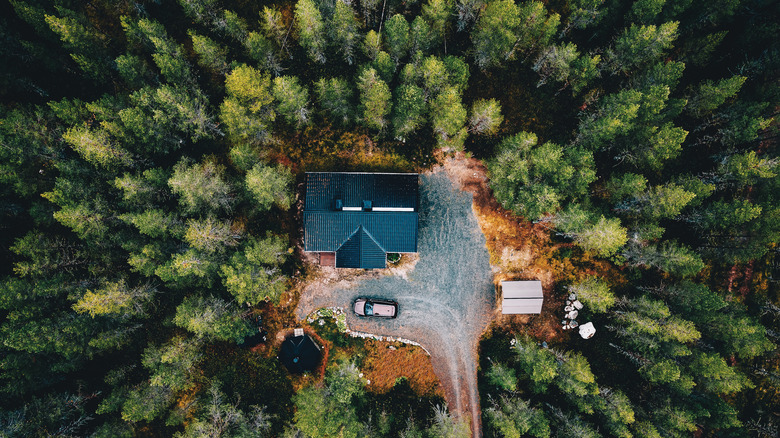 nblx/Shutterstock
Immerse yourself in Mount Magazine's great outdoors — glamping edition! With 18 campsites throughout the park, hitch up your RV and park it lakeside at either Cove or Blue Mountain Lake for an unparalleled scenic view outside your window. If glamping in the heart of Arkansas's backwoods country is just a thought too frightening, the Lodge at Mount Magazine offers luxury mountainside accommodations. Overlooking the Petit Jean River Valley are 60 polished guest suites, a fitness center, and the resort's SkyCrest Restaurant. After a long day of exploring the forest grounds, sit down to a gourmet, fine dining experience in the heart of Mount Magazine's pristine wilderness. 
For a perfect middle ground between roughing it in the backwoods and modern luxury, book one of their mountainside cabins stretched along the bluff neighboring the Lodge. Each rustic cabin features wood-clad exteriors, fireplaces, and wraparound balconies — perfect for cuddling up in a blanket while watching snowflakes or taking in the sparkles of fireflies on warm summer nights.