Plan A Picture-Perfect Christmas Vacation To This Historic European Village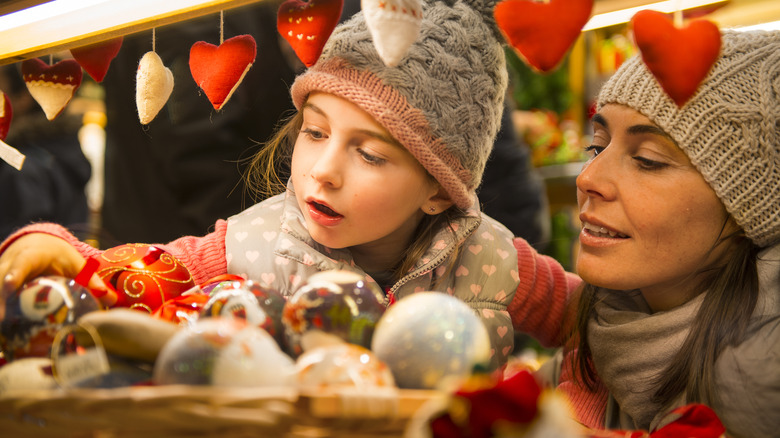 Gorfer/Getty Images
When Christmas comes around each year, those who celebrate tend to have a lineup of traditions they look forward to enjoying alongside their loved ones. While some can't wait to put up the Christmas tree, others bake the holidays away in sweet style. Elsewhere, you'll find families spending hours watching their favorite Christmas films while others lean into holiday music and house parties in abundance.
These beloved traditions are always meaningful, but switching it up for someplace new can be just as wonderful. This year, if you're looking to plan a picture-perfect Christmas vacation for yourself and your traveling crew that's sure to inspire, consider making your way to scenic Lauscha, Germany. This historic European village settled in the eastern half of the country is brimming over with holiday charm and boasts breathtaking scenery to match.
When holiday travel takes you to Lauscha for Christmas, you'll find yourself squarely in the heart of the lush Thuringian Forest valley. When the snow falls here, it's easy to feel you've been transported into a winter wonderland you've only ever read about in fairytales. Of course, the sentiment makes sense when you've chosen to explore a village that's often referred to as the "birthplace of Christmas ornaments." According to City Population, the charming village of Lauscha is home to a little more than 3,000 residents. This gives visitors every reason to slow things down, relish the holiday festivities, and experience a quintessential Christmas at its finest.
A legacy of Christmas ornament creation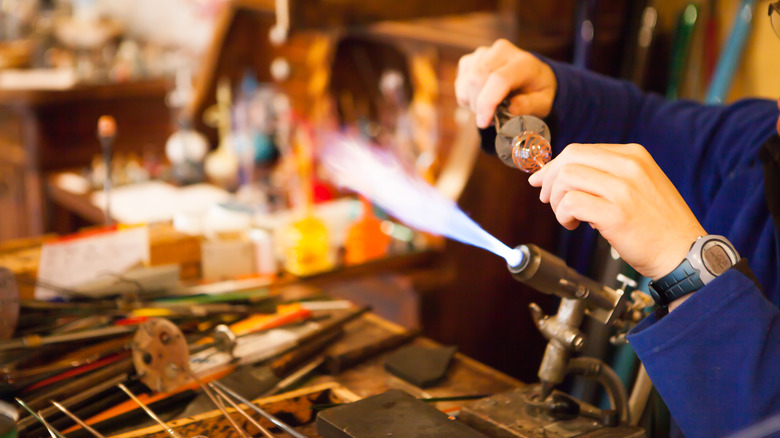 andongob/Shutterstock
For generations, the residents of Lauscha have been known for their unique artistic ability to create gorgeous glass-blown Christmas ornaments. These beautiful works of art are the result of centuries of glasswork techniques developed in the area dating back to the late 16th century. During this time, master glass-blowers Christoph Muller and Hans Greiner opened a local workshop and ultimately founded Lauscha around the art form. It was the perfect place for such an enterprise thanks to the glassmaking materials readily available in the surrounding forests including quartz sand and limestone.
Once colorful glass baubles began being produced in Lauscha, it didn't take long for their popularity to grow across the globe. As the delicate glass beads eventually made their way onto Christmas trees, Lauscha's inviting holiday reputation was secured. Today, Lauscha remains a hub of opportunity for glass ornament seekers and enthusiasts from across the map.
A must-experience event to add to your Christmas itinerary when you're in town is the annual Christmas market. Known as Kugelmarkt, this event is hosted the first two weeks of December and provides guests with blocks of vendors to explore showcasing glass ornaments and handmade goods of all kinds. Once you've had a chance to browse and purchase the ornaments you'd like, continue enjoying the seasonal finds at the Christmas store in town. Weihnachts Outlets has Christmas decorations for sale year-round and successfully immerses you in festive feelings no matter the season.
Holiday fun beyond the festive market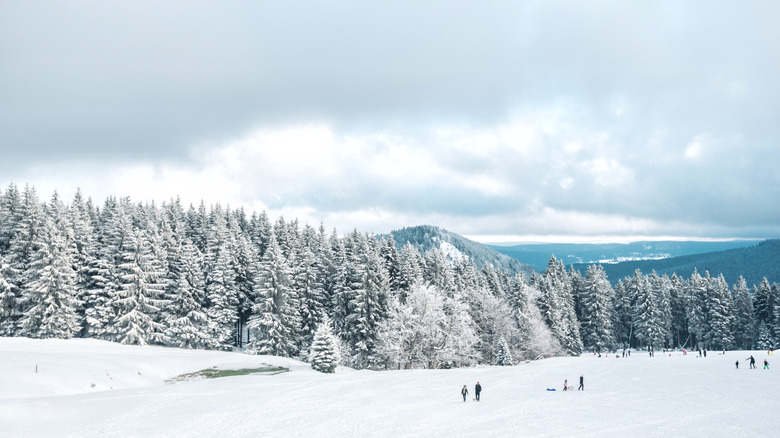 Golero/Getty Images
A trip to Germany at Christmas with a focus on holiday markets in Lauscha is always an inspiring choice. That said, Lauscha provides travelers with even more to enjoy during a Christmas stay. While you're here, be sure to make time for a stop at the Lauscha Glass Museum. Stepping inside, you're invited to explore a vast array of exhibits showcasing the rich history of glassmaking in the area. There are also instruments to view that are used to create glass Christmas ornaments and plenty of glassware pieces to admire.
If it's a storybook Christmas setting you're hoping to enjoy, you won't have to go far to find it. The surrounding Thuringian Forest is filled with fantastic trails to check out in the winter. These can be explored by snow bike, sled, or snowshoes depending on the pace you prefer.
When cravings come calling, Lauscha is a wonderful place to savor a traditional Christmas dish. As you drop into local restaurants, be sure to order regional favorites like the Thuringian bratwurst, potato dumplings, or sauerbraten. Once you've had your fill, a hands-on glassblowing workshop is an exciting addition to your holiday itinerary. Throughout Lauscha, there are many workshops available where you can create your own glass art alongside a skilled artisan. Places like Krebs Glas Lauscha are great for beginners. You'll walk away with new skills and a personalized Christmas souvenir to hang on your tree when you return home.