Take A Stunning Cross-Country Trip On The Longest Road In America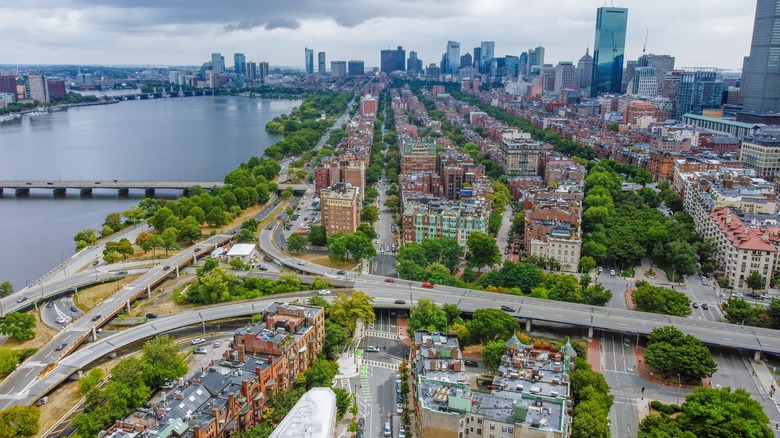 Vikram Anantha/Shutterstock
The longest road in America isn't an interstate highway, though it does cross a dozen states. U.S. Route 20 stretches 3,365 miles from coast to coast, starting in Boston, Massachusetts, and ending in Newport, Oregon (or vice versa, depending on which way you're driving). If you're in Kenmore Square in Boston, where the eastern part of the road begins, you'll even see a street sign showing the mileage all the way to Newport. It would take you over two days to drive U.S. Route 20 straight, though a better plan might be to break it up as a week-long road trip across the country.
Like other roads, U.S. Route 20 loses its numbering when it passes through a national park — in this case, Yellowstone National Park. However, it regains its numbering on the other side of the park, so it's already somewhat naturally broken up into an East Section and a West Section, per the Federal Highway Administration.
In a sense, all roads lead to Boston, since America's longest interstate highway, I-90, also runs there from Seattle. It spans 13 states but is 280 miles shorter than U.S. Route 20, which often parallels it. In addition to Massachusetts and Oregon, U.S. Route 20 will take you through parts of New York, Pennsylvania, Ohio, Indiana, Illinois, Iowa, Nebraska, Wyoming, and Idaho. Along the way, you'll have the chance to stop off in major cities like Cleveland and Chicago and visit other landmarks like the Craters of the Moon National Monument.
U.S. Route 20 from Boston to Chicago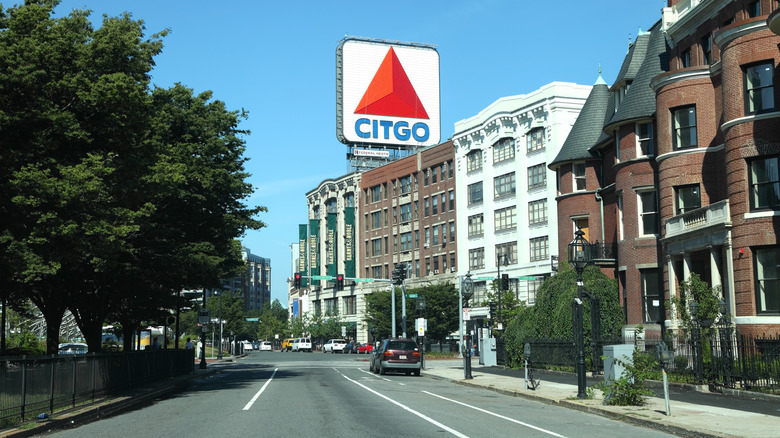 Denistangneyjr/Getty Images
If you pick up U.S. Route 20 near Boston's famous Citgo sign, you can turn your road trip into an exploration of history, going west like the early (non-Citgo) pioneers. The city has several notable attractions that can put a visitor in touch with American history, such as the Boston Tea Party Ships & Museum and the Freedom Trail, a walking tour of 16 historic sites, including the country's oldest public park, Boston Common, and its oldest commissioned warship, the USS Constitution. Fenway Park is near Kenmore Square, so if it's baseball season, you might take in a Red Sox game before hitting the road.
Outside Boston, one of the first major cities you'll hit on U.S. Route 20 is another state capital, Albany, New York. This isn't the last Albany you'll encounter, since the trip is bookended with a potential stop in Albany, Oregon, right before you hit Newport. However, in Albany, New York, you can visit sites like the New York State Capitol, a National Historic Landmark. From there, you'll have a chance to stop off in other cities like Buffalo, New York, and Erie, Pennsylvania, while driving along Lake Erie to Cleveland.
No Cleveland trip would be complete without a visit to the Rock 'n' Roll Hall of Fame. If you're a music lover, when you reach Chicago, its Department of Cultural Affairs also offers a map of 50 sites important to local music history, like bluesman Muddy Waters' house.
Pioneer trails, Yellowstone, and Craters of the Moon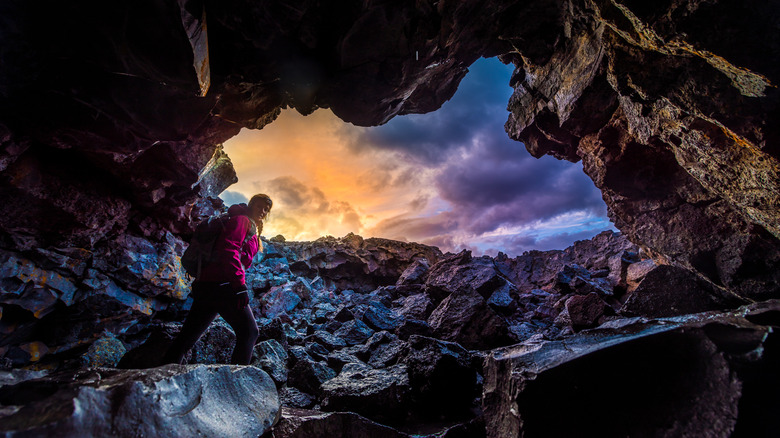 Kris Wiktor/Shutterstock
From Chicago to Yellowstone National Park, there's a stretch of over 1,300 miles, much of it wide-open landscape. However, you'll pass through Iowa's second-largest city, Cedar Rapids, and when you hit the state line and Sioux City, Nebraska, U.S. Route 20 intersects with the Lewis & Clark National Historic Trail. At the Lewis & Clark Interpretive Center, you can learn about the titular explorers and how their famous expedition moved up the Missouri River and through the Sioux City area, taking a more northwest route to Oregon.
In Casper, Wyoming, there's another interpretive center where you can learn about how the wagon trains in four more pioneer trails (the Oregon Trail, California Trail, Pony Express Trail, and Mormon Pioneer Trail) all converged on what is now the state's second-biggest city. If you've come prepared with a tent in your car, then after another 267 miles, you can cross Yellowstone off your camping bucket list. Or you can just check out sights like the geyser Old Faithful and see the buffalo roam in Yellowstone before heading onto Craters of the Moon National Monument in Idaho.
Craters of the Moon takes its name from the almost lunar appearance of the many open lava tubes and caves that have formed across a volcanic field the size of Rhode Island. It's a sight to behold, just as the Pacific Ocean and the Yaquina Bay Bridge and Lighthouse will be once you finally arrive in Newport, Oregon.