This Southern US Destination Is One Of The Best Budget City Breaks In America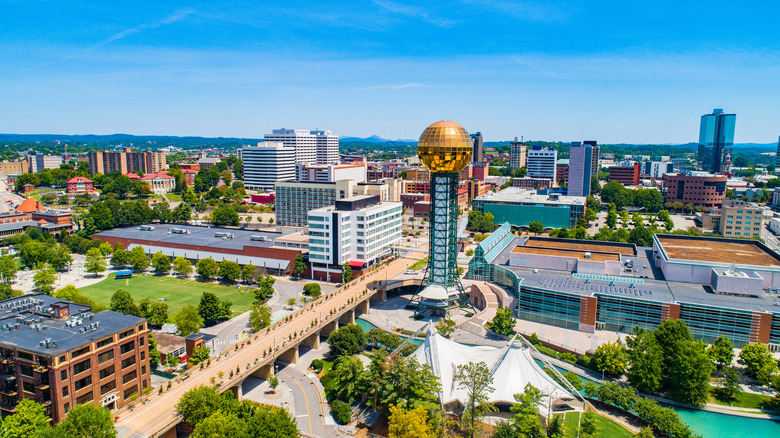 Kevin Ruck/Shutterstock
There's more to Tennessee than just its two largest cities, Nashville and Memphis. If you're traveling on a budget, in fact, the state's third-biggest city, Knoxville, might be a better option. Knoxville holds a rich trove of history; it was Tennessee's first capital, and there's still a monument recognizing it as such outside the Old Knox County Courthouse downtown. It was also one of the last U.S. cities to host the World's Fair in 1982, and it's where the University of Tennessee is located. You can get a feel for the city's history at some of the cheap — or in some cases, free — attractions around town. Moreover, Knoxville is less than an hour's drive from America's most-visited national park, Great Smoky Mountains National Park, which is likewise free to enter.
The average price for a Knoxville budget hotel (via Budget Your Trip) is around $82 a night. However, on booking sites like Expedia, you can find some of Knoxville's best cheap hotels starting at $50 a night. Many of these are 2.5-star hotels, but properties just off I-40, like America's Best Value Inn Knoxville East (beginning at $58 a night), still have good reviews with a solid rating of 7.8 out of 10. You may not be staying in the lap of luxury, but if all you need is an affordable base of operations for your budget vacation, hotels like the Quality Inn Merchants Drive (from $69 a night) are also conveniently located within a 10-minute drive of downtown Knoxville.
An affordable slice of history in downtown Knoxville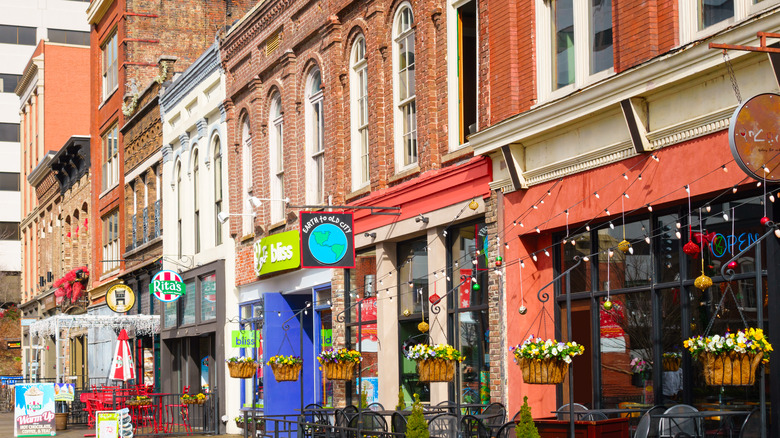 Benedek/Getty Images
In downtown Knoxville, you'll find the historic district of Market Square, rated as the #1 budget-friendly local sight on TripAdvisor. Famous historical figures like Booker T. Washington and Ronald Reagan have given speeches here. Aside from paid parking ($1 per hour, $7 maximum per day), it costs nothing to soak up the atmosphere of the farmer's market, street musicians, and brick buildings with Victorian architecture. There are also city-owned lots and garages where it's free to park after 6 p.m. and on weekends.
Both Market Square and nearby Gay Street — where the Tennessee Theatre marquee beckons music fans — are listed in the National Register of Historic Places. Between them, you can see a colorful Dolly Parton mural on Graffiti Alley. Across from the theater, the East Tennessee History Center's museum has free admission for kids 16 and under, and it's only $10 for adults. The Knoxville Trolley, operating since 1876, is also free to ride. Its Green Line will take you through Gay Street, Market Square, and the Old City, where you can see glassblowing at the Pretentious Glass Co.
The late Cormac McCarthy, Pulitzer Prize-winning author of "The Road," grew up in Knoxville, and there are still bars downtown associated with his novel "Suttree." From sandwiches to ramen, everything on the food menu at the Corner Lounge and Suttree's High Gravity Lounge is less than $15. On Market Square's north side, you can see a sidewalk marker inscribed with a "Suttree" passage.
World's Fair Park, the University of Tennessee, and more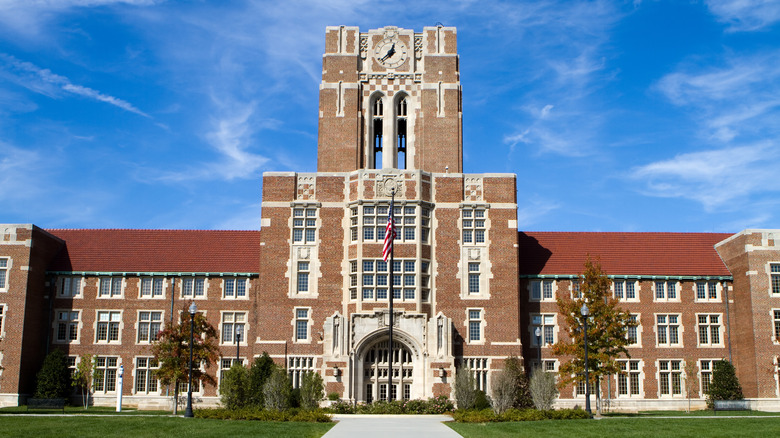 Steven Frame/Shutterstock
Built in 1786, Knoxville founder James White's fort, the city's first home, is $10 for adults and $5 for kids ages 5-17 to tour. Another historical site you can stroll for free in Knoxville is World's Fair Park. From mid-April to early October, there are splash pads in the park that kids can enjoy. The landmark Sunsphere tower, a symbol of the '82 fair, just reopened last year. To access the observation deck on the fourth floor, it's only $5 for adults and $1 for kids 12 and under.
From the Sunsphere, you can take in a panorama of the park and the surrounding city, including the University of Tennessee and natural landscape features like the Tennessee River and Smoky Mountains. At the university, Knoxville's branch of the UT Gardens (the state botanical garden) offers free admission. Elsewhere on campus, the Clarence Brown Theatre has special "Pay What You Can" performances aimed at cultivating an appreciation of theater across all budgets.
At $26.95 for adults and $21.95 for kids ages 3-12, Zoo Knoxville might be worth it as an all-day experience for animal lovers. Another possible day trip, about an hour's drive from Knoxville, is Gatlinburg, Tennessee, one of America's most budget-friendly destinations. If you were inspired by that Dolly Parton mural downtown, you could also make the 45-minute drive from Knoxville to the Dollywood amusement park in Pigeon Forge, Tennessee. Here's how much it'll cost you to take a trip there.