Take A Drive On This Western US Road Trip Route For Stunning Waterfall Views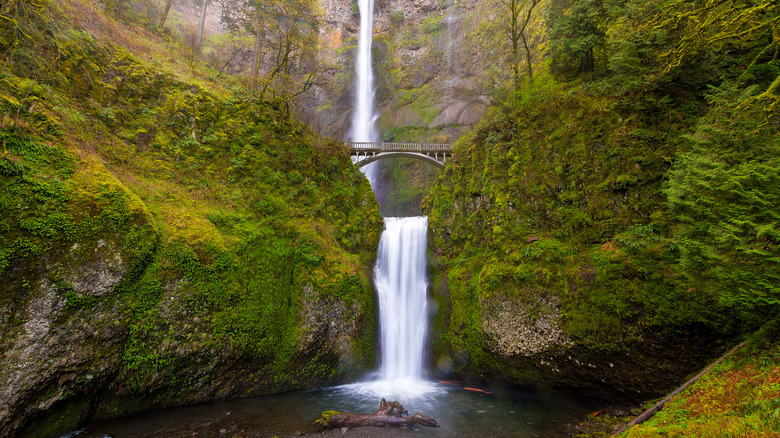 Thye-Wee Gn/Shutterstock
You know that famous TLC song that says, "Don't go chasing waterfalls"? Here at Explore, we think you absolutely should (safely, of course), and Oregon is the perfect place to do just that. Heading east out of Portland, nature lovers will marvel at the views along Interstate 84 as it snakes around the Columbia River Gorge. This spectacular 80-mile canyon is set against the Cascade Mountain Range, offering visitors a wealth of outdoor recreation activities all year round. Thanks to the steep cliffs and mountainous terrain, the area is home to a staggering number of natural waterfalls. There are more than 90, in fact, with plenty of impressive vistas to boot.
Start off this west coast scenic drive with a trip to Multnomah Falls, accessible via exit 31 off I-84. With more than 2 million visitors per year, the dramatic waterfall is considered the top tourist attraction in the Pacific Northwest. The waterfall drops 620 feet, making it one of the tallest in the nation. It's open year round, though the peak season — May through September — requires a permit. There are plenty of amenities onsite, as the Multnomah Falls Lodge Visitor Center has a restaurant, gift shop, and restrooms. Visitors can enjoy the falls from the bottom or take a 2.4-mile hike to the top for more stunning views.
Wahkeena Falls and Bridal Veil Falls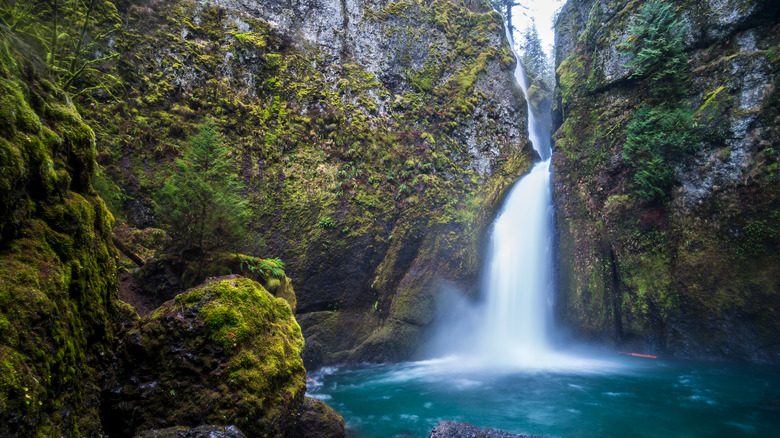 Panpilas L/Shutterstock
Nearby Multnomah Falls, by Benson State Park, there's another beautiful waterfall to add to your itinerary. Wahkeena Falls, which means "most beautiful" in the indigenous Yakama language, is a 242-foot tiered waterfall surrounded by moss-covered rocks. Visitors can take in the majestic view from the picnic area at the bottom or use one of four trailheads to see the temperate rainforest from another angle, including a 5-mile loop to Multnomah Falls.
Just up the road, there's yet another waterfall worth exploring. Bridal Veil Falls was once the site of an old lumber mill, but these days, it's enjoyed by visitors for its two short trails that boast charming scenery. The overlook trail is an easy loop with sweeping views of the Columbia River and beyond. For a more moderate adventure, visitors can use the lower trail for a half-mile hike that goes up to the base of a 118-foot waterfall.
Horsetail, Ponytail, and Triple Falls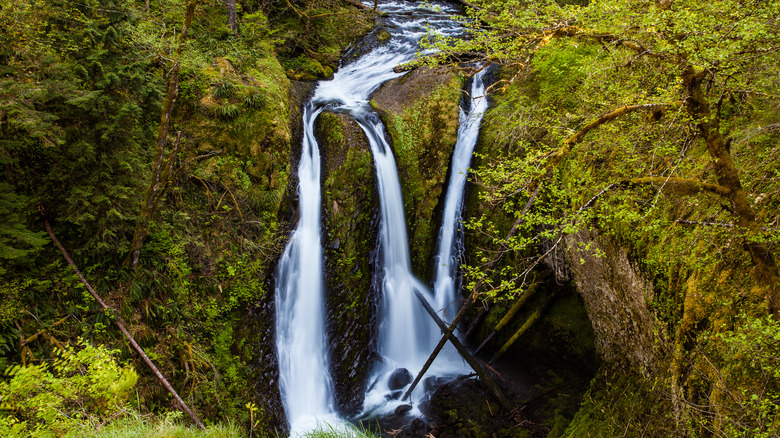 puttsk/Shutterstock
If you're up for a 4-mile hike, the Horsetail Falls Loop will take you through the woods to several enchanting waterfalls. The trail starts at Horsetail Falls, a popular drive-up vista with a waterfall that drops 176 feet. The landmark gets its name from the shape the water makes as it falls over the rocks, which looks remarkably like a white horse tail. Take the marked trail for 2.5 miles from this point to Ponytail Falls, Middle Oneonta Falls, and Lower Oneonta Falls.
For a longer trail and more gorgeous scenery, continue onto the Oneonta Trail. Keep in mind that this terrain is demanding, so it's best for avid hikers only. At the end of the climb, you'll be rewarded with a view of Triple Falls, a scenic wonder that is exactly what it sounds like — a waterfall that segments into three distinct parts as it plunges into the river below. The result is nothing short of the kind of view you'd find in a fairytale. That's Oregon for you.