This Freezing European Beach Is One Of The Most Dangerous Swimming Spots In The World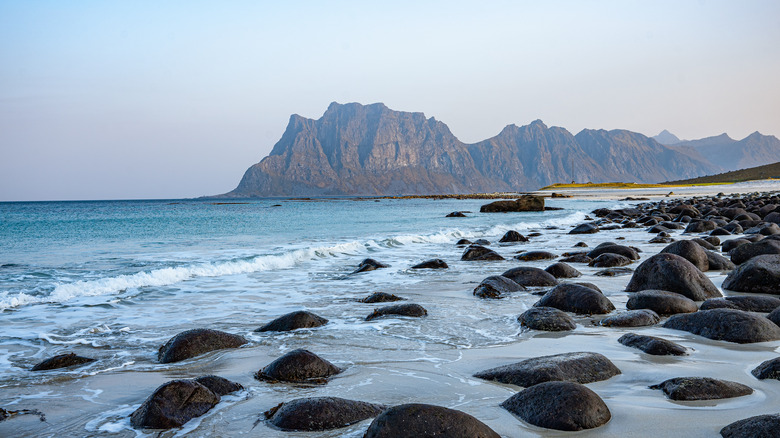 Frithjof Moehle/Shutterstock
For those who love adventure, Norway is as mysterious as it is appealing. Home to dynamic fjords, fascinating Viking history, fantastic food, and a cultural heart for eco-tourism and sustainable tourism, the European country offers travelers many reasons to come and explore. And explore they do; in droves, with Statistic Norway reporting over 36 million travelers booking overnight stays across the country in 2022.
While some visitors are drawn to city centers, those who are seeking thrilling coastlines and mesmerizing views of the magical Northern Lights will find it all waiting for them across Norway's Lofoten Islands. Home to Uttakleiv Beach, this small community hosts no more than 22 year-round residents who live alongside some of the most captivating natural wonders on the planet. In fact, over 250,000 tourists typically make their way to destination every summer. 
Although Uttakleiv Beach has earned numerous awards over the years for its romantic appeal, beauty, and role as an important cultural landscape, it's not your typical European seashore. In fact, visiting it with the intent to swim comes with innate risks. Those who might dare to venture into the surrounding waters at Uttakleiv Beach would find the experience not only freezing, but potentially deadly.
Beautiful and deceptively frigid waters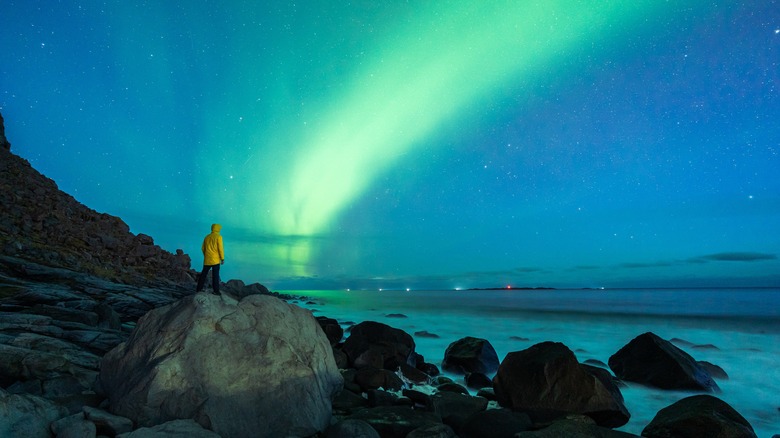 Piotr Kaluza/Shutterstock
While those who live near Uttakleiv Beach year-round are accustomed to the constant state of cold waters, visitors are more easily deceived by what seems, at a glance, like a friendly place for swimming. The reality is much different because stepping into the waters here means immersing yourself in temperatures that rarely surpass a range of 46 to 57 degrees Fahrenheit.
57 degrees Fahrenheit might not sound freezing, but this assumption can be dangerous when it comes to swimming. According to the National Center for Cold Water Safety, water below 70 degrees Fahrenheit should be approached with extreme caution. Water between 50 and 60 degrees Fahrenheit puts swimmers at risk for potentially fatal cold shock. Cold water exposure can turn serious quickly. The National Weather Service points out that cold water reduces body heat four times as quickly as cold air. Cold shock causes rapid changes in heart rate, blood pressure, and breathing patterns. This can lead to hypothermia which increases the overall risk for drowning.
Alternate activities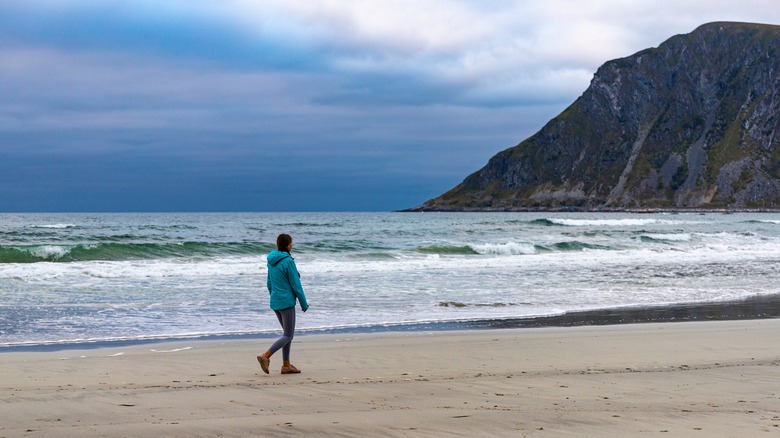 Jakub Maculewicz/Shutterstock
With so many cold water risks at Uttakleiv Beach, visitors are encouraged to remain firmly on the shoreline during their visit. The good news is there's no shortage of inspiring activities to enjoy even when swimming isn't an option. The picture-perfect destination is ideal for nature and landscape photographers looking to hone their skills.  The mix of rocky and sandy shorelines here is surrounded by the towering Veggen mountain range and striking rock formations. Between the months of September and March each year, many tourists head to Uttakleiv Beach with cameras in hand specifically to enjoy unsurpassed views of the dancing Northern Lights overhead.
There are also plenty of waterside hiking trails to enjoy around Uttakleiv Beach that provide sweeping views without the risk. While the local trails are great for leisurely trekking, experienced hikers with a few hours to spare can opt for the route leading from Uttakleiv Beach to Haukland Beach over Mannen Ridge. The many slopes and zigzags of this elevated path offer unique vantage points over the shoreline where you can enjoy the waves from a safe distance.