This Stunning Beach Is A Must-Visit When Traveling To New Zealand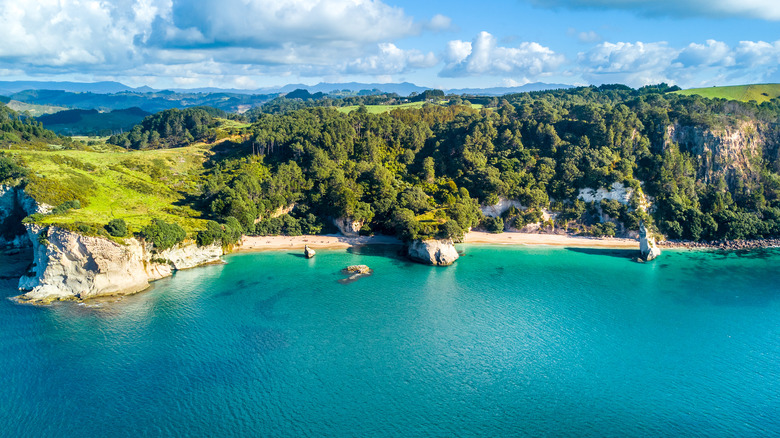 krug_100/Shutterstock
Coromandel — a delicately carved peninsula whose golden beaches are famous for inspiring wayfarers to swap their big city high rises for New Zealand's alternative lifestyle. Well-connected to a network of urban jungles on the outskirts of Coromandel, Auckland, Hamilton, and Rotura all rest a three-hour journey inland. The peninsula's beaches are drenched in sunlight year-round, and the region enjoys a moderate climate throughout summer and winter. Fringed with fertile plains and wetlands, the golden shores of Hot Water Beach are a picturesque hotspot (literally!) on New Zealand's Coromandel coastline.
Complementing the region's natural wonders, Coromandel is a haven for wellness enthusiasts. The town enjoys an abundance of seasonally-grown delicacies, farmers' markets, and artisan products. In a locale marked by a vibrant artist community, visitors can peruse the town's art galleries, highlighting the relationships between nature and the human experience. Whether you're seeking an escape from the hustle of daily life or are just intrigued by the carefree lifestyle that characterizes this district, Coromandel is one of New Zealand's best-kept gems.
Hot Water Beach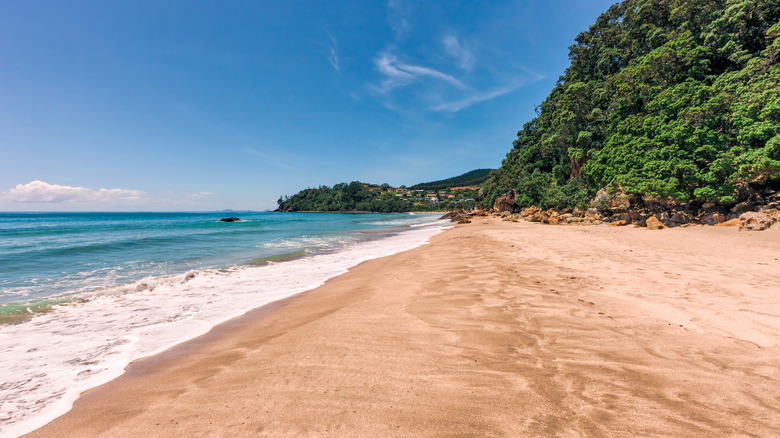 riekephotos/Shutterstock
Located on the eastern coastline of the Coromandel Peninsula, Hot Water Beach is a sheltered stretch of sand guarded by a layer of Kauri trees, the most prevalent species of timber native to New Zealand. At low tide, the shore becomes a spa-like oasis, with visitors churning up sand to form their own heated mineral pools. Underneath its golden coat, molten magma and Te Puia geothermal hot springs warms warm the water before it rises, heating the sand as it seeps through. Tracing the landscape's history back nine million years, the land surrounding Hot Water Beach was forged through a series of Andesitic volcanic eruptions, and the hypothermic activity is the same catalyst heating the pools today.
With moderate swells blowing in from the east, Hot Water Beach is a mecca for surfers chasing well-sized mavericks. However, strong undertow currents mean surfers should be careful when navigating swells. The enchanting Coromandel peninsula is also what brought the magic to life in "The Chronicles of Narnia" sequel. Cathedral Cove, a gaping arch on the southern point of the peninsula, was the filming location for the scene during which the Pevensie children return to Narnia. A 10-minute drive from Hot Water Beach, the beautiful sea cove rests at the bottom of a deep chasm, backed by rain forested bluffs.
Living the Kiwi life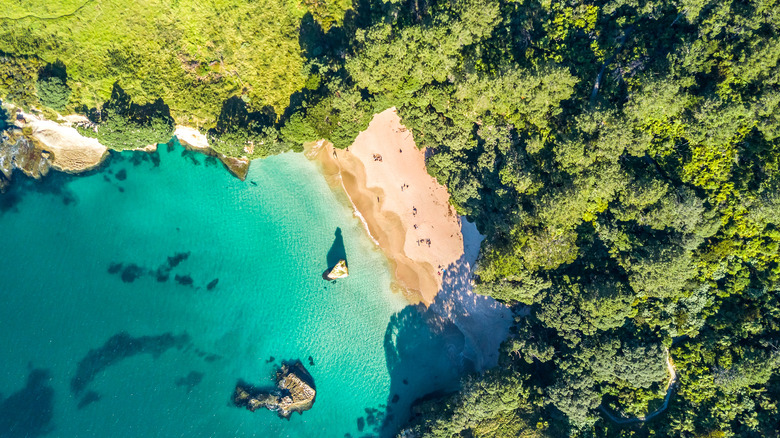 krug_100/Shutterstock
Kiwis in Coromandel take life one small-town breath at a time. A popular outlet for prospering creatives, the region is a pocket of talented artists, writers, and sculptors. Coromandel's laid-back ambiance beckons tourists to its shores, urging them to stay just a little while longer until they finally give in, displaying their craft in permanent studios along the water's edge.
Hot Water Beach is just one of Coromandel's natural elements that propels a wellness-focused community. The people of Coromandel embrace self-care and focus on stress reduction to promote healthy, active, and fulfilling lifestyles. Wellness retreats are a regular occurrence in Coromandel, spurred by quality produce, fresh air, and peaceful vistas.
Just across the highway from the heated sands, taste the region's native flavors at Hot Waves Cafe. This wellness-inspired eatery is fringed with vibrant vegetation, priming guests for their nutrient-dense menu. Griddled eggs, lush greens, and seasonal veggies populate the breakfast section, encouraging a healthy (yet far from boring) diet. After a day of soaking in the salty seawater, order a brew and breakfast bites while watching the last rays of the sun sink into the horizon.