Visit This Atlantic Ocean Island Beach For A Picture-Perfect Tropical Vacation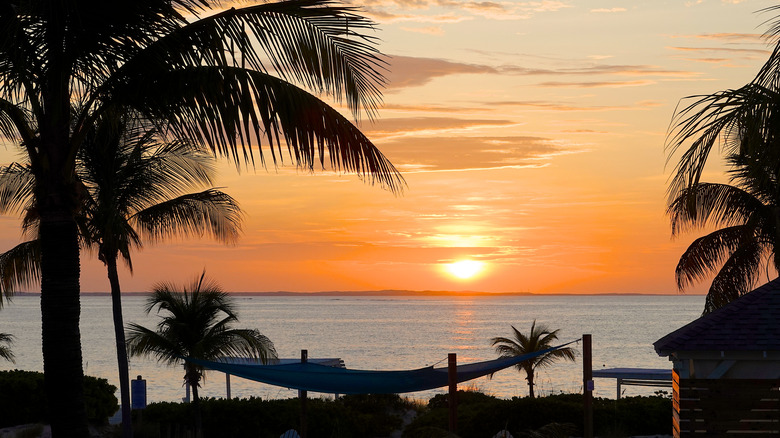 George Wirt/Shutterstock
The islands of Turks and Caicos are located just 575 miles from Miami; but here, you can have the beach vacation of your dreams without the big-city feel. Of the 40 islands and cays, Providenciales is the tourist hub — and Grace Bay is the jewel in its crown. It even received the Tripadvisor Best of the Best Beaches award in 2022. Rated by the Luxury Travel Expert as one of the top 10 beaches in the world, Grace Bay offers visitors plenty to do in its tropical paradise.
Grace Bay is 3 miles long, with white sand and turquoise-hued waters where sea turtles and eagle rays swim through brightly colored fish shoals. The reason that there is so much marine life here is that it has the world's third-largest barrier reef, which encompasses the islands. Spending time in Grace Bay is like being in a postcard, and although the area truly is picture-perfect, there is far more to this place than the scenic views. There is a wealth of experiences to try on this small, yet perfectly formed, island.
Things to do at Grace Bay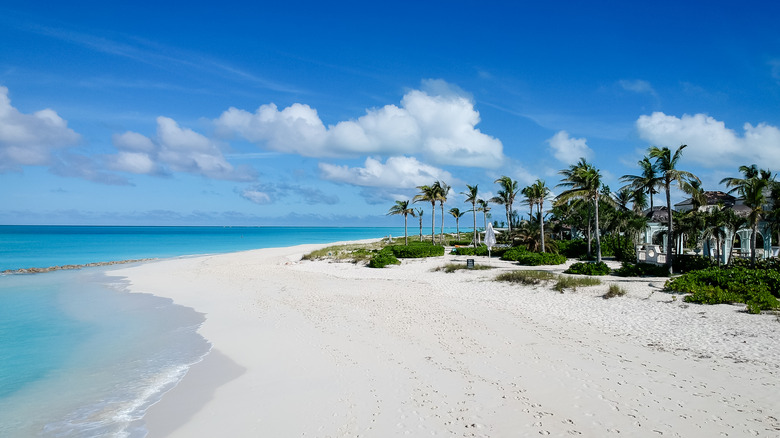 jpbarcelos/Shutterstock
The main attraction of Grace Bay is relaxing on the beach, but the best way to make the most of your experience is to get in the water. There are 340 miles of barrier reef surrounding Turks and Caicos bursting with marine life. Sea creatures like sharks, starfish, turtles, rays, parrotfish, barracudas, wrasse, blue tang and angelfish, as well as an array of corals, can be seen here. Grace Bay has access to the best snorkeling sites on the island, and you can take a boat towards Bight or Smith Reefs.
If you want to explore even more of the underwater walls and crevices, then you'll want to join a snorkeling cruise offered by dive companies, which "typically visit the best sites," as noted by Turks and Caicos' tourist website. Adventurous watersports like jet skiing and parasailing are more adrenaline-fuelled activities to enjoy in the bay. In the cays, the waters are calmer so you can kayak or paddleboard your way around. 
For animal lovers, when you're on the beach or in the water, look out for Atlantic bottlenose dolphins that appear all year round and humpback whales from January to March. Grace Bay's resorts have wonderful opportunities to stay on the beachfront in an ocean-facing suite or a place to enjoy a cocktail by the pool.
Other things to do on Providenciales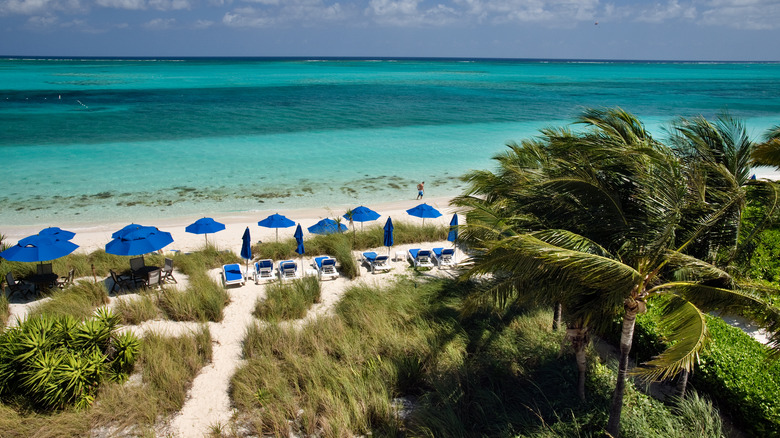 Ellenmck/Getty Images
Grace Bay is well accustomed to tourists, so there are some great options for sleeping, eating, and drinking here. According to Tripadvisor reviews, the Grace Bay Club is the number one place to stay, a luxury beachfront resort with a pool, restaurant, and bar. It is closely followed by Seven Stars Resort & Spa, which offers suites with ocean views as well as soaking tubs to relax in and three restaurants for dining.
For those who want to try top-rated local seafood, head to Vita Restaurant where visitors rave about the lemon lobster spaghetti and chilli crab linguine. Another highly-reviewed eatery is Indigo, an upscale restaurant known for its local grouper and huge lobster tails. Every Thursday, there is the Fish Fry at Stubbs Diamond Plaza in the Bight, located immediately west of Grace Bay. Here you can try local seafood, cocktails, see traditional performances, and buy handicrafts as souvenirs. Some of the resorts also host beach BBQs where you can enjoy your meal while watching the ocean waves rise and fall.