The Hot Springs At This Destination Make It One Of The Top Winter Vacation Spots In America
When you think of Colorado, you may think of its beautifully rocky terrain and prime skiing spots. But for those who prefer a warm and cozy getaway come winter, look no further than Dunton. This backcountry resort town is just under two hours from Durango, tucked away in the mountains far from the big cities. If you're looking for a cold-weather escape, it may not be on your radar (yet!), but it should be. The area offers a range of natural hot springs — from private baths to outdoor pools — perfect for relaxing and thawing that deep winter chill.
Dunton's natural spring water contains iron, manganese, and lithium, which are thought to offer health benefits, such as boosted circulation and improved skin quality. To elevate the experience, you can book other wellness-themed activities, such as spa treatments and yoga classes.
Away from the steamy springs, you'll a mountain getaway rich in character and history. Dunton, once known for mining, peaked in the early 1900s before turning into a desolate ghost town. By the end of the century, new owners swooped in to renovate, turning Dunton into a sprawling resort while retaining its original rustic charm.
Where to stay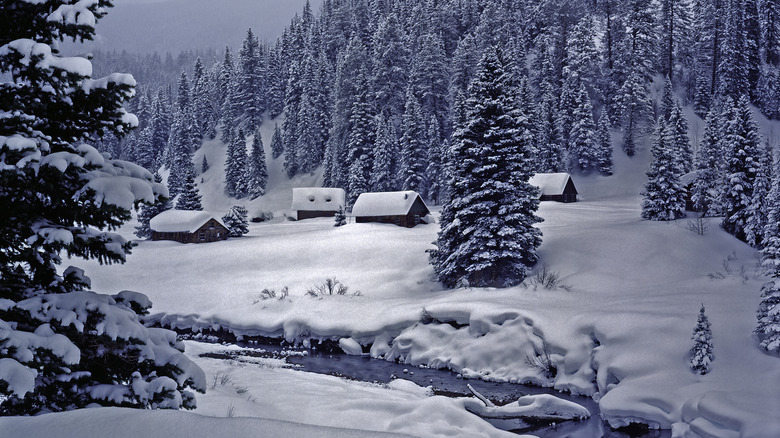 Dszc/Getty Images
To stay in the hot springs resort, choose one of the cabins, all restored from old miners' structures. "Many of the buildings had to be taken apart – logs numbered – and then put back together like a jigsaw puzzle," Christina Rossi, director of marketing at Dunton Hot Springs, shared with CNN Travel. Though the cabins have been modernized, they still pay homage to the people who once inhabited them. "The cabins are all named after the miners who built them, characters who lived in them, or the purpose for which they were used," Rossi explained.
Currently, there are only 15 cabins to choose from, meaning it's best to book early to claim one in time for your winter vacation. To secure your own private hot springs bath, try to nab a spot in the Well House cabin, which houses an indoor hot spring plunge just steps from the bedroom.
Keep in mind that the resort has a rustic yet luxurious feel, which comes with a premium price tag. Nightly rates typically start at around $1,165 and include meals and beverages.
Things to do near Dunton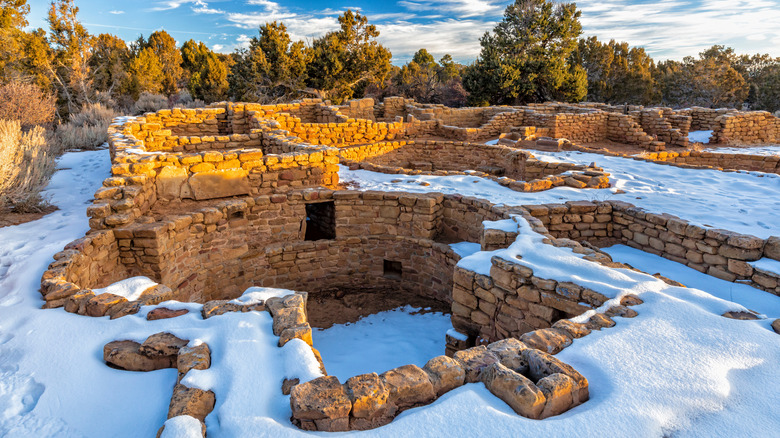 Colin D. Young/Shutterstock
After recharging in a hot springs bath, put on your warmest coat and get moving with one of Dunton's outdoor activities. Explore the area's stunning views on foot during a snowshoe adventure or, if you want a bit more speed, strap on some skis and hit the slopes. When you're ready to sit back and relax, you can book one of the resort's private sleigh rides.
You'll find several hiking trails surrounding Dunton, though be sure to check weather conditions before venturing out. In the nearby town of Dolores (located 35 miles southwest of Dunton), you can stop by the Canyons of the Ancients Visitor Center & Museum. Here you can learn more about the region's history, and ask about the best way to reach the Canyons of the Ancients National Monument, as many of the roads are unpaved and may be challenging or inaccessible in inclement weather. This area is filled with preserved archaeological sites from the Native American communities that once dominated the region, and includes around 6,000 different points of interest.
Another must-visit spot is the historical sites of Mesa Verde National Park, an area packed with breathtaking views and steeped in Pueblo history. Note that the park's cliff dwelling tours are suspended during the winter. However, you can still catch a glimpse of the impressive dwellings from Cliff Palace Loop Road. Expect the drive from Dunton to take one to two hours.