Take A Trip To This Underrated West Coast Destination For A Crowd-Free Beach Vacation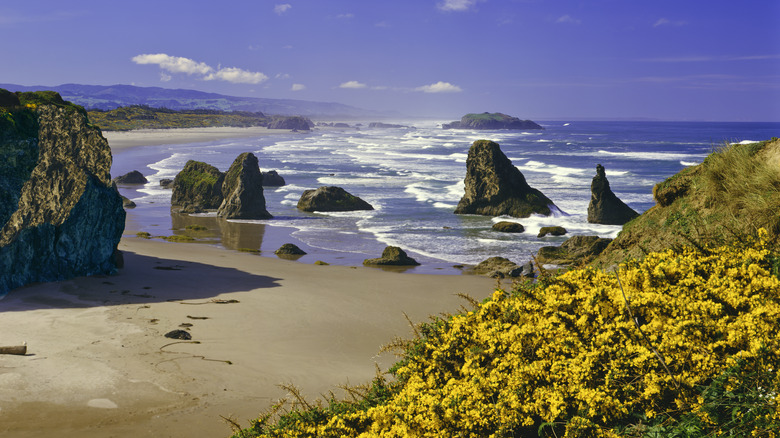 Ron And Patty Thomas/Getty Images
Finding a scenic and exciting beach to enjoy isn't a difficult task for travelers who set their sights on the West Coast of the U.S. Known and loved for its impressive waves, dynamic coastal terrain, and fascinating wildlife, a trip to the West Coast can captivate travelers with interests of all types. The coast of Oregon is a particularly thrilling vacation destination for travelers looking forward to an unforgettable beach trip thanks to some beloved stretches of shoreline to explore.
Popular vacation destinations in Oregon, like Cannon Beach and Seaside, are undeniably beautiful and inviting. Unfortunately, they also come with a near guarantee of large crowds of visitors during peak travel season. If you're looking for a crowd-free beach vacation to savor instead, consider making your way to lesser-known but just as welcoming Bandon, Oregon.
Situated in Southern Oregon, Bandon offers visitors a charming beach town vibe paired with breathtaking ocean views. Bandon is known as the Cranberry Capital of Oregon and hosts a rich Old Town District for visitors to explore. There are also coastal rivers, lighthouses, boat basins, and piers to check out while you're here. Bandon is home to just over 3,000 year-round residents, giving guests a chance to relish an authentic small beach town getaway with every visit.
The best of Bandon beaches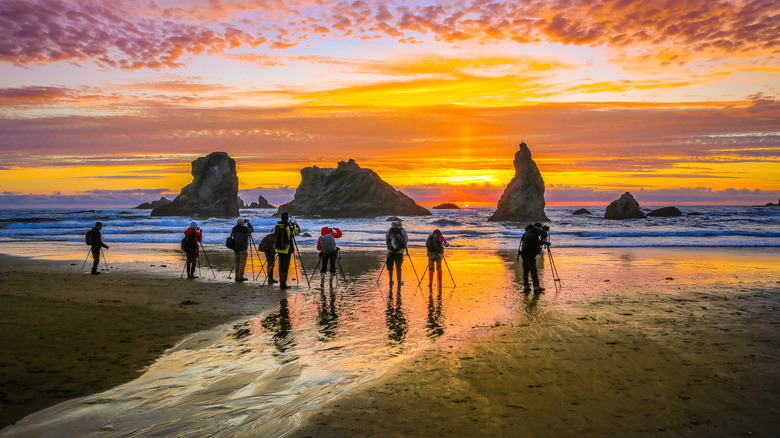 4nadia/Getty Images
A refreshingly crowd-free beach vacation to Bandon, Oregon, comes with plenty of opportunities to get out and explore the very best shorelines around. Every beach in Bandon is public, and travelers can explore its waters and sands. When views of incredible sea stacks sound just right, Bandon Beach delivers again. Its inviting shorelines and impressive rock formations have long inspired nature photographers to grab their cameras and capture the moment. The Face Rock Scenic Viewpoint is a perfect place to savor sea-stack views. 
Bandon Beach is also a popular place for visitors to enjoy activities like tide pooling and shorebird watching. For a more traditional beach-going experience, the Bandon State Natural Area is a great option. This scenic stop offers guests several beach access points to choose from. It's a wonderful place to enjoy a picnic on the beach with family and friends. It's also where many angling enthusiasts head out for a day of fishing.
A more off-the-beaten-path beach day is yours to savor when you head to Whiskey Run Beach. Accessible off Seven Devils Road and Highway 101, this stretch of shoreline pairs soft sand with rocky outcroppings. It's a great place for a beach stroll minus the traditional beach amenities you'll find at other destinations.
Activities to enhance your beach getaway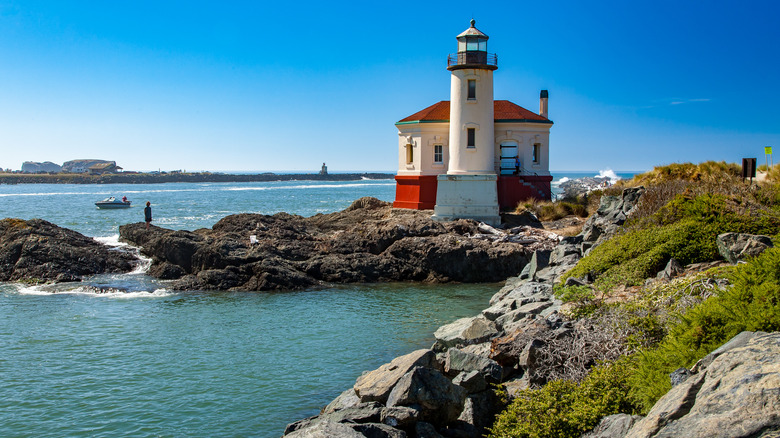 Bob Pool/Shutterstock
If you're looking to expand your beach vacation itinerary, there are options for that as well. Old Town isn't far from the sand in Bandon for those looking to explore further. It's a rich historical destination brimming with shops and galleries. It's also a hub for eateries, particularly beneficial when cravings come calling after a day on the sand.
If you're a traveler who loves to add a tee time to every getaway, enjoying an 18-hole round at Bandon Crossings might be the highlight of your visit. Located on Dew Valley Lane, Bandon Crossings provides golfers with a layout that's well-protected from coastal winds. After you play, there are options to check out the on-site pro shop or book a lesson to hone your short and long-game skills for the next round.
Another top area activity to add to your beach vacation to Bandon is a stop at the Coquille River Lighthouse. Make your way to Bullards Beach State Park and follow the main paved pathway towards the sand for about a mile. This route runs alongside the scenic Coquille River, and at the end of the beach, you'll be treated to a lighthouse visit where tours are readily available upon request.