Visit This US State Park For Incredible Year-Round Outdoor Adventures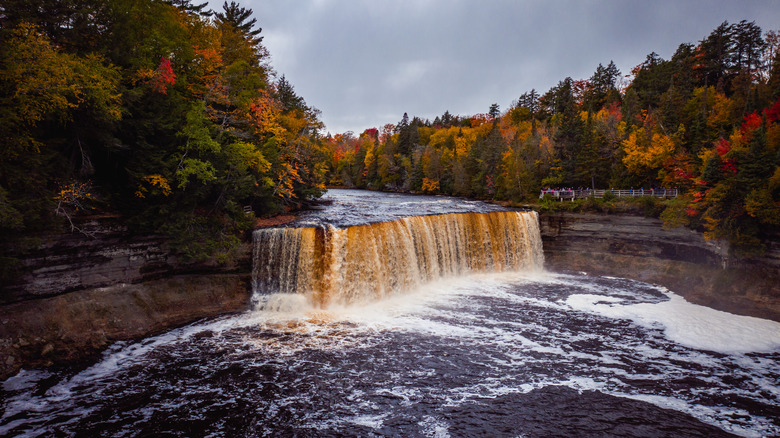 Big Joe/Getty Images
When life gets busy and you're looking to leave the daily grind behind for a while, planning an outdoor adventure may be just what you need. While there are plenty of places to find refreshing moments in the outdoors, a trip to Tahquamenon Falls State Park is particularly appealing. Here, travelers can enjoy outdoor recreation of all kinds — in all seasons.
According to the Michigan Department of Natural Resources, Tahquamenon Falls State Park sprawls across an impressive 50,000 acres of terrain along the state's Upper Peninsula. The park boasts more than 35 miles of trails for visitors to explore, a boat launch, campgrounds, and more. A highlight for many travelers heading this way is an opportunity to view the Upper and Lower Tahquamenon Falls, which are both scenic and inspiring.
In addition to the waterfalls, visitors who make time to explore Tahquamenon Falls State Park will find a plethora of other natural landmarks. The park showcases the Tahquamenon River, 13 inland lakes, and a whopping 20,000 acres of designated natural areas. However, it's important to note that before you head out, you will need to acquire a Michigan Recreation Passport. The cost varies depending on the vehicle you arrive with and how you plan to spend time at the park.
Warm-weather outdoor adventures and excursions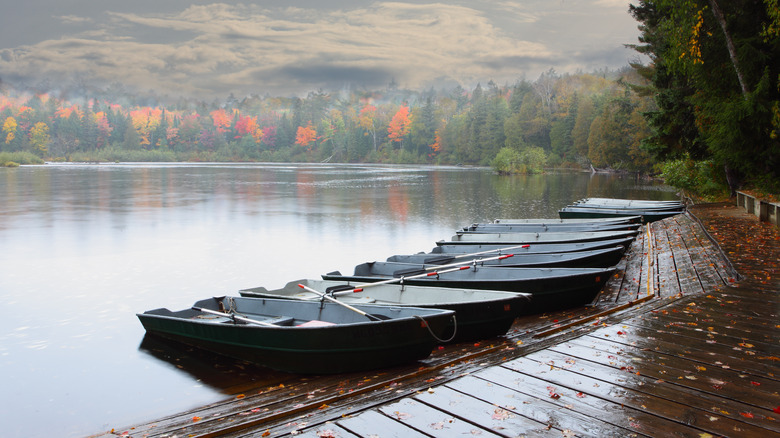 Le Do/Shutterstock
There's no shortage of options for outdoor fun at Tahquamenon Falls State Park in the warmer months of the year. If you're not sure where to begin, start your adventure at the waterfalls. The Upper Falls are spectacular and 200 feet wide, while the Lower Falls are a collection of five small cascades that surround a central island. Hiking between the waterfalls is always an option for guests following the North Country Trail or the River Trail. However, if you're looking to access your next destination more quickly, there's a shuttle that runs between the Upper and Lower Falls. Keep in mind that the shuttle is fee-based, and rates do change seasonally, so it's good to check updated prices in advance.
Beyond the trails between waterfalls, visitors looking to conquer even more terrain on foot can enjoy time exploring the park's Giant Pines Loop. This route covers nearly 4 miles of land and features brooks, hemlock forest, and giant white pine trees. For more of a challenge, the Wilderness Loop extends the journey to over 7 miles and infuses peatlands into the experience. 
You can also spend some time on the water. At Tahquamenon Falls State Park, canoes, kayaks, and rowboats are readily available to rent at the concession stand located near the Lower Falls in the summertime. There are also opportunities to cool off with a swim near the waterfalls.
Winter experiences to enhance the journey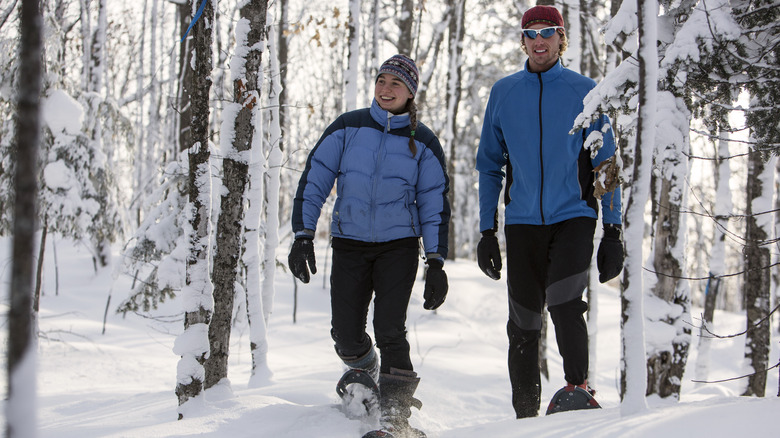 Jmichl/Getty Images
As the seasons begin to change from summer into winter, the outdoor fun doesn't wane at Tahquamenon Falls State Park. Autumn is the ideal in-between time to bundle up and explore this area in pursuit of some of the best fall foliage in the state. It's also a prime time to fish between the cascades. Anglers who head over to the Tahquamenon River will find there's a good chance of reeling in everything from yellow perch and walleye to brown trout and smallmouth bass.
When the snow finally begins to fall, there's even more for park visitors to look forward to. Tahquamenon Falls State Park is a great place to cross-country ski or snowshoe along the Great Pines Trail. If you're the type of traveler who's looking to pick up the pace of your winter outdoor fun, snowmobiling along Trail 8 is the perfect addition to your itinerary.
No matter what season you spend time at Tahquamenon Falls State Park, you'll find yourself in a scenic place packed with opportunities for wildlife-watching. The park is home to deer, foxes, coyotes, black bears, and even the occasional moose. Raptors also thrive in this area, which means there's a good chance you'll spot bald eagles overhead during your visit. Additional bird species to keep an eye out for include pileated woodpeckers, songbirds, and spruce grouse.