This East Coast Town Is A Great Spot For A Seaside Couples Trip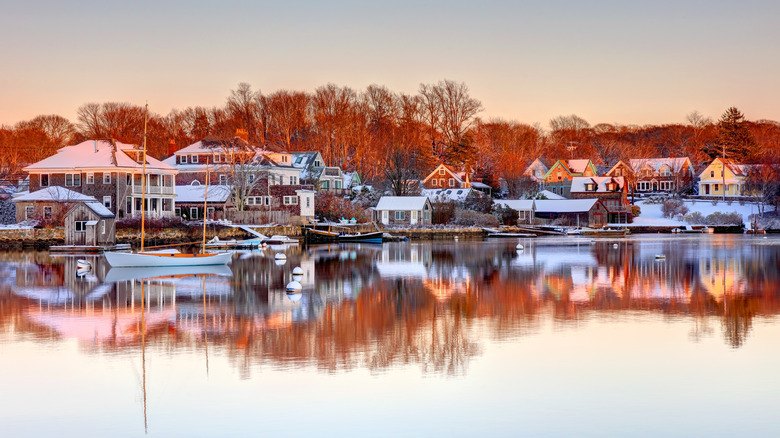 Denistangneyjr/Getty Images
There's nothing quite like a romantic getaway to reignite the spark and create new memories with your partner. And while for some couples this might mean a mountain retreat, for others, it's a bustling city break with theater shows and dinners. Then there are the couples who long for the feeling of sand between their toes and the sound of crashing waves in the background. Whatever the case, romantic vacations typically give couples the opportunity to explore captivating new destinations or even revisit familiar favorites — both of which set the scene for shared adventures.
If coastal towns tug at your heartstrings and you love that serene seaside vibe, there's one charming destination you just can't miss: Falmouth, Massachusetts. Tucked away on picturesque Cape Cod and just 80 miles southwest of Boston, Falmouth offers an idyllic backdrop for couples looking to slow down and unwind. Whether that's walking along the town's more than 68 miles of coastline, savoring the kind of views that seem straight out of a painting, or indulging in delicious local seafood, Falmouth is a place where you can slow down, soak in the ambiance, and focus on what truly matters — each other.
Choose your seaside adventure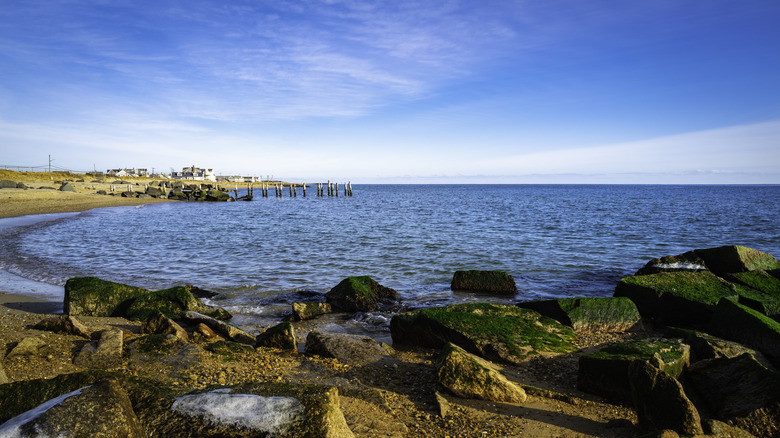 Sanghwan Kim/Getty Images
It's no secret that Falmouth boasts some of the Cape's most breathtaking beaches. But where do you even go when there are so many to choose from? For starters, the local-favorite Chapoquoit Beach is the ideal spot to escape the crowds and settle in for a classic Cape Cod sunset. Then there's Falmouth Heights Beach. This spot feels a little more lively, and there are plenty of snack shops and restaurants just across the street for you to indulge. Finally, Surf Drive Beach is perfect for swimming, and Wood Neck Beach, a great destination for boogie boarding and windsurfing, can't be missed.
Additionally, for couples eager to immerse themselves in nature and stay active while on holiday, Falmouth also has plenty of nature trails to wander. From hitting up the Long Pond Trail (3.9 miles) to taking a stroll through the less than a mile-long Quissett Harbor Knob trail, most paths are easy to navigate and offer a firsthand look at the town's wildlife and scenic landscape.
However, Falmouth's allure doesn't just end on the shore. As the gateway to Martha's Vineyard from Cape Cod, Falmouth visitors can hop aboard a ferry from Woods Hole that will take them directly to the island. Once there, there's plenty to explore, from historic lighthouses and pristine beaches to vibrant towns filled with local charm. Film buffs might even recognize the location where "Jaws" was filmed.
Falling in love with Falmouth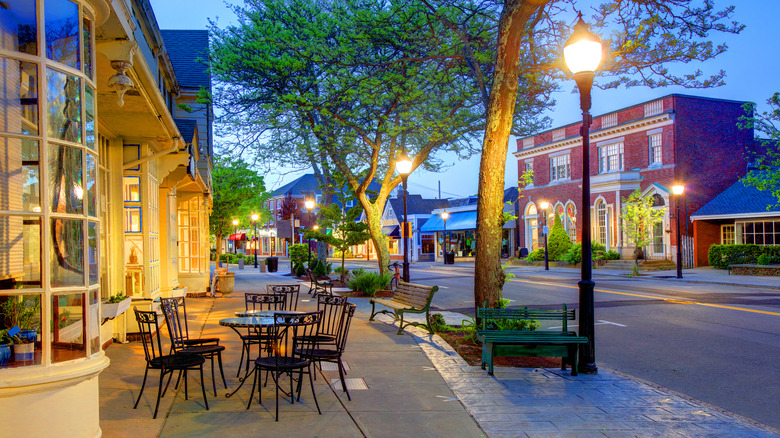 Denistangneyjr/Getty Images
When it comes to keeping the romance alive, Falmouth also offers plenty of day-to-day activities for couples to enjoy together. Main Street draws crowds thanks to its historical charm and picturesque views. With its cozy boutique stores, independent bookstores, small bakeries, and globally-inspired restaurants, it's easily walkable and the perfect place to wander hand in hand. 
Some must-stops along Main Street include The Black Dog for apparel, Lilly Pulitzer for women's fashion and accessories, Blast From The Past to get your hands on rare comics and collectibles, and Homespun Garden for Cape Cod-inspired souvenirs and trinkets. When hunger strikes, make sure you stop by Pickle Jar Kitchen to enjoy a wholesome meal, Anejo Mexican Bistro & Tequila Bar for some classic Mexican grub, or Estia for a Greek feast.
With all this activity, you definitely need a place to rest your head. Luckily, in terms of accommodation, Falmouth boasts a wide array of lodging options that range from hotels and inns to bed and breakfasts and small lodges. Whether you're taking in waterfront views at the Sea Crest Beach Hotel, getting in touch with nature at the Treehouse Lodge, or sinking into romance at the Palmer House Inn, your dreams will never feel sweeter.