Plan A Trip To This Charming East Coast Town For A Relaxing Couples Vacation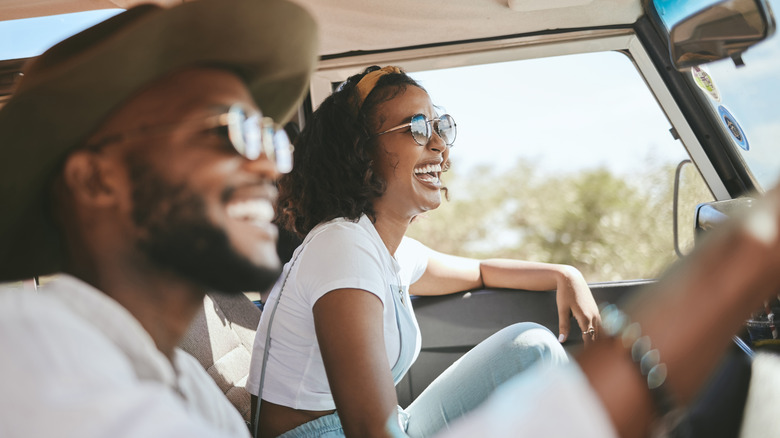 Peopleimages/Getty Images
Couple trips are a delight. They offer the opportunity to spice things up in a relationship by being in a new setting while also creating ample opportunities to reconnect and have plain old fun. Figuring out the perfect destination for a couples trip depends on what the two of you love to do and the settings you can see yourself thriving in. Beach vacations might be the first thing that pops into most people's minds, but there are lovely alternatives. If you're looking for something rustic and cozy rather than hot and sandy, the unassuming town of Mystic, Connecticut could be perfect for you.
This quaint New England destination has a population of just more than 4,300 residents. It's a picturesque area that's located on the banks of the Mystic River, meaning, depending on when you visit, you can spend time participating in water activities. Perhaps a date on a boat? Whether you prefer land or water you'll find something fun and romantic to indulge in when you're in this charming little town.
Date ideas with small town appeal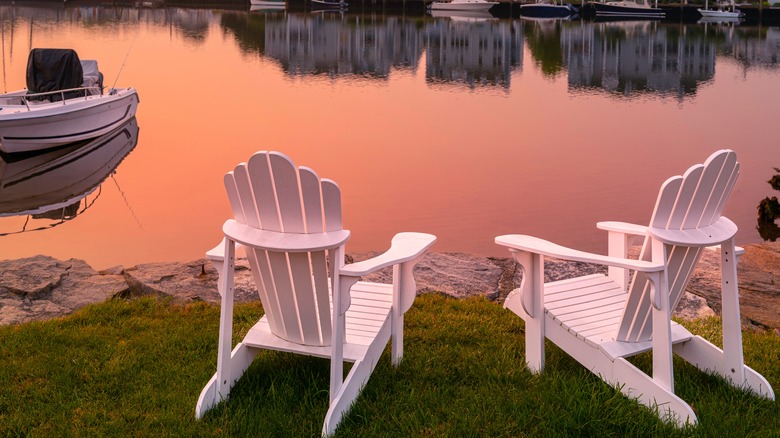 NayaDadara/Shutterstock
Mystic, Connecticut has some fun, unique options for date idea. Sure, you can always go to dinner, and we'll include some options for that, but why stop there when there's more to explore and do? For example, take the Mystic Boat Adventures boat tour. You'll be the driver in your own power boat as you follow a guide to various landmarks and into scenic views. You can embark on a three-hour tour or a quick one-hour tour. This makes for a thrilling and educational date on the water. Alternatively, you can go out sailing and take lessons through the sailing programs at the Mystic Seaport Museum.
If you prefer to observe the water rather than be in it, you can take a drive along the Mystic River and look for lighthouses in addition to taking in the surrounding landscape. To make the trip even more memorable, craft a playlist of songs that remind you of your significant other and play it for them as you drive along the winding roads.
You can also spend time in town. Take a stroll, hand in hand, down the main streets and window shop. More specifically, check out Olde Mistick Village for an open air village filled with local businesses selling unique merchandise. Go on a date at the Mystic Aquarium and learn about the area's sea life. Tickets range from $30 to $40 depending on when you visit.
Eating and sleeping in Mystic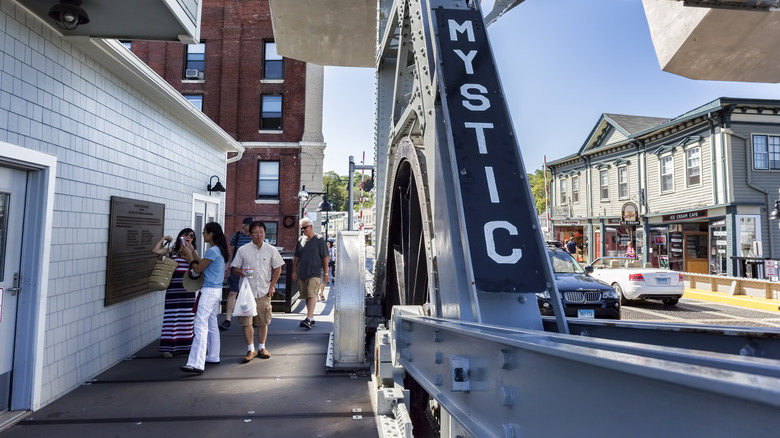 Paul Latham/Shutterstock
Food is a necessity, so why not spend your time at the most romantic restaurants in town. For some fresh seafood and superb oysters, make reservations for S&P Oyster. The menu there offers decadent dishes as well as gluten free and vegan options, making it an ideal spot for those with food restrictions. If you're looking for a fancy night of pasta and wine, head over to Via Emilia Ristorante to satisfy this craving.
When it comes to lodging, the region offers an abundance of charming places to stay. For a classic New England, sophisticated feel, check out The Whaler's Inn. To add a romantic flare, add the Bubbles and Blossoms or the A'Board & Bottle packages to your booking. You'll find flowers, sparkling wine, and dessert in your room with the Bubbles and Blossoms package; and wine and a charcuterie board with the A'Board & Bottle package. If you or your partner love history and want a more niche experience, check in at The Grisworld Inn. This establishment has been operating since 1776 and its rooms stick to that Revolutionary War Era theme. Be sure to check out the inn's events as well as its taproom.
Next time you're looking for a romantic getaway, drive up to Mystic, Connecticut and partake in all the pleasures of this small, idyllic town. You'll find adventures and delights that will certainly make the trip memorable.