Visit This Pacific Island Nation To Swim With Jellyfish
Be an eco-friendly traveler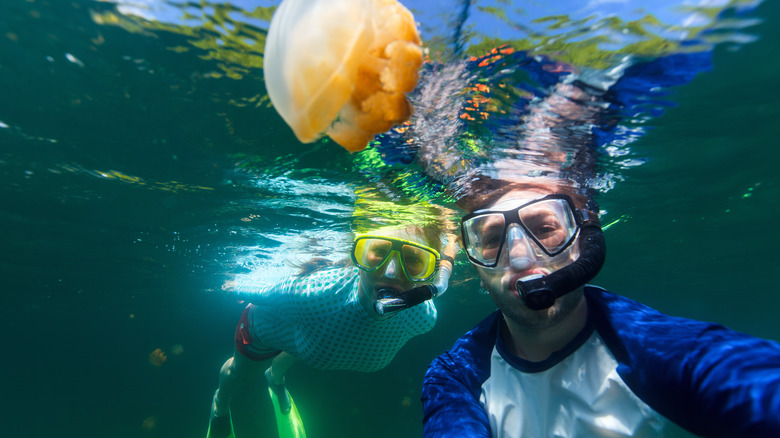 BlueOrange Studio/Shutterstock
Jellyfish are alien-like creatures that fascinate many people and elicit fear in others. A single sting from certain species of jellyfish can be deadly to humans, but did you know you can safely swim with thousands of these frilly invertebrates on a remote island destination? For a once-in-a-lifetime aquatic adventure, visit the western Pacific Island nation of Palau to swim with jellyfish in a marine lake.
Ongeim'l Tketau Jellyfish Lake, or Jellyfish Lake for short, is located on the Eli Malik Island of Palau, a country comprising over 500 islands. Palau has 70 marine lakes within its island chain. Out of these, only five contain jellyfish. However, Jellyfish Lake stands out as the only lake that allows travelers to swim with the jellyfish. This unique experience offers visitors a chance to observe and interact with these fascinating creatures in their natural habitat
The saltwater lake is home to millions of golden jellyfish, a unique subspecies found nowhere else. These brightly-colored jellyfish can grow up to 5.5 inches and have short frills rather than long, winding tentacles. It's a common misconception that the golden jellies of Jellyfish Lake do not sting; they do; however, their stings are harmless to humans. Ready to take the plunge? This is what you should know about making the journey to Jellyfish Lake and what to expect from your trip to this natural wonder.
Your journey to Jellyfish Lake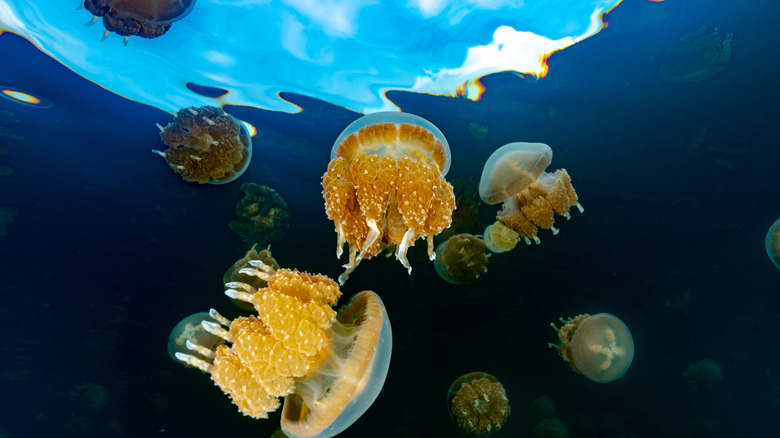 Francesco Ricciardi/Getty Images
Jellyfish Lake cannot be accessed by renting a private boat or without a certified guide, meaning you'll have to reserve your trip beforehand that will take you from the main island to this nautical treasure. Sam's Tours is a trusted Palauan-owned and operated dive center that offers expert-led snorkeling excursions in Jellyfish Lake. Neco Marine is another Paulan-owned dive shop that provides snorkeling packages to Jellyfish Lake.
After arriving at Eli Malik Island by boat, you'll be surrounded by the lush forests that blanket these limestone islands. As you make the short walk to Jellyfish Lake, you can take in some incredible views of unique wildlife and plants that populate the tropical terrain. The edge of the lake is dominated by sprawling mangroves with roots that disappear under the water. 
The best time to visit Jellyfish Lake is during sunny morning and early afternoon hours because golden jellies migrate towards the surface of the center of the lake to bask in the sunlight each day. In addition to golden jellyfish, you'll be able to observe moon jellyfish beneath the salty waters and an abundance of mussels that attach themselves to the mangrove roots.
Swimming in Jellyfish Lake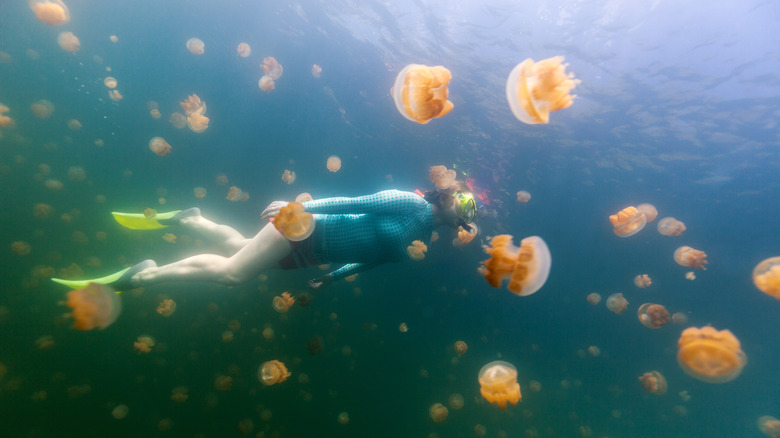 BlueOrange Studio/Shutterstock
There are several things to keep in mind before you visit Palau and take a dip in Jellyfish Lake. First and foremost, jetsetters visiting Palau must sign the Palau Pledge, which asks travelers to help preserve the country's biodiversity and rich culture by practicing sustainability and supporting local businesses.
Unsurprisingly, these incredible invertebrates are fragile, so swimming gently with light treading is a must. Diving is prohibited because around 40 feet down lies a lake layer containing hydrogen sulfide, which is toxic to humans and marine life. Sunscreen chemicals can negatively impact golden jellyfish, so it's best to wear sun-protective swimwear. UV Skinz is one brand that has been clinically tested, and it offers UPF 50+ sun protective apparel for people of all ages.
If you wear sunscreen, ensure it is environmentally friendly and wait to enter the lake. Raw Elements and Stream2Sea sell mineral-based, FDA-approved sunscreens that are also affordable. Moreover, be sure to empty your pockets to avoid introducing non-native or invasive species into the ecosystem, which has unfortunately happened in the past and impacted the population. All that said, practicing sustainability when in Palau is quite straightforward. There is no place like Jellyfish Lake on Earth, making it a unique experience that snorkeling and wildlife enthusiasts can't pass up.