This Incredible 2024 Cruise Is A Great Addition To A Music Lover's Travel Bucket List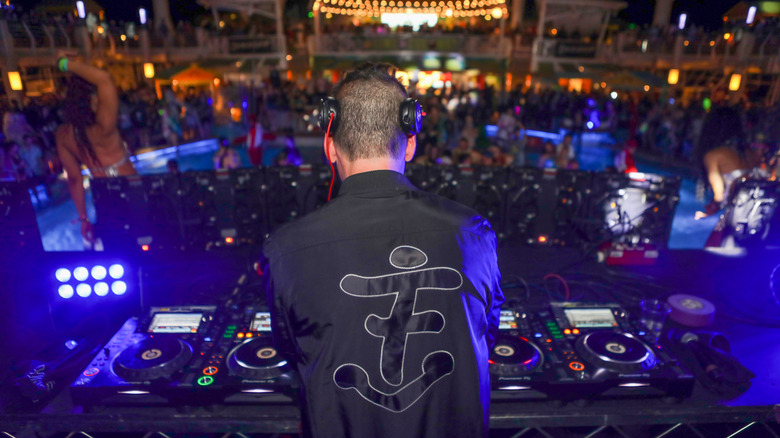 Thaddaeus Mcadams/Getty Images
2023 hasn't been the best year for arts and music festivals, with heavy rains leaving thousands of Burning Man attendees marooned in the Nevada desert last month. Even high-profile names like comedian Chris Rock and DJ and music producer Diplo were left trudging through the mud. In 2024, however, music lovers can make a fresh start with a different sort of festival: one that leaves the desert, and indeed, land itself entirely behind. The venue is the Norwegian Joy, where up to 3,500 passengers and party people will embark on the latest FriendShip cruise from Miami to Belize.
The brainchild of concert promoter Gary Richards, better known by his DJ name, Destructo, the FriendShip lets you take to the seas with a more formal lineup of electronic artists than Burning Man. It's a floating music festival with a communal atmosphere, where you can ring in the New Year the way the normies would celebrate New Year's Eve. For five nights from January 6-11, 2024 you'll be able to rave aboard the ship and on Harvest Caye, a private island where a 24-hour party will take place.
This is the kind of cruise where you can see burlesque star Dita Von Teese do a "Shipteese" and Grammy-winning dubstep artist Skrillex perform on an exclusive beach. In addition to them and Destructo, the other headliners are Bob Moses, Boys Noize, Chris Lake, Chris Lorenzo, Dr. Fresch, Justin Martin, Mersiv, Mr. Carmack, Patrick Mason, Raven, Rusko, Todd Edwards, and VTSS.
Music and more aboard the FriendShip 2024
If the promise of a private island in a Caribbean destination makes the FriendShip sound like another potential Fyre Festival — the ill-fated 2017 event that left attendees glamping in disaster-relief tents in the Bahamas — not to worry. The FriendShip has been setting sail since 2018, and it has a more proven track record that would seemingly make it a less dicey prospect than the upcoming Fyre Festival II.
Destructo is partnering with Norwegian Cruise Lines, and he cut his teeth planning similar voyages aboard the popular Holy Ship beginning in 2012. He told Forbes, "FriendShip is a culmination of everything I have learned over the years, boiled down into one crazy musical journey over five nights on one of the most amazing cruise ships we could charter."
At the same time, the FriendShip isn't cheap, with interior staterooms running upward of $3,000 and some of the penthouse Haven suites running upward of $10,000 per person. If you can afford it, though, the lineup features many other up-and-coming artists, who will perform across multiple stages. All the music is built into the cost, along with gourmet dining, buffet meals, some free (non-alcoholic) drinks, and access to the gym, pool, and hot tubs. You can take your chances at the casino or enjoy live comedy acts, speed dating, the Dial-a-DJ room service, and other activities. There's more to the experience than just music, but if you're an EDM fan, the FriendShip might be a dream vacation.