Visit This North American Destination For A Picture-Perfect Christmas Vacation
Though it is hundreds of miles from the true North Pole, or the Earth's geographic North Pole, the town of North Pole, Alaska, is known for its infatuation with the Christmas holiday. This vibrant community is around 17 minutes south of Fairbanks and is home to just over 2,300 Christmas-loving residents who keep the holiday going year-round. The North Pole is covered in holiday decorations and trimmings, perfect for any Christmas vacation, but the town has taken the holiday theme one step further with Christmas-themed street names and shops. With streets like Kris Kringle Drive, Santa Claus Lane, and Mistletoe Lane, there's a holiday photo opportunity around every corner.
The main attraction in North Pole, Alaska, is the Santa Claus House. This iconic store is a must-visit for anyone seeking the perfect souvenir from their Christmas vacation. Open year-round, except for multiple holidays, the Santa Claus House is home to an over 40-foot tall Santa statue, personal letters from Santa, and more. Browse through an extensive selection of holiday-themed ornaments, decorations, and apparel, or treat yourself to some delicious fudge.
Hotel North Pole is another must-visit local icon in North Pole. This charming hotel is decorated with abundant Christmas décor all year round. The accommodations in Hotel North Pole are a hit with guests who love its cozy atmosphere, friendly staff, and great location. The hotel even has a Santa Suite decorated with a giant Christmas tree and holiday-themed décor.
Holiday festivals and treats in North Pole, Alaska
Throughout the holiday season, the town is bustling with Christmas festivals and craft fairs. North Pole's Winterfest & Holiday Bazaar, held every December, is a popular event featuring various unique gifts and handmade crafts. And if you're lucky, you might even spot Santa Claus wandering through town, spreading joy and cheer to everyone he meets.
One of the best ways to enjoy Christmas at the North Pole is to support local holiday-themed businesses. You can support local shops and café like the North Pole Candy Company by trying traditional holiday dishes and treats like truffles or hot cocoa, or if you're craving a twist on Christmas breakfast, the Country Café in North Pole is a popular American-style eatery with something unique on their menu. Reindeer sausage is a must-try side dish at the Country Café.
After breakfast, stroll downtown, and you'll feel like you've entered a real-life Christmas movie. The town is adorned with year-round festive decorations, candy cane-striped light poles, and even Christmas-themed ice sculptures. For holiday movie buffs, the Pagoda Restaurant from "A Christmas Story" is also located in the North Pole. Several North Pole restaurants were featured on Food Network's "Diners, Drive-ins, & Dives." Celebrating Christmas in North Pole, Alaska, is truly a year-round event, but there's more adventure than meets the eye.
[Image by Dylan Avery via Wikimedia Commons | Cropped and scaled | CC BY-SA 4.0]
Activities for a North Pole Christmas adventure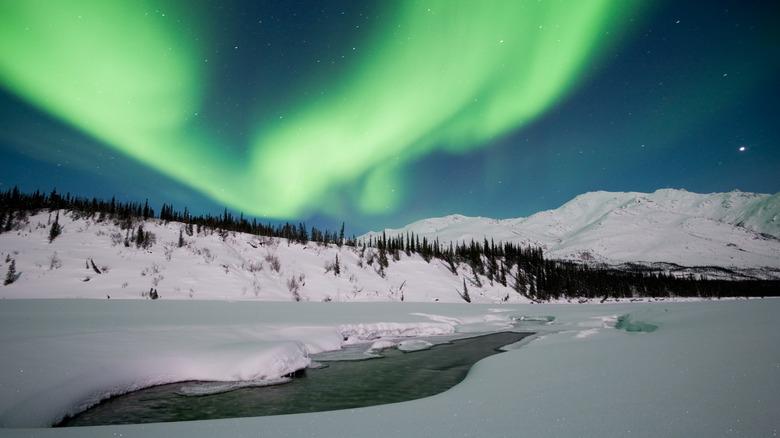 Stanley45/Getty Images
Beyond the Santa Claus House and Christmas cheer, North Pole, Alaska, has an array of winter activities that will make your Christmas vacation truly special. While Santa is the star of the show, the Northern Lights are the celestial attraction that lights up the Alaskan sky in Fairbanks and North Pole, among other areas. Though Aurora season in Alaska is April 21 to August 21, the town's proximity to the Arctic Circle gives year-round opportunities to view the lights, especially on the dark winter nights around Christmas. Be sure to check the local forecast for optimal viewing times.
An ideal local spot for viewing the Northern Lights is the Chena Lake Recreation Area. Chena Lake is located just 8 miles northeast of the North Pole and offers a serene setting for viewing the lights. The 260-acre park offers ice skating, cross-country skiing, ice house rentals, and a traditional campground. You can also try ice fishing on the frozen lake, with the chance to catch Arctic grayling and rainbow trout.
Adding to the potential Christmas adventure in North Pole is the guaranteed snow. The town typically sees an average of nearly 60 inches of snowfall each year, making it the perfect place to experience a classic white Christmas. Experience the thrill of dog sledding with Rod's Alaskan Guide Service and their team of Alaskan Huskies. With experienced mushers and teams of eager sled dogs, you can embark on a 30-minute to four-hour memorable adventure.