This Underrated Indonesian Island Is A Great Beach Vacation Destination For Surfers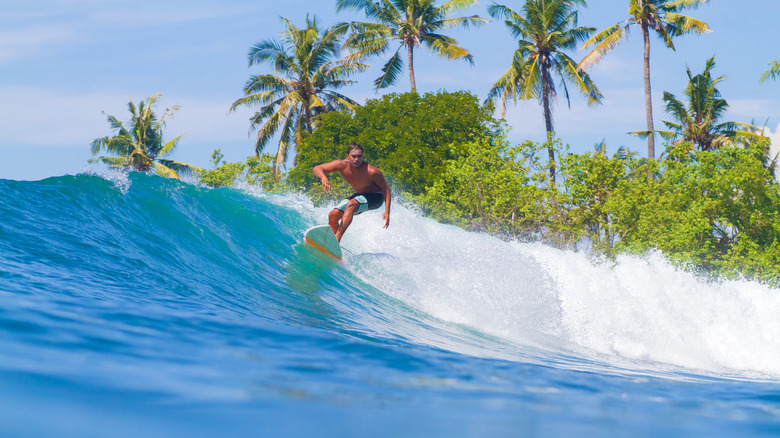 trubavin/Shutterstock
Tucked away in the southeastern archipelago of Indonesia, the island of Sumba stands as a testament to untouched natural beauty and cultural heritage. Just a 90-minute flight from the "Eat, Pray, Love" beaten path of Bali, Sumba offers an authentic experience for the discerning traveler. Spanning over 4,000 square miles, Sumba is an island of contrasts. Its landscape is a patchwork of rolling savannahs, rugged hills, and pristine beaches. This underrated gem promises a blend of adventure and tranquility without the bustling crowds — and it's also a surfer's paradise.
The island's under-the-radar status has kept its surfing spots pristine and uncrowded, offering an exclusive experience for those in the know. Sumba's coastline boasts some of Indonesia's most impressive waves. The surf season runs during the dry season of April to October (this is also the best time to visit, in general), which brings consistent swells and favorable wind conditions. 
Nihiwatu Beach, also known as Occy's Left after the famous Australian surfer Mark Occhilupo, is one of the most popular surfing spots on the island. Located near the luxury resort Nihi Sumba, this left-hand reef break offers long, gnarly waves that can provide a wicked ride for experienced surfers. If you're lucky, you may encounter a group of wild Sandalwood ponies, native to Sumba, that also enjoy beach-hopping and swimming in the ocean. For those looking for gentler waves, Kalala Beach offers a more forgiving environment, ideal for beginners or those looking to enjoy a relaxed surfing session.
Beaches and waterfalls in Sumba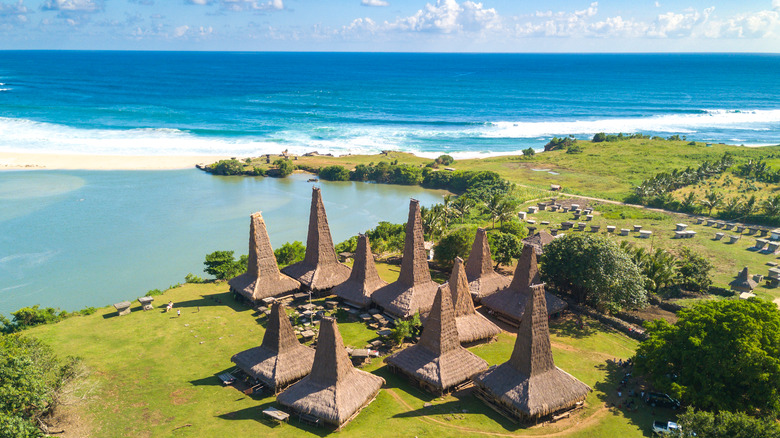 MawardiBahar/Shutterstock
Tarimbang Bay offers "Miller's Right," arguably Sumba's longest and most-frequented wave. It often attracts lineups of surfers during the peak season. Sections of the wave cater to various skill levels, providing both a challenge for experienced surfers and an exciting experience for anyone just getting their feet wet. Another notable spot is Pero Beach. The beach's remote location means it's often empty, providing a serene surfing experience.
While surfing may be a significant draw, Sumba's allure extends beyond the wave. The island coast is dotted with a variety of unique beaches. Start your adventure at Mandorak Beach, a small cove known for its clear turquoise waters and surrounding cliffs. A short walk from the famous Weekuri Saltwater Lagoon, Mandorak offers a tranquil environment perfect for swimming and relaxation. Bwanna Beach is distinguished by a massive limestone cliff and archway that opens to the sea. It's relatively remote and less frequented, perfect for some peace and solitude in nature.
No visit to Sumba is complete without witnessing its majestic waterfalls — some of the most stunning ones in all of Indonesia. One of the most recognizable and accessible waterfall, Lapopu, is located in Manupeu Tanah Daru National Park. The waterfall cascades from a significant height into a natural pool, creating a mesmerizing spectacle. Situated in the same national park as Lapopu, Matayangu offers a more secluded experience. This waterfall is known for its multi-tiered flow and the lush green backdrop, making it a picturesque spot for nature lovers.
Sustainability and Sumbanese culture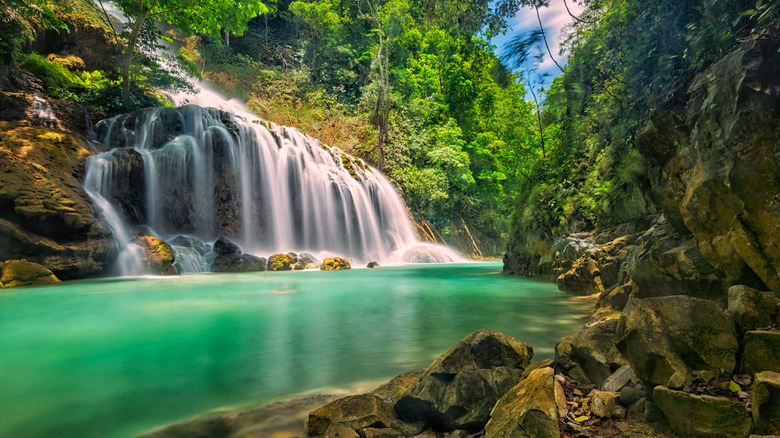 Krist Setyawan/Shutterstock
In recent years, Sumba has emerged as a destination for ecotourism. Efforts are underway to promote sustainable tourism that respects the environment and the local culture. The Sumba Hospitality Foundation is one such project, which operates a hospitality school and hotel. The same approach applies to surfing. Sumba ensures that the influx of surfers doesn't negatively impact the environment or communities. This includes initiatives like beach clean-ups, community engagement programs, and even limits of 10 surfers a day at the Nihiwatu resort.
For those planning to visit Sumba, there are a few tips to keep in mind. It's advisable to book your accommodations in advance, especially if you plan to visit during the Pasola Festival. The Pasola Festival involves ritualistic mock battles on horseback, where participants, known as "Sowu," throw blunt wooden spears at each other. This is not a show for tourists; this significant event for the locals has occurred every year since the 16th century, usually during February or March. Perhaps you could coordinate your travels to experience this ancient ritual! 
Renting a motorbike, riding public mini-buses, or hailing an "ojek" (motorcycle taxi) are common ways to get around. Hiring a local guide can be invaluable, especially when navigating remote areas or understanding cultural nuances. Visitors should respect the local customs and traditions, as the Sumbanese hold their practices in high regard. So, if you like surfing, beaches, and want to escape the Bali circuit — surf's up; Sumba awaits.