Visit This Spot In Southwest England For A Charming Beach Vacation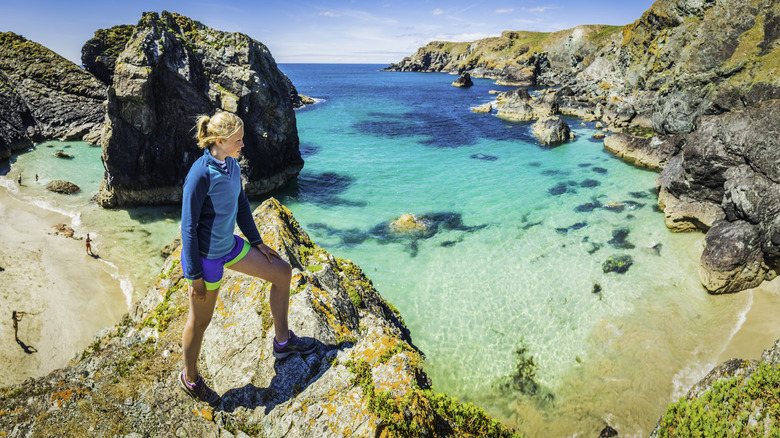 Fotovoyager/Getty Images
Occupying the southwest tip of England on a peninsula reaching out into the Celtic Sea, Cornwall is defined by its coastline and often warm weather. The landscape begins to feel distinctively different from the moment you cross the county line from neighboring Devon. The coast becomes wilder and more rugged, dotted with lighthouses, castles, and many beaches and coves. You're never too far from the shore in Cornwall as the land drops off and the horizon lengthens, giving you an immense sense of light and space. It is also home to one of the most famous beaches in the country, Kynance Cove.
Beach lovers are spoiled for choice in Cornwall, with over 300 beaches to choose from along its 250 miles of coastline. Some are found in picturesque harbor towns like Falmouth and Looe; others are broad and sandy with plenty of facilities on hand like Porthtowan, ideal for sandcastles and a family day at the seaside; still others are more secretive, conjuring up old tales of Cornish smugglers and their caves. Of all the beaches in Cornwall, Kynance Cove is the true superstar. It has served as a location in several movies and TV shows and once you visit this charming spot, you'll be left in no doubt as to why it is regarded as one of the best beaches in the world.
Things to do at Kynance Cove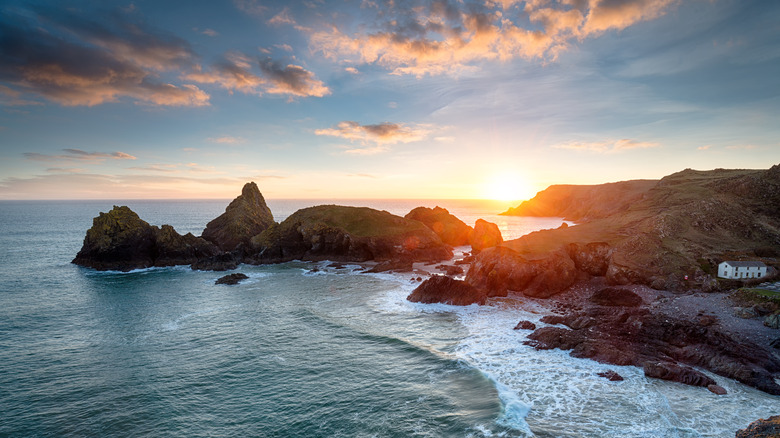 Helen Hotson/Shutterstock
Even by the stunning standards of the rest of the Cornish coastline, Kynance Cove stands out as a particularly photogenic spot. The beach is a sparkling crescent of clean white sand punctuated with glistening red and green serpentine rock and sheltered by rugged stacks rising from the turquoise waters. At low tide, the sea recedes to reveal a series of caves and rock pools to explore, although visitors must pay attention to the tides to prevent getting cut off from dry land. The atmosphere is heightened by the evocative names of key landmarks: The magical Mermaid Pool hidden beneath the cliffs; the Drawing Room and Asparagus Island; and Prince Albert Rock, named after one of the cove's many esteemed guests over the centuries.
There aren't many tourist facilities at Kynance Rock, so you'll have to make your own entertainment. But it is a popular spot for swimming, snorkeling, and paddleboarding.You will need to bring your own equipment, as there are no rentals nearby. Otherwise, many visitors are content to just drink in the view or explore on foot, with access to some excellent walking routes — including the Cornwall leg of the South West Coast Path. Be warned, however; Kynance Cove has suffered from overtourism in recent years during the summer, to the extent that the Visit Cornwall tourist board stopped promoting it in 2018. If you want this beautiful spot with fewer crowds, it is worth considering visiting out of season.
Lodgings and refreshments are never too far away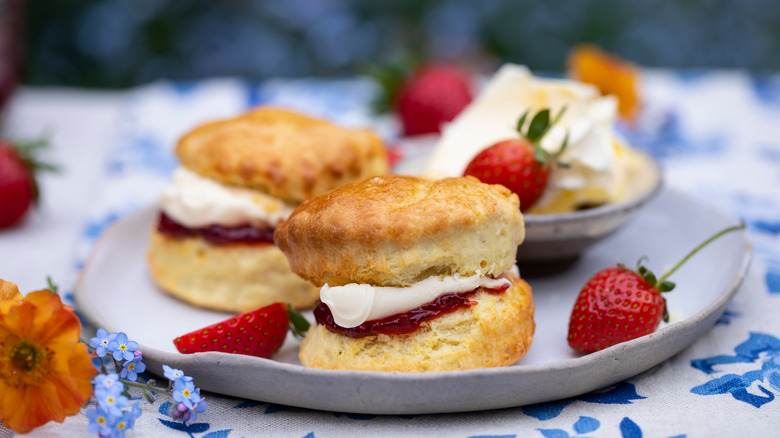 Magdanatka/Shutterstock
Kynance Cove is located not far from Lizard Point, the most southerly spot in the whole United Kingdom. It is around a seven-hour drive from London, which is quite an epic journey by English standards. Its remoteness is part of its attraction, however, and the scenic coastline of Cornwall has long been popular with ramblers and hikers. Correspondingly, while this part of the country may be picturesquely isolated, you're never too far from somewhere to stay. Even the smallest village along the shore tends to have lodgings, whether it is a hotel, a bed & breakfast, or a campsite.
Similarly, you're never more than a few miles from refreshments. The Kynance Cove Cafe has been providing tea, snacks, and reasonably priced rooms for over 20 years, while in nearby Lizard, The Witchball pub serves cheap pints and basic bar food. If you fancy a bit of exercise followed by a greater selection of traditional pub grub, take a lengthy stroll along the coastal path to The Hazelphron Inn, located in the tiny parish of Gunwalloe. The pub is over 500 years old and its bar is said to have been salvaged from a shipwreck. 
On your trip to the far southwest of England, you will also find plenty of places to indulge in Cornwall's most iconic treat, the Cream Tea. To eat like a local, make sure you slather your scone with jam first, then add the clotted cream!