Visit This Texas State Park And Step Into Actual Ancient Dinosaur Footprints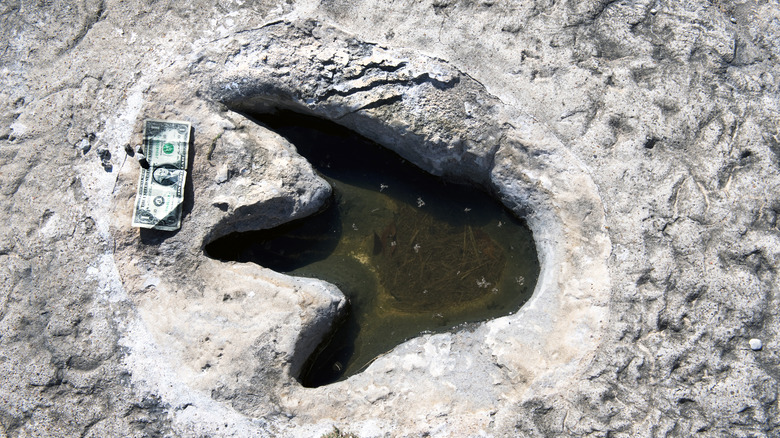 W. Scott McGill/Shutterstock
Imagine being a nine-year-old kid who suddenly comes across dinosaur footprints in a riverbed. That may sound like an elevator pitch for the next "Jurassic World" movie — but it's something that happened to a real Texas schoolboy named George Adams in 1909, as he was walking along a tributary of the Paluxy River near Glen Rose. There, he found a series of three-toed dinosaur tracks, which made him the talk of the town at school and in the newspapers as they picked up the story.
Years later, another fossilized footprint from the Paluxy crossed the state line to New Mexico, home of America's oldest state capital. In Gallup, the fossil became a novelty item in a trading shop window. There, it caught the eye of a paleontologist and fossil hunter named Roland T. Bird, who worked for the American Museum of Natural History in New York. Bird — whose middle initial and surname just happened to invoke the theory, now generally accepted as fact, that birds evolved from dinosaurs or "thunderbirds" — traced the footprint and others like it back to Glen Rose. Hopping in a Buick, he traveled to Texas and eventually unearthed more footprints, including the first sauropod tracks.
It's still possible to see such tracks under the right conditions. If your inner nine-year-old wants to share the thrill of discovering dino footprints, and you can make your way to Texas, you'll be in for a prehistoric treat at Dinosaur Valley State Park.
How to find tracks in Dinosaur Valley State Park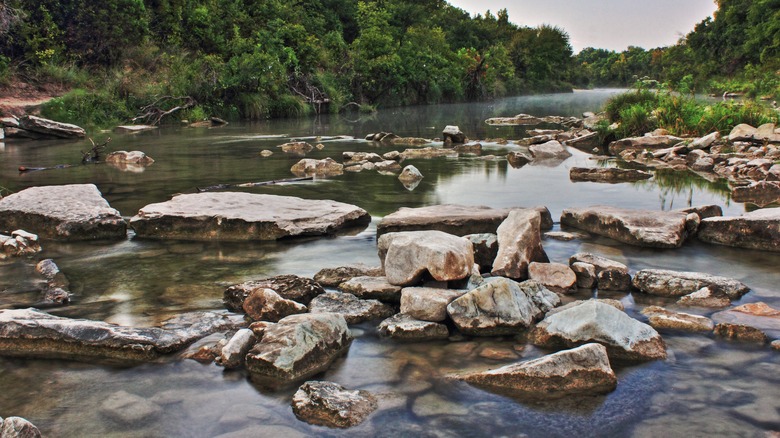 Daniel Koglin/Shutterstock
Dinosaur Valley State Park has been luring visitors to Glen Rose since 1972, when it opened to preserve the riverbed fossils discovered along the Paluxy. To this day, new footprints are still being found. As recently as September 2023, news outlets like CNN and the BBC were reporting on how dry weather conditions and low water levels had revealed fresh tracks dating back 110 million years. If there's an upside to the Texas heat for dinosaur lovers, this has got to be it.
There are four different track site areas open to visitors at Dinosaur Valley State Park. Ahead of your visit, you can download maps onto your phone from the Texas Parks & Wildlife Department, which oversees the park. You'll just need to have a mapping app like Google Earth ready, so you can open a couple of KML files and see the tracks overlaid on a photo mosaic. With GPS, you can then mark your own location on the map.
It should be said that not every site will have tracks visible at all times. Some sites, like the Main Ledge and Main Site in Area 2, are drier and better than others for finding footprints. The largest site, located in Area 1, is known as "The Ballroom," because there are so many tracks crisscrossing each other that it looks like a dizzy dinosaur dance took place. When in doubt, look for areas busy with other dino footprint hunters.
Camping and dinosaur sightings in Glen Rose, Texas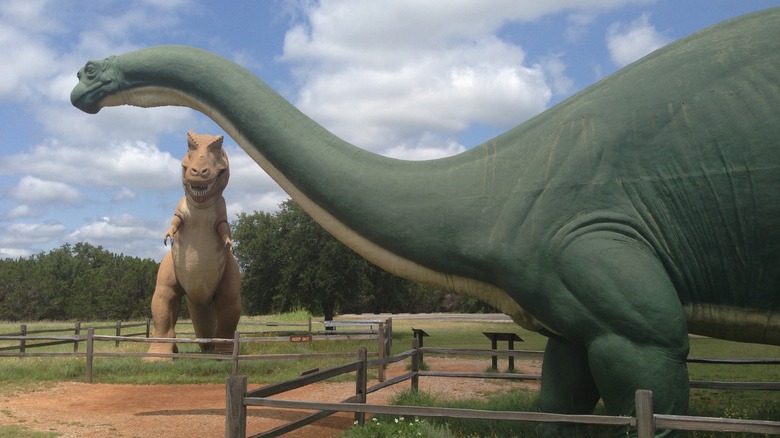 Donovan Reese Photography/Getty Images
In general, late summer when the water is low is the best time to find tracks at Dinosaur Valley State Park. The park does recommend calling ahead or reserving passes online, since it's popular and can hit capacity in two shakes of a dinosaur's tail. Glen Rose is less than 60 miles, about an hour's drive, from Fort Worth, Texas. When you get there, you'll find hiking and biking trails and campsites with electricity, or appropriately "primitive campsites" without picnic tables or even restrooms. If you're a Tyrannosaurus Rex at heart, go with the theropod group camp.
Just when you think the search for footprints is unlikely to turn up any actual dinos in Glen Rose, Dinosaur Valley State Park might surprise you and your kids. Near the park's headquarters, models of a 45-foot T-Rex and a 70-foot Apatosaurus, which made an appearance at the 1964 to 1965 New York's World's Fair, are now on display as well.
This is the same World's Fair where some of Disney's earliest attractions, like "It's a Small World" and the Carousel of Progress, came together. While the Dinoland area may be going extinct at Disney World in the near future, the great thing about real-life fossils is that they stick around for millions of years. At Dinosaur Valley State Park, you can commune with nature and put your feet in real dinosaur footprints — and history doesn't get much more fun and interactive than that.