This Hawaiian Destination Is A Great Spot For Snorkeling Adventures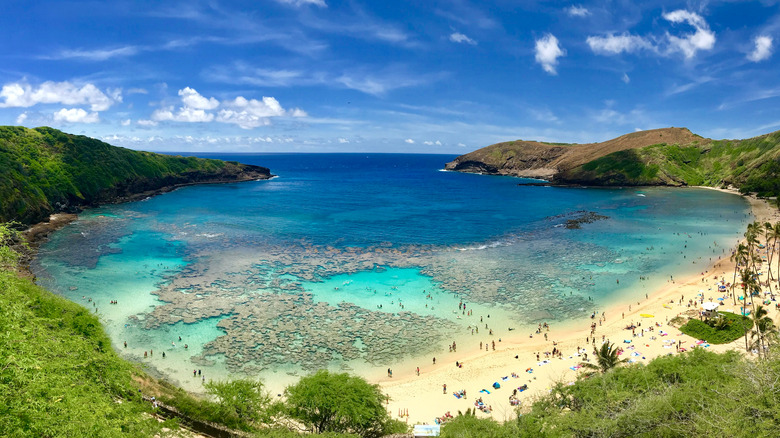 Nina Tino Photography/Shutterstock
Snorkeling is one of the most popular activities in Hawaii. The islands are decorated with 1,200 miles of coral reefs, giving underwater explorers the chance to go face-to-face with abundant tropical marine life. But while there are so many fantastic places to snorkel, one spot on Oahu is particularly special.
The Hanauma Bay Nature Reserve, located on the southeastern end of Oahu, is worth a visit. Just 11 miles from Waikiki, getting to Hanauma Bay is easy, but if you opt to drive, get there early. There are only 300 parking spots that fill up quickly. Uber, Lyft, and shuttles are also available for reliable transportation options.
Created within a volcanic cone and protected by crater walls and a reef, the calm waters of Hanauma Bay make it easy to navigate and spot over a hundred colorful species of fish, coral, and underwater creatures. Declared a marine life conservation area in 1967 and restored in 1990 (which included restrictions to the number of visitors and an education program), preservation efforts over the years contribute to protecting Hanauma Bay and the fragile marine life that call it home.
What to expect at Hanauma Bay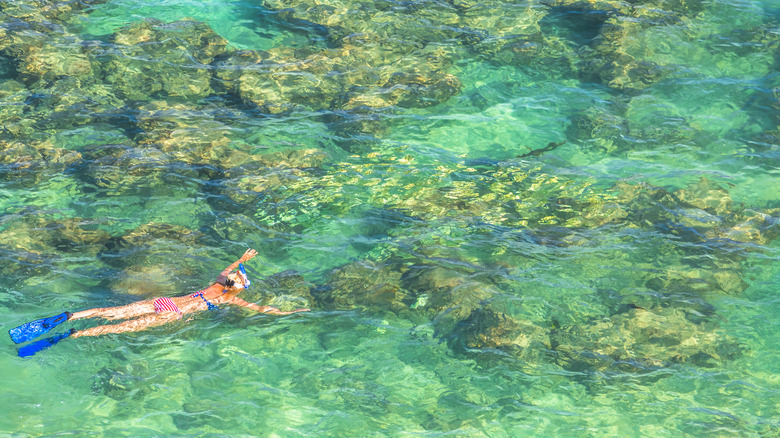 Bennymarty/Getty Images
Visitors to Hanauma Bay can expect to witness the magic of marine life in pristine and calm waters. As one of the most beautiful beaches in the U.S. for snorkeling, reservations are required to visit. The entrance fee is $25 (kids 12 and under are free), the parking lot fee is $3, and the bay is open from 6:45 a.m. to 4 p.m. And before jumping in, everyone must watch a 9-minute video detailing safe snorkeling. In this mandatory video, visitors will learn about reef safety, how to snorkel correctly, and the importance of not damaging the corals.
Hanauma Bay doesn't provide much shade, so bring hats, sunglasses, umbrellas, and plenty of reef-safe sunscreen. How do you know if your sunscreen is reef-safe? Avoid products containing oxybenzone and octinoxate. If it has the Protect Land + Sea Certification Seal, the product shouldn't contain harmful pollutants.
For tourists in need of snorkeling gear, don't worry — rentals are available on-site for $20. The bay is so calm and shallow that even first-time snorkelers should feel safe. Popular underwater sightings at Hanauma Bay include trigger fish, trumpet fish, parrot fish, and butterfly fish. Please note that Hanauma Bay is closed on Mondays and Tuesdays.
Hungry? Here's where to eat after snorkeling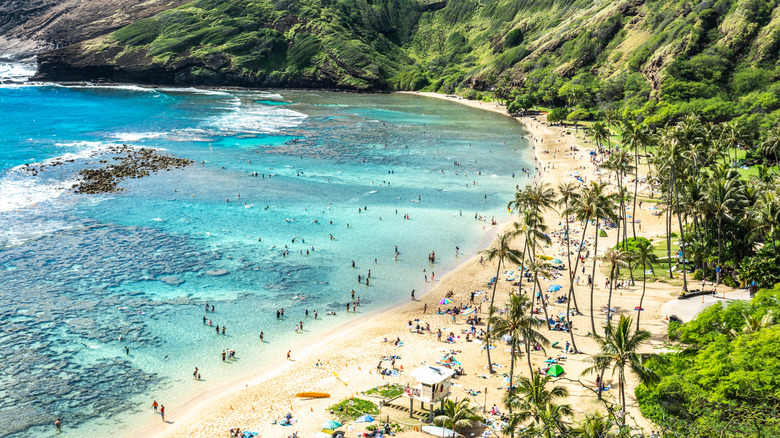 Andrei Zubarev/Getty Images
There's something about snorkeling that tends to increase appetites. After an afternoon of exploring the water, check out the snack bar on the upper level of the park. The Hanauma Bay Snack Bar offers cold drinks, burgers, hot dogs, and salads. Alternatively, guests can bring small coolers to Hanauma Bay with food and non-alcoholic beverages. Just make sure not to leave any scraps or packaging behind.
Hanauma Bay is also close to many fantastic restaurants. Māla Market is just 2.5 miles away and offers fresh and quick grab-and-go sandwiches. The Kona Brewing Company is about a mile away and perfect for a cold beer on a hot day. And its open-air seating and water views provide the ideal setting to dig into a burger, a hand-tossed pizza, or a few fresh fish tacos. The Moena Café is another popular eatery near Hanauma Bay (just 1.5 miles down the road). Serving local Hawaiian food, signature dishes include everything from Kalua pig crepes to acai bowls and fresh catch-of-the-day fish sandwiches.