This Western US City Is A Great Destination For A Last-Minute Fall Trip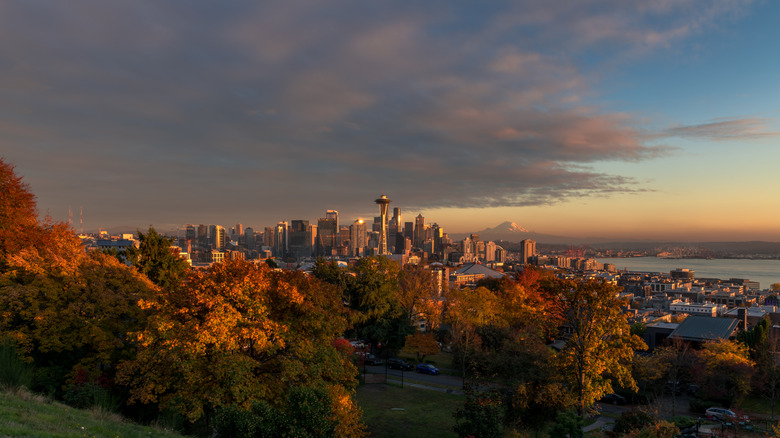 400tmax/Getty Images
Spring break and summer vacation aren't the only times worth planning a getaway. Fall can be the perfect season for exploring a city's cozy side, when the sights aren't so crowded, the weather isn't so hot, and the costs aren't so high. For a fall trip, skip the beach towns and look instead to Seattle, a city whose personality seems made for autumn.
The Emerald City is often one of the first spots in the country to see the leaves change colors, meaning you might be treated to fall foliage even when your hometown still looks like summer. Keep in mind, though, that this means Seattle's fall leaves will typically reach their peak earlier too. When you're done admiring the city's display of vibrant-colored trees, head inside to warm up. Consistently recognized as one of the best cities in the U.S. for coffee, you're never far from a cozy coffeehouse serving up some of the finest brew in the nation.
Still not convinced? Follow our tips for fun things to do and welcoming places to stay during your fall escape to this Pacific Northwest city.
What to do during fall in Seattle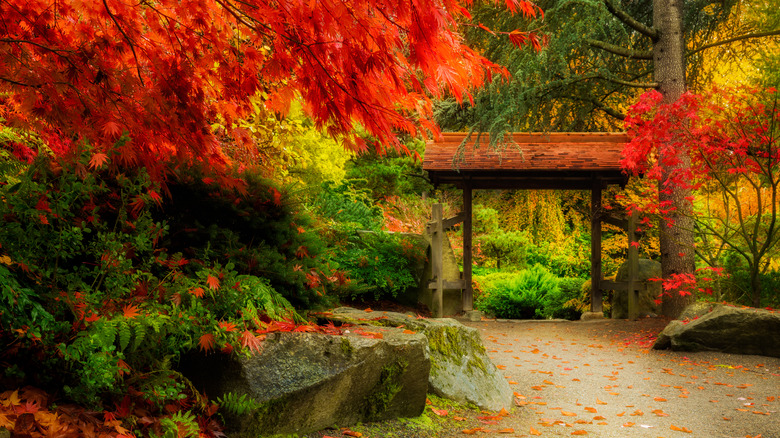 Mihai_Andritoiu/Shutterstock
With its futuristic Space Needle and modern art museums (the Museum of Pop Culture is a must-visit spot, even just for its wavy facade), Seattle is bursting with big-city energy. However, don't overlook the area's rich natural beauty, especially when visiting in the fall. Some of the country's best fall foliage can be found in Mount Rainier National Park, just less than a two-hour drive from Seattle's center. If you'd rather stay in the city, head to Kubota Garden to see the Japanese-inspired greenery change to vibrant orange and red hues.
If your trip takes place before Halloween, consider scoping out the city's spooky season festivities. The Georgetown Morgue — an authentic historical morgue with a gruesome past, has been regularly named one of the scariest haunted houses in the U.S. Visit the morgue while its doors are open to the public from September to November. If you'd prefer a milder scare, book one of the city's ghost tours, where you can learn more about downtown Seattle's legendary cemeteries and other famous spots.
Another seasonal activity is sampling beer and snacking on pretzels at Oktoberfest. The area has no fewer than nine Oktoberfest celebrations, mostly taking place in September and early October. Note that you may need a car to reach some festivals.
Planning your trip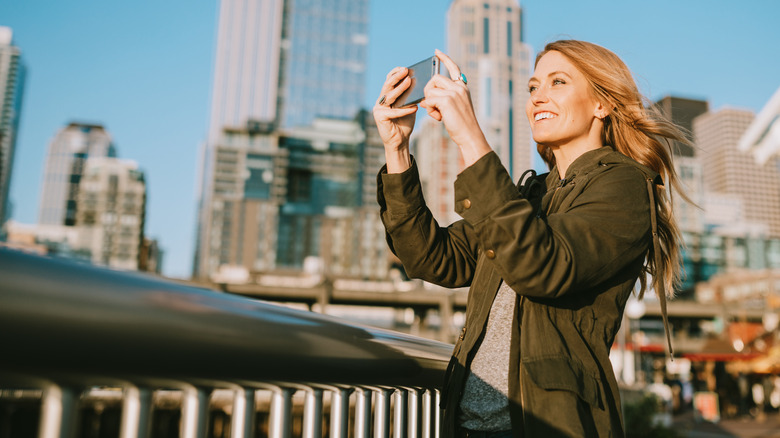 Ryanjlane/Getty Images
There's no right way to explore Seattle in the fall, but there are a few pointers to keep in mind. First, you'll likely find great deals on airfare and accommodations when visiting in the fall compared to the summer high season. The deeper into autumn, the better your chances of snagging a budget-friendly hotel room or flight. However, the beginning of the season may be the better choice if you prefer milder weather — October is slightly warmer than November. November is also one of the rainiest months of the year, making it a risky choice if you plan to spend a lot of time outdoors. In either case, it's still a good idea to pack warm clothes that can be layered and some rain gear to stay dry during downpours.
When choosing a place to stay, the Seattle area offers a wide variety of fall-friendly options. For accommodations outside of the city, check platforms like Airbnb and Vrbo for a cozy, private cabin getaway. Or, if you plan to spend time near Mount Rainier, stay in one of the region's rustic lodges or cabins for a night or two. If you prefer to stay right in the city, in the heart of the action, book a hotel in the neighborhoods of Belltown or Downtown Seattle.