This Popular East Coast Summer Tourist Spot Is Perfect For A Charming Winter Vacation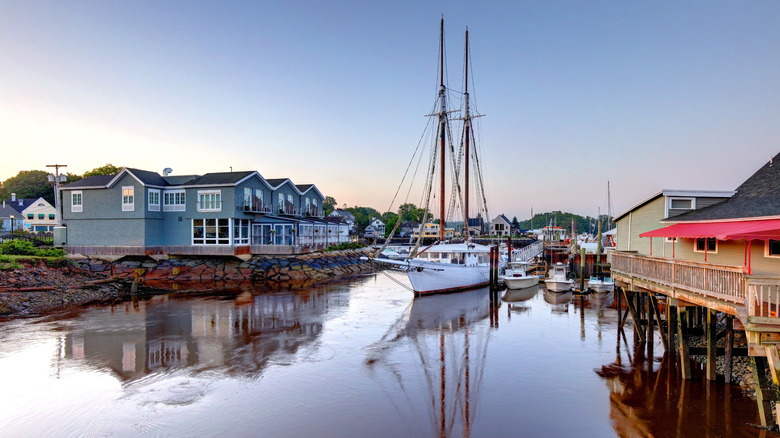 Denistangneyjr/Getty Images
Beach towns attract summer travelers seeking sun, surf, and sand. Chilly winter towns appeal to snow lovers and skiers. And some places are lucky enough to draw tourists no matter the temperature. Kennebunkport, Maine, is one of those towns.
The historic fishing village offers hot summer days on sunny beaches, but it magically turns whimsical in winter. Getting here is easy and offers lucky travelers a chance to experience a scenic drive in Maine. Tourists can also fly into Portland International Jetport (30 minutes away) or Boston Logan International Airport (90 minutes away). Renting a car at the airport is advised, but Kennebunkport is small. Once here, you can easily leave your car parked and navigate the town on foot. With so many things to do and see in Kennebunkport and plenty of unique places to stay, a visit to the coastal town in Southern Maine makes for an absolutely charming winter vacation.
Things to do in winter in Kennebunkport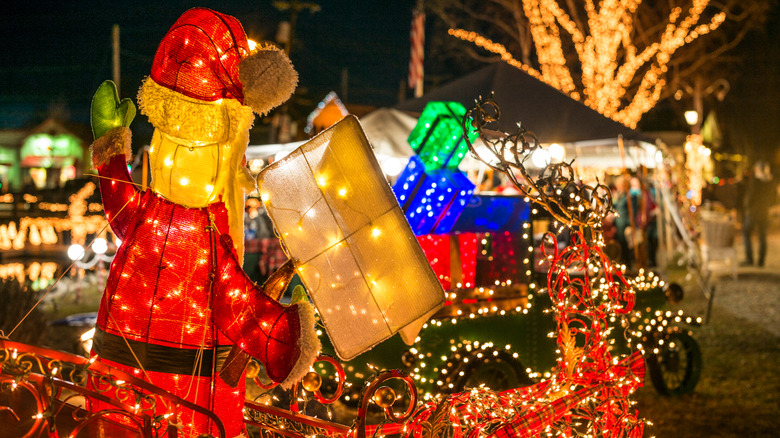 Danita Delimont/Shutterstock
Kennebunkport, Maine, offers plenty of enchanting winter activities. Dock Square is worth a visit any time of year, but especially in winter when it's the most festive place in town. Home to many independently owned restaurants (like the Clam Shack) and shops selling everything from handmade jewelry to home décor items, the historic town center is the place to be. Plenty of sparkly lights and Christmas decorations will put tourists and locals alike in the holiday spirit as they dine and shop.
Cross-country skiing at the Town Forest is another popular winter activity. Trails usually traversed in summer are also open in winter for skiers. For something a little less strenuous without giving up the snowy experience, try the Seashore Trolley Museum. Trolley rides ($6 to $11 depending on your age) showcase Kennebunkport's festive spirit while moving through the snow-covered woods. A winter stroll along the beach is also lovely. Grab a piping hot cocoa, bundle up, and enjoy the quiet winter landscape of a beautiful Maine town.
More winter activities in Kennebunkport include ice-skating, sledding, and snow snowshoeing, but the season's highlight is the annual Christmas Prelude that takes place in November and December (in 2023, the event was from November 30 to December 10). Expect daily celebrations to kick-off Christmas, like Santa arriving by lobster boat, and plenty of decorations, snow, and lobster bakes.
Where to stay in winter in Kennebunkport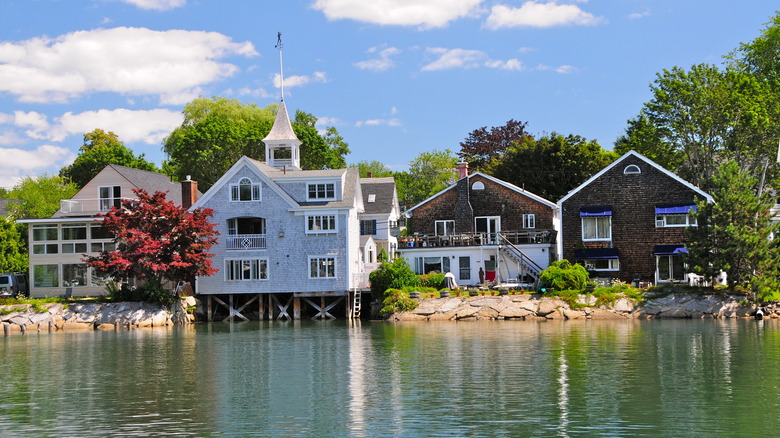 Richard Cavalleri/Shutterstock
Winter is a wonderful time to visit Kennebunkport, and visitors have plenty of charming New England accommodations to choose from. The Seaside Inn (starting at $139 per night) is located on Kennebunk Beach and includes a private beach — perfect for those bundled-up winter walks. Guests will love the year-round hot tub with gorgeous ocean views, the continental breakfast, and the free library. Plus, it's only one mile from Dock Square.
For those traveling with kids, the Rhumb Line Resort (starting at $129 per night) is an excellent option in winter. It has an indoor pool, an outdoor hot tub, a fitness center, and a continental breakfast. It's in a prime location, just a short walk to the beach and within a mile of Walker's Point, home to the Bush family estate.
Awol Kennebunkport (starting at $255 per night) is another great option. It's a unique oasis and very picturesque. Dock Square is only a few minutes walk away, but the hotel is nestled in a quiet landscape of pine groves, creating a tranquil and private retreat. Cabins with fireplaces and soaking tubs are perfect for warming up after a chilly day exploring the winter wonderland of Kennebunkport.