This Southwestern Destination Is Perfect For A Winter Camping Adventure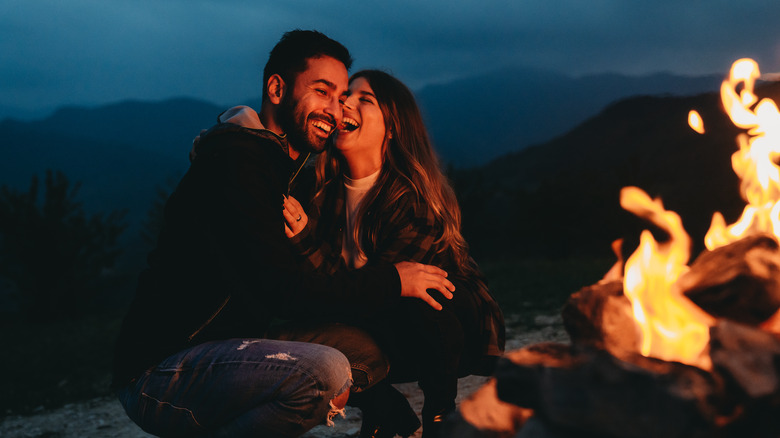 Filippobacci/Getty Images
Tucson, Arizona, often conjures images of blistering heat and desert landscapes, but this Southwestern destination is also ideal for winter camping adventures. With over 350 days of sunshine per year and mild winters, Tucson is the ideal place to escape the cold and experience the city's array of outdoor winter adventures. But what truly sets Tucson apart as a winter camping destination is its diverse landscape. In addition to desert terrain, you can find mountains, forests, and even alpine meadows, all perfect spots for setting up camp.
With such diverse terrain, there are endless opportunities for outdoor enthusiasts to explore during a winter camping trip. Rock climbing, hiking, and mountain biking are also popular year-round activities in Tucson. These activities become even more enjoyable in the winter because you can put your climbing techniques to the test without the added difficulty of inclement weather.
The Santa Catalina Mountains offer numerous trails and climbs for all skill levels, with breathtaking views of the Sonoran Desert below. Mount Lemmon has over 2,700 different climbing routes alone. And for those looking for a unique camping experience, Tucson also offers opportunities for stargazing and astronomy. The city is home to the Kitt Peak National Observatory, which boasts some of the world's most powerful telescopes. You can book a tour and view distant galaxies, stars, and planets in the clear night sky.
Mild winter weather and year-round adventure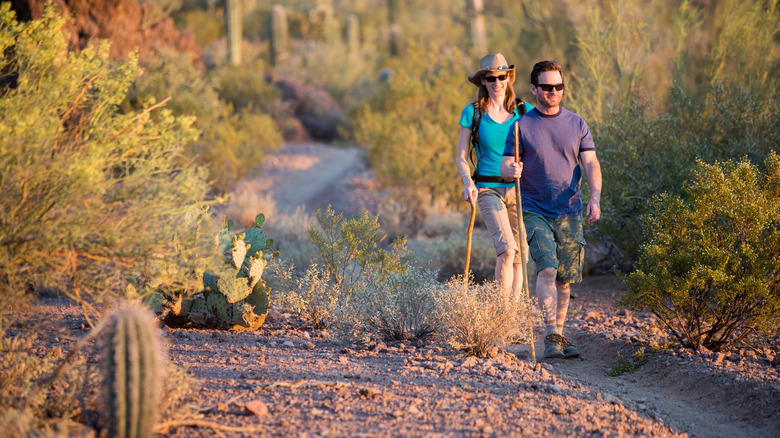 Creatista/Getty Images
One of Tucson's standout features is its incredibly mild winter weather. With daily temperatures in the mid-60s to low 70s, you can enjoy your camping trip without worrying about extreme cold. Nighttime temperatures dip into the 40s, perfect for cozy campfires and stargazing.
Apart from camping, Tucson offers a wide range of outdoor activities to make your winter adventure unforgettable. Explore the region's numerous hiking and biking trails, like the challenging 9.8-mile Phoneline Trail in the Sabino Canyon area. Or, if you're feeling adventurous, take a hot air balloon ride with Tucson Balloon Ride to get a bird's eye view of the Sonoran Desert. Open October through April, the winter months are the best time to enjoy this unique activity during your camping trip.
Tucson is a prime birdwatching destination, with winter species like mountain bluebirds and goldfinch in the area. The Arizona-Sonora Desert Museum and the Tucson Audubon Society's Mason Center are excellent spots for bird enthusiasts. You can even join a birding tour to spot rare and exotic species in their natural habitat.
Diverse camping options in Tucson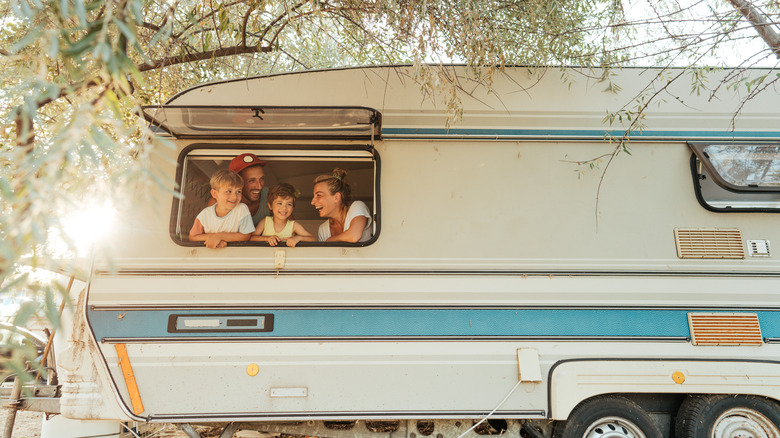 Aleksandarnakic/Getty Images
The city is surrounded by five mountain ranges, making it one of the region's best spots for hiking, biking, and climbing. With Saguaro National Park, Catalina State Park, and numerous other campgrounds located throughout the area, it's easy to find the perfect campsite in the winter season. Tucson is full of RV parks like Sentinel Peak RV Park and Gilbert Ray Campground, which offer several amenities and easy access to the city and rural hiking trails.
The nearby Catalina State Park has hiking and equestrian trails and a campground with both RV and tent sites, which you can book on the Arizona State Park website. But for a more rugged experience, consider backcountry camping in the Coronado National Forest. With several designated campgrounds to choose from, it's a great option for those seeking a true wilderness experience.
Saguaro National Park also has backcountry camping options, allowing visitors to immerse themselves in the desert landscape. To help protect the park's namesake, the Saguaro cactus, backcountry camping is only allowed at six designated sites within the park. The park offers a range of camping and picnic options, from the easily accessible Javelina Picnic Area to the more secluded campsites like the Manning Camp or Juniper Basin. Both sites are only accessible by hiking.