Plan A Trip To This European Island For Amazing Hiking Adventures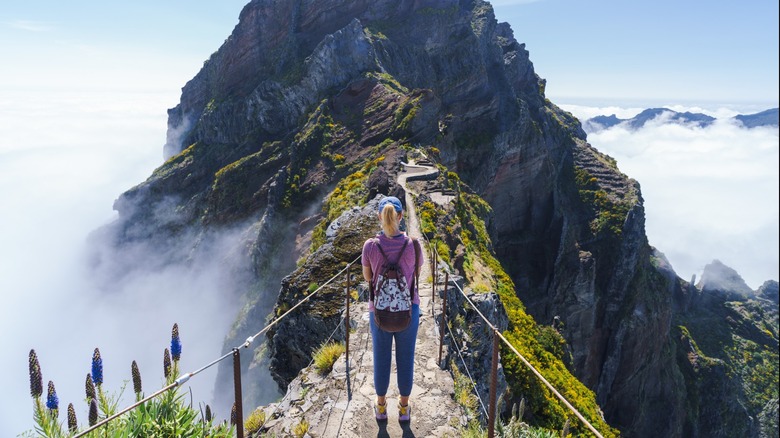 Pawel.gaul/Getty Images
Bordered by Spain on one side and the Atlantic Ocean on the other, Portugal is renowned for its beautiful beaches, blue ceramic tiles, known as "Azulejos," and some of the best weather in Europe. Oh, and football; definitely football. Cristiano Ronaldo anyone? But venture off the beaten track a little and there is so much more to discover about this diverse country including the Atlantic island of Madeira off the coast of Portugal, where the unique natural landscape feels straight out of a fairytale.
Located to the southwest of Portugal, Madeira is often nicknamed the "island of flowers" due to its lush and colorful vegetation. Known for its warm, subtropical climate, it encompasses everything from brilliant blooms and verdant forest to dramatic mountain peaks and rugged clifftops to pretty beaches and little villages. Closer to Morocco than it is to Portugal, this atmospheric island definitely has its own special identity, whether that's in its distinctive fauna and flora, its rugged volcanic landscape or its famed namesake wine.
What is certain is that anyone with an appreciation for nature, and especially hiking, will be in their element here. With dozens of trails crisscrossing the island, ranging from walks in search of waterfalls and peaceful strolls through the forest to more challenging climbs up steep inclines, it's a hiker's dream. And one that can even end up above the clouds with the crashing waves far beneath you. So, let's don our hiking boots and find out some more.
The hiking highlights of Madeira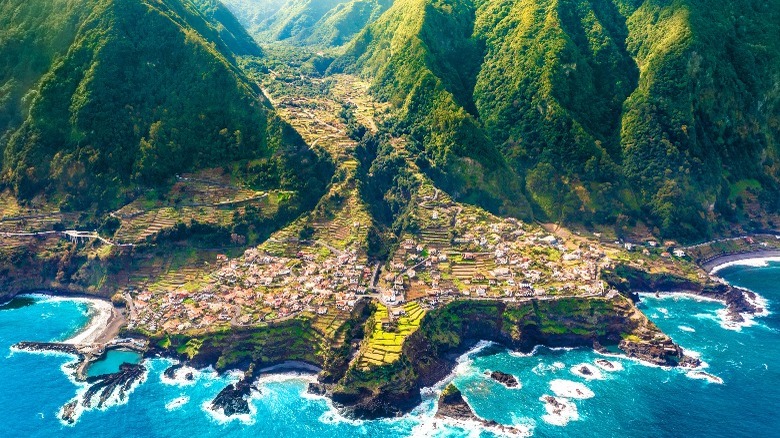 proslgn/Shutterstock
To begin with a little background information, Madeira is an autonomous region of Portugal that is one of an archipelago of islands. In addition to the two inhabited slabs of land, Madeira and Porto Santo, there are two uninhabited groups, the Desertas and the Selvagens. Although the largest of the islands, Madeira is not by any means huge. Reaching around 34 miles in length and about 14 miles at its widest, its entire coastline is only around 90 miles long.
What it lacks in size, however, this beautiful island more than makes up for with its magnificent hiking trails. Spanning many miles, they take in a surprising diversity of landscapes and offer something for all levels and ages. But where is a trail-hungry hiker to begin with these? Well, the first thing to know is that the island has several distinct areas, each with their own characteristics.
On the north coast, for instance, there is the dense vegetation belonging to the UNESCO-listed laurel forest of Laurisilva. Then there's the "levadas" — the name given to the paths that run parallel to the island's celebrated irrigation channels, many miles in length, which are unique to this area. On the south coast, as well as more of the forest, there are sweeping views over the capital of Funchal. And at the heart of the island is its highest peak, Pico Ruivo, where the summit offers arguably the most breathtaking panorama of all.
From forests and mountain peaks to waterfalls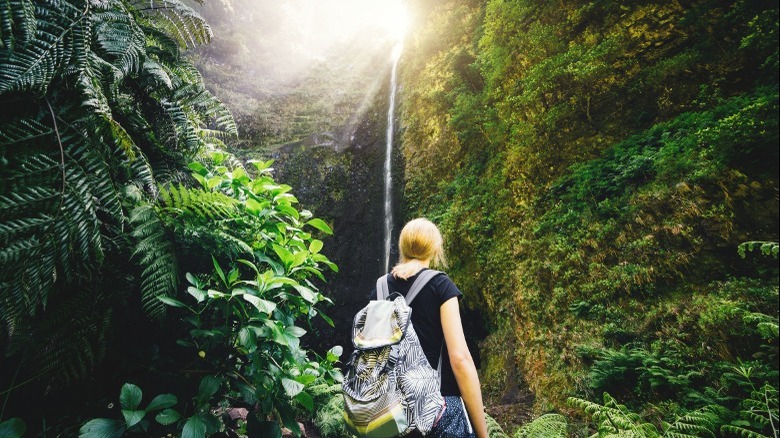 Borchee/Getty Images
Of the abundance of hiking trails across the island, one of the easiest is the Vereda dos Balcões, featuring forest, valleys, and the Balcões Viewpoint, at less than 2 miles for the round trip. For something altogether more challenging, the Vereda do Areeiro traverses the island's three highest peaks: Pico do Areeiro at 5,965 feet, Pico das Torres at 6,073 feet, and Pico Ruivo at 6,109 feet. Or who can resist the sound of the Levada das 25 Fontes with no less than 25 waterfalls?
Beyond all those wondrous walks, a visit to the aforementioned capital of Funchal is a must for its old town, pretty port, and botanical garden — home to 2,000 plant varieties. Then there's the picturesque fishing village of Camara de Lobos, on the south coast, with its red-roofed buildings, charming harbor, and colorful boats. And at Porto Moniz, a small town in the northwest, you can even swim in natural volcanic pools filled with seawater.
Although not large, Madeira also has its own airport, named after Cristiano Ronaldo (who else?), and many of the international cruise ships stop by, too. When you also factor in the wide range of places to stay, from apartments and manor houses to boutique hotels, Madeira starts to feel like a very enticing proposition. Certainly, for any hiking fans at least, this idyllic island is definitely one for the hiking wish list.