Relax And Unwind At This Overlooked East Coast Beach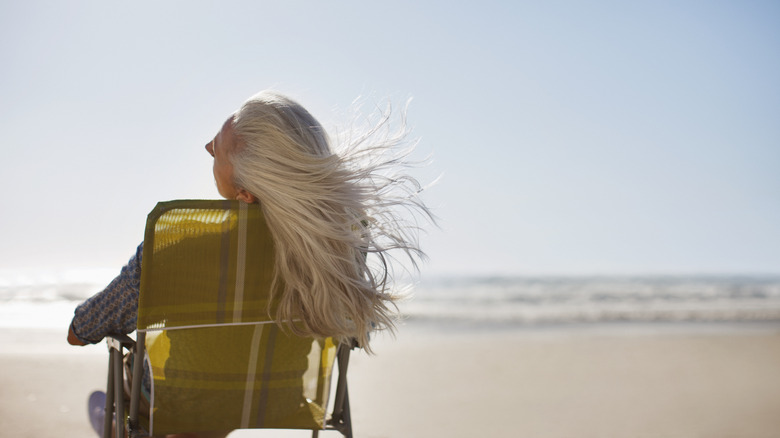 Tom Merton/ Getty Images
When you really need to relax, there is no better way to do it than to take a trip to the beach. The soothing, rhythmic lull of ocean waves, a salty breeze, and a soft bed of sand all come together harmoniously in the perfect atmosphere to put you at rest. However, some beaches are more tranquil than others. Fighting off crazy crowds or being pressed against an urban and commercialized backdrop can burst your idyllic beach bubble real quick.
If you want to guarantee that your beach trip is a mellow, beautiful getaway, we recommend you check out Moshup Beach, often referred to as Gay Head Public Beach. Located on the iconic vacation destination of Martha's Vineyard, the beach is nestled in the beautiful city of Aquinnah, one of the island's most quiet and calm neighborhoods. In fact, Moshup Beach was named the most secluded beach by Boston Magazine. This tucked-away slice of paradise features natural landmarks, a rich history, and plenty of local gems to grab a bite at or book a cozy room with.
Why Moshup Beach is so unique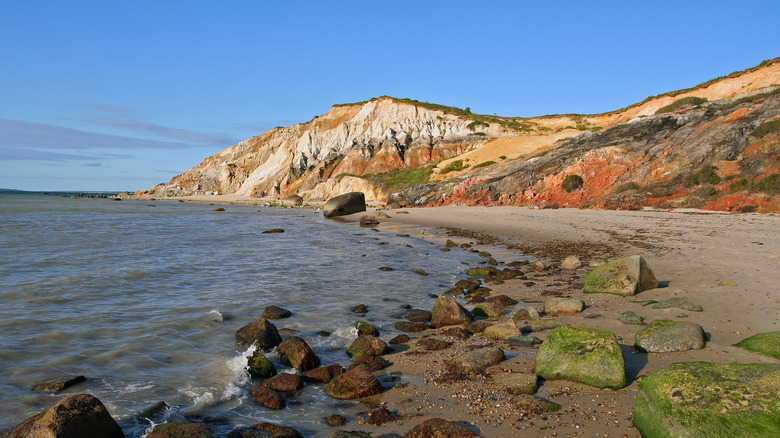 Lori Froeb/ Shutterstock
Martha's Vineyard is one of New England's most beloved vacation spots. Just off the coast of Cape Cod in Massachusetts, the island has become renowned for its quaint, picturesque towns and pristine beaches. Most visitors flock to the primary hotspots for tourism, like Vineyard Haven, Edgartown, and Oak Bluffs. However, Moshup Beach sits in Aquinnah, the most compact town on the island.
Formerly, the area was considered the town of Gay Head. However, the indigenous tribe that had inhabited the island prior to its colonization, the Wampanoag Tribe, had originally named the area Aquinnah. In 1997, this tribe won the right to re-establish Aquinnah as the official name of the town. For the Wampanoag people, Moshup Beach is considered a particularly significant site, one where sacred gatherings historically took place.
Distinguished from the rest of the island by its colorful, clay seaside cliffs, Moshup Beach is named after a mythical giant in Wampanoag folklore. The legend goes that Moshup carved these breathtaking rock formations by hand. Between its supple, fine sand and stunning geological features, anyone who visits Moshup can clearly see it's a special place.
Planning your trip to Moshup Beach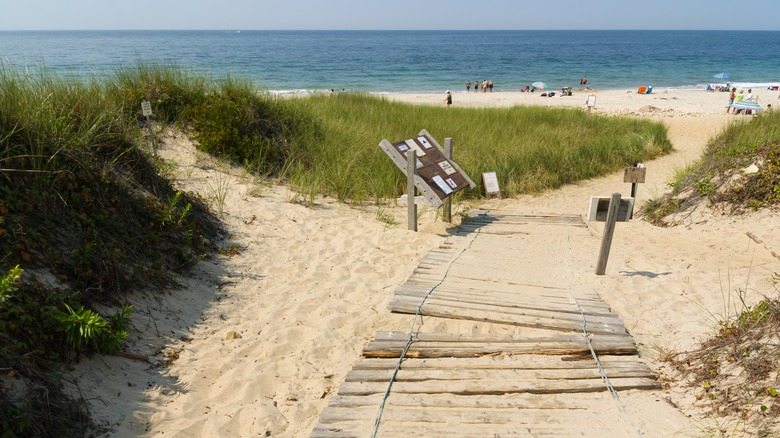 Vidu Gunaratna/Shutterstock
If this serene and stunning beach is calling your name, we encourage you to put Moshup Beach on your bucket list. During the more popular months of the year, May through October, it's relatively easy to get to. You'll find ferries departing along the East Coast in cities like Falmouth, Hyannis, New Bedford, Quonset Point, New York City, and Northern New Jersey. Additionally, you can take a flight to Martha's Vineyard Airport. On the island, you can make your way to Moshup Beach via car, taxi, bus, or bike. If you drive, there's a public parking lot just ten minutes from the beach entrance.
Before entering Moshup Beach, there are a few things you should be aware of. For instance, you'll find that there is a section of the beach, designated by a sign, that is clothing-optional. While on the beach, ensure you do not damage or remove any part of the clay cliffs. This has been made illegal as a local conservation effort, according to the Vineyard Gazette.
When you are looking for a bite to eat, the surrounding town of Aquinnah has some top-quality options. A must-visit for seafood lovers looking for something casual but with an impeccable view is The Aquinnah Shop. For something more upscale, consider the Outermost Inn. Depending on where you're coming from, you can stay for a day trip or days on end at the Outermost Inn, the Duck Inn, or a closeby rental home.