Take A Scenic Drive Through A Popular Southeastern National Park On This Road Trip Route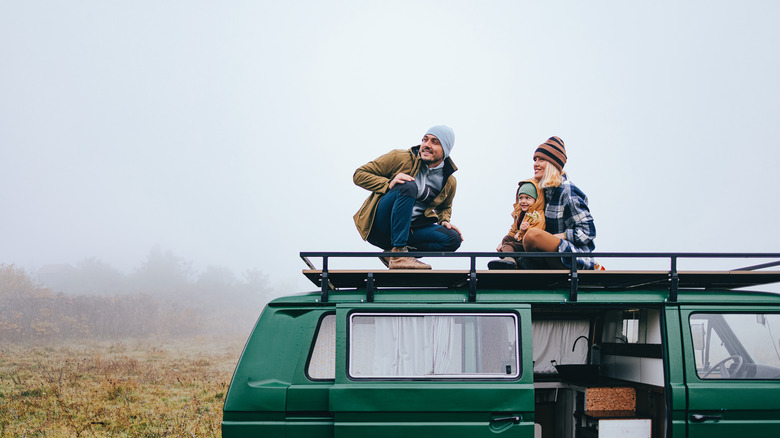 Miniseries/Getty Images
A road trip is one of the best ways to explore a new destination and connect with nature. If you're looking for a trip combining outdoor adventures and stunning landscapes, consider driving through one of the most popular Southeastern national parks. In Virginia's Blue Ridge Mountains, Shenandoah National Park is known for its breathtaking views and the famous Skyline Drive.
This road trip route is approximately 105 miles long, runs the park's length, and offers gorgeous views from start to finish. Along Skyline Drive, there are four entrances that allow you to enter the park. The Front Royal Entrance Station is the northernmost entrance at mile 0. From the south, Rockfish Gap Entrance Station will start your drive at mile 104.6, allowing you to follow the route north. The Thornton Gap Entrance Station is just past mile 31, and the Swift Run Gap Entrance Station is at mile 65.5, allowing you to enter near the middle of the drive.
No matter the direction you take along the way, there are over 75 scenic overlooks where you can stop and take in the breathtaking scenery. Shenandoah National Park has two visitor centers on Skyline Drive near the north and south entrances. The Dickey Ridge and Harry F. Bryd Visitor Centers provide helpful information, maps, first aid, restrooms, and more. The park has only one area with fuel and charging stations in the Big Meadows area around mile 51 on Skyline Drive, so fill up before you enter if needed.
Panoramic views and wildlife encounters on Skyline Drive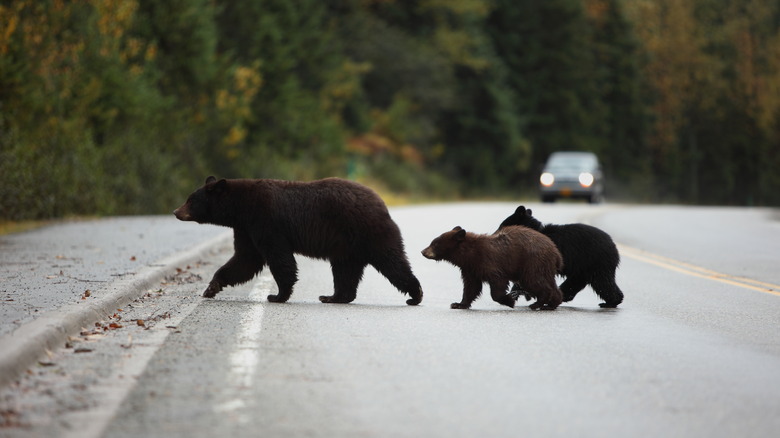 Wergodswarrior/Getty Images
Skyline Drive boasts a variety of overlooks, each perched at different elevations. The drive reaches elevations of up to 3,680 feet, offering sweeping panoramas of the surrounding valleys and peaks at the highest point at mile 41.7. With the sheer number of overlooks, it may be tempting to stop at each one, but with the drive taking around 3 hours (without stopping), you'll want to pick and choose some of the best.
Starting at the park's Front Royal entrance, at mile 20.8, Hogback Lookout is the longest lookout and provides stunning views of the Allegheny Mountains in the distance. Around the midpoint of the drive, Splinter Knoll lookout sits at an elevation of 3,285 feet and gives visitors panoramic views of Dovel Mountain and the town of Stanley. Crimora Lake Overlook is closer to the Rockfish Gap entrance at mile 92.6, providing views and plenty of photo opportunities of Wildcat Ridge. 
Keep your camera handy while driving along this route, as you will likely spot some of the region's most iconic animals. Shenandoah National Park has a thriving population of black bears and other wildlife. The park's iconic black bears often make appearances along Skyline Drive, foraging for food. The area is also a haven for birdwatchers, especially in the open fields of the Big Meadows area. With nearly 200 species of birds, including the Peregrine falcon and the Cerulean warbler, the park offers fantastic birdwatching opportunities.
Hiking adventures and camping along the route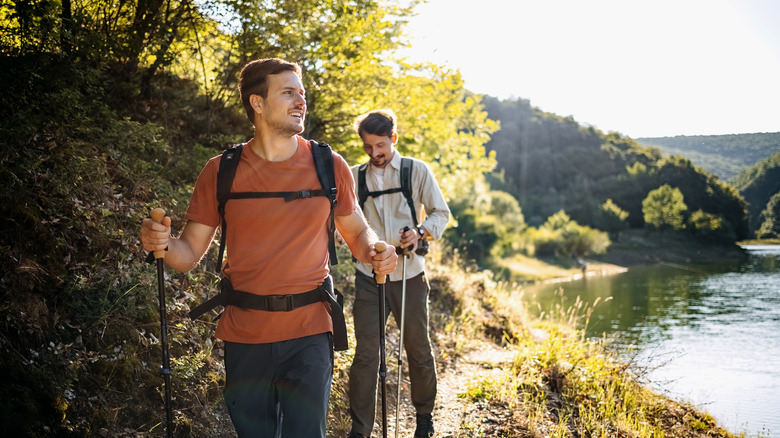 Enigma_images/Getty Images
Skyline Drive isn't just for those who prefer a leisurely road trip; it's also a gateway to an array of hiking opportunities. The park has nearly 500 miles of hiking trails, catering to hikers of all skill levels. Fox Hollow Trail, located at mile 4.6 near the Dickey Ridge Visitor Center, and Fort Windham Rocks at mile 10.4 are two short, easy hikes on the route.
For more experienced hikers, the halfway point of Skyline Drive provides longer circuits and loops for extended, more challenging hikes. The Cedar Run to Whiteoak Circuit at mile 45.6 is a very difficult 8.1-mile trail with a nearly 3,000-foot elevation gain. The Mill Prong Loop is just a few miles further at mile 52.8. It is a moderately challenging, 7.4-mile trail with over 1,500-foot of elevation gain.
Shenandoah National Park has five campgrounds along Skyline Drive, from the Mathews Arm Campground at mile 22 to the Dundo Group Campground at mile 83.7. Campsites are a mixture of first come, first served and reservations. Big Meadows Campground spots are for reservation only, with reservations available on the Recreation.gov website. Shenandoah has also been designated as a Dark Sky Park, meaning campers and stargazers can indulge in some of the best celestial views in the Southeast.