Visit This Stunning European Destination For A Lakeside Couples Vacation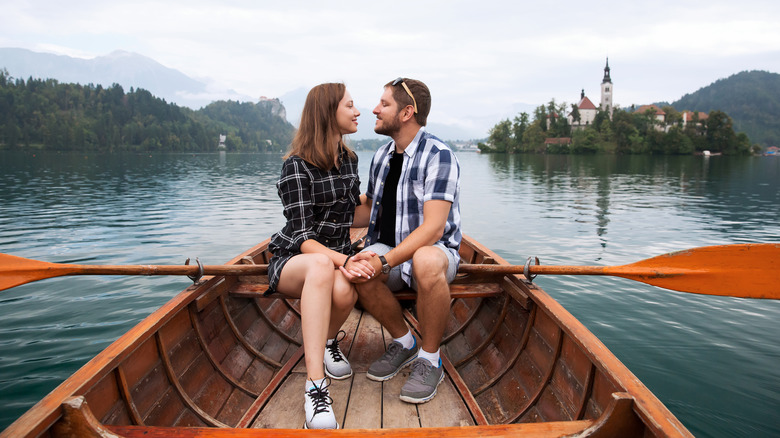 Natalia Deriabina/Shutterstock
Take a moment and imagine this: a vast lake surrounded by trails through trees, a picturesque town, and snow-capped mountains. In the middle of the stunning blue lake is an island with a couple of buildings, including a church with a tall steeple that rises high above the island's trees. It's an idyllic image. Now, take another moment and imagine taking these sights in with your partner. The majestic views are somehow sweeter with their presence. You can make these imaginings a reality with a romantic visit to Lake Bled in Slovenia.
Lake Bled is located near the town of Bled in Slovenia's Triglav National Park. The lake, which is one of Slovenia's most popular attractions, has a magical creation story, or at least, according to local folklore it does. The myth explains that Lake Bled fairies created Lake Bled and its island so that they could dance on soft grass without the threat of farm animals eating it all.
While you likely won't find any dancing fairies nowadays, you can create some magical memories with your partners at this beautiful, romantic destination, which iss considered one of the world's most spectacular lakes. 
Things to do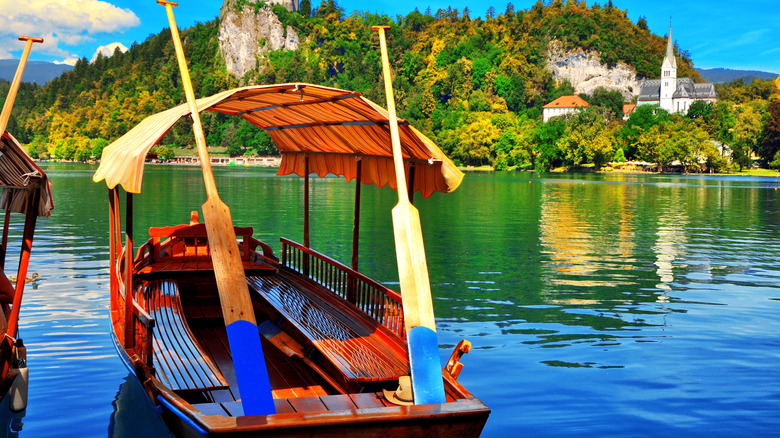 Micolino/Getty Images
When you arrive, it'll be difficult to take your eyes off of the lake. Luckily, you don't have to. You can walk the nearly 4-mile trail around its perimeter hand in hand with your significant other. When you finish, you can turn your walk into a hike on one of Triglav National Park's trails, or, if you'd rather be on the water than around it, you can take a boat ride. For a distinctly Slovenian experience, ride on a pletna, which is a boat whose local design dates back to the 16th century. To create an even more intimate experience, rent a rowboat yourself and paddle out on the waters, just the two of you.
When you've had your fill of water activities — or at least need to rest for a little bit — you can retreat to the picturesque town of Bled. Enjoy a romantic meal with a gorgeous view at the historic Bled Castle Restaurant; sip some wine and learn about the region's vineyards at Wine Tasting Bled; or observe the town while riding in a horse-drawn carriage.
When to visit and where to stay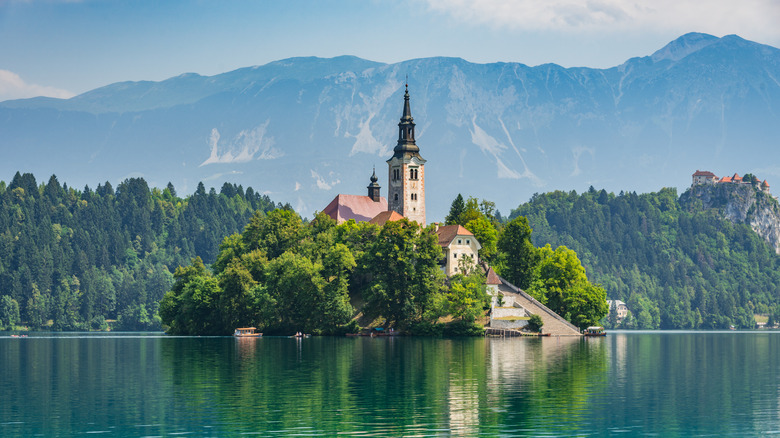 Mlenny/Getty Images
If you visit in the summer, you can swim and paddleboard in the shimmering blue water; if you come in the winter, you can ice skate on the frozen lake. Fall makes for a particularly stellar scene with the bright oranges and reds from the turning trees reflecting on the water, and spring abounds with the unique beauty of new life and blossoming flowers. Peak tourist season is in the summer.
You can book your accommodations in Bled or in one of the nearby towns. The capital city, Ljubljana, is about a 45-minute drive away for those willing to drive a little bit. If you're looking to indulge in a little bit of luxury and stay right on the lake, Adora in Bled is for you. For those wanting something a little different, Garden Village offers glamping and treehouses.
Lake Bled is the perfect couples destination. It offers expansive beauty, delightful activities, and endless places to make romantic memories. Next time you're looking to get away from the bustle of daily life, grab your partner and make a big European trip out of this idyllic lake.