Take A Trip To This Island Off The Coast Of Africa For A Budget-Friendly Beach Vacation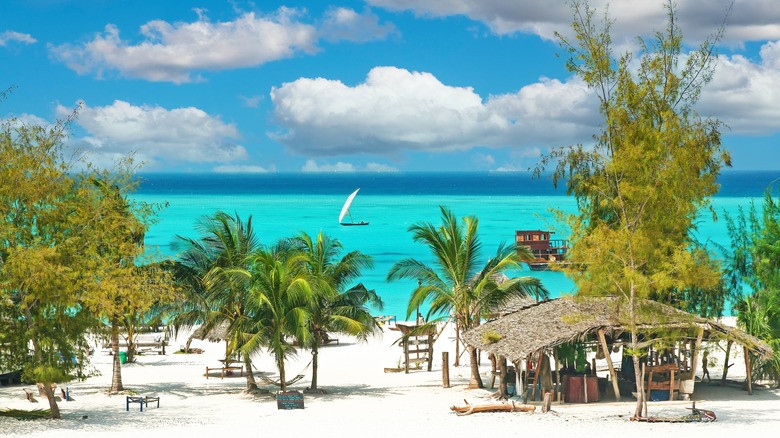 Ralf Liebhold/Shutterstock
Nothing beats an island vacation. And there are plenty of options around the globe, all offering sandy beaches, beautiful blue water, rich cultures, and tasty cuisine. While it can be challenging to pick which paradise to travel to, one budget-friendly island off the eastern coast of Africa was recently ranked among the best in the world.
The island of Zanzibar is part of Tanzania and just 22 miles from the mainland. The tropical weather is humid, and the native language is Kiswahili, a dialect of Swahili. Famous for its spices, spice farming and tourism are significant contributors to the region's economy. This beautiful island is an idyllic spot for relaxing on the white sand, exploring the underwater world, and immersing yourself in local culture. It's inexpensive, and with so many unique things to do, lovely places to stay, and delicious dishes to taste, it's no wonder Zanzibar is dubbed as one of the best islands worldwide.
Things to do in Zanzibar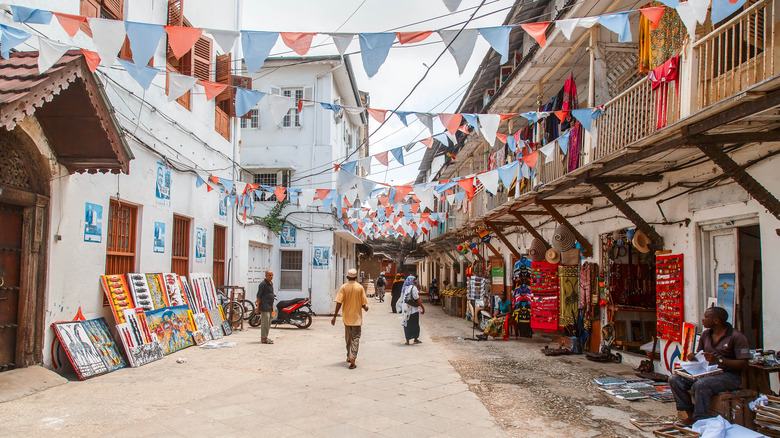 Olga Koverninskaya/Getty Images
Budget-conscious travelers will find an abundance of activities in Zanzibar. There are 25 beautiful beaches on the island to choose from. The island is an exciting place to scuba dive, and Paje Beach is one of the best spots to do it — a PADI dive school is on-site at the Paje Beach Apartments & Hotel. Wind conditions at Paje Beach also beckon kitesurfers to its sandy shores from all around the world. Nungwi Beach is lively, with plenty of restaurants, pubs, and nightlife. But, like Paje Beach, it's also a great spot to snorkel and scuba dive. Kendwa Beach is known for stunning sunsets and calmer waters ideal for swimming. 
Strolling around Stone Town is another must-do activity for any travelers in Zanzibar. The historical center of Zanzibar City and a UNESCO World Heritage Site, the town is beautiful with colonial architecture and ornate carved doorways. Visit the Forodhani Garden Markets for delicious cheap alfresco meals, like kebabs and fresh fish, or try the quieter Darajani Market for spices to take home.
Where to stay in Zanzibar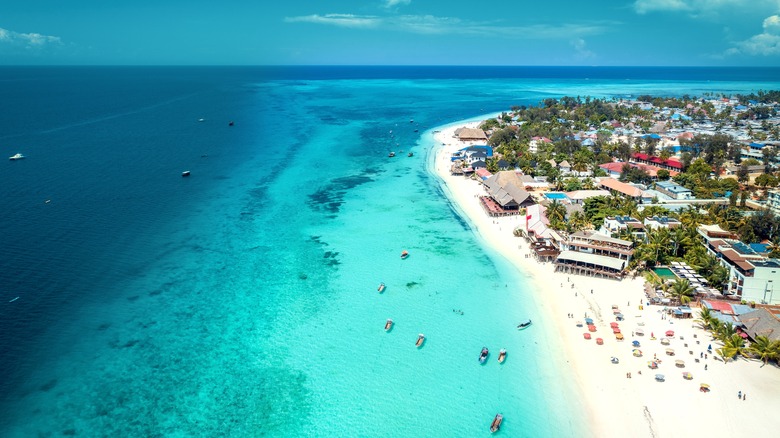 Ajan Alen/Shutterstock
Zanzibar is a beautiful, budget-friendly destination in Africa, offering plenty of affordable accommodations. One popular hostel is the Lost & Found Zanzibar in Zanzibar City. The price per person for a dormitory-style bed runs start at just $6, and the accommodation offers airport shuttles, free Wi-Fi, air-conditioning, and the option to add breakfast for only $5 per person.
For those looking to stay closer to the beach, try Makofi Guest House. The walk to the beach is less than two minutes, and as Nungwi is a small fishing village, the atmosphere is ideal for getting to know the locals. As a bonus, reception may offer special activity discounts for hotel guests. Plus, prices start at $22 and include breakfast. Lunch, dinner, and a barbeque every few days are also available at the hotel for a small additional fee. Another option near Nungwi Beach is Babalao Bungalows. Here, every room has a garden view, continental breakfast comes with the price of the room (starting at $54 for a standard double-occupancy room), and there is an on-site restaurant, bar, and beautiful swimming pool.