This European National Park Is A Great Destination For Your Next Hiking Adventure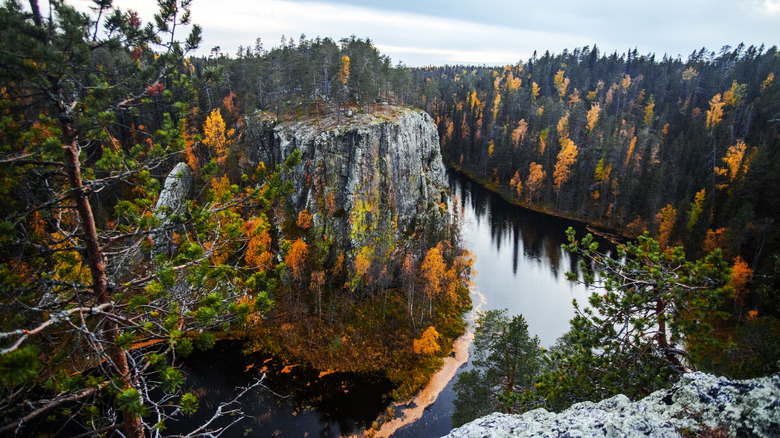 adamikarl/Shutterstock
There's no doubt that Europe is a treasure trove of adventures. Bursting with history, culture, and untapped wilderness, the continent is both inviting and vast — from the rolling vineyards of France to the crystal-clear fjords of Norway. Beyond its grand cathedrals, medieval towns, and historic landmarks, there's also a wide array of diverse natural landscapes just waiting to be discovered.
When it comes to natural beauty, though, Finland stands out among its neighbors as a go-to for all things wild and outdoors. Known for its mesmerizing display of the Northern Lights, midsummer midnight sun, budget-friendly ski destinations, and winter wonderlands, this captivating Nordic destination is about much more than frozen landscapes.
In fact, its vast forests and serene lakes also make it a paradise for outdoor enthusiasts looking to disconnect from the hustle and bustle and reconnect with nature. One prime example? Oulanka National Park. Nestled up against its eastern border with Russia, this untouched haven is brimming with wildlife and scenic vistas that encapsulate the wild spirit of Finnish Lapland. Plus, with lush trails and sparkling rivers — as well as opportunities for visitors to hike, fish, canoe, and even go berry-picking — Oulanka National Park is an unmissable gem.
Exploring Finland's most popular park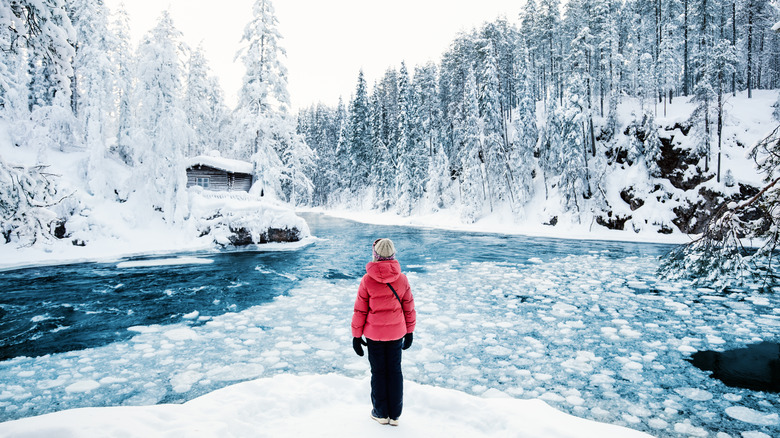 BlueOrange Studio/Shutterstock
Entrance to the park and the visitor center are completely free of charge. Open daily from January through December, the visitor center offers plenty of amenities, including storage, hiking and trail information, and even a small souvenir shop. Plus, there's also an on-site restaurant — open from May to October — where travelers can enjoy a warm meal, tea, coffee, and pastries before hitting the trails.
Once you're ready to lace up your boots, Oulanka National Park offers plenty of scenic trails and nature walks that are suited to both beginners and experienced hikers. A few easy and intermediate excursions include the Kiutaköngäs Trail (roughly half a mile each way, open year round), the Hiiden hurmos Trail (a 3-mile loop that requires snowshoes during the winter), and the Könkään keino Trail (five-mile round trip that's only open when the ground isn't frozen). Other must-visit spots during your visit include the Oulanka Canyon, Ristikallio Cliffs, and Kallioportti Cliffs.
For more advanced and adventurous hikers, the demanding Karhunkierros Trail (a 51-mile trip each way) is only available when the ground isn't frozen from June to October. The multi-day hike takes anywhere from 3 to 7 days to complete, but don't worry — you don't have to go at it alone. The park offers kiosks and cafés along the trail, as well as "wilderness huts" that have been especially designed for overnight camping and resting.
Planning your Oulanka adventure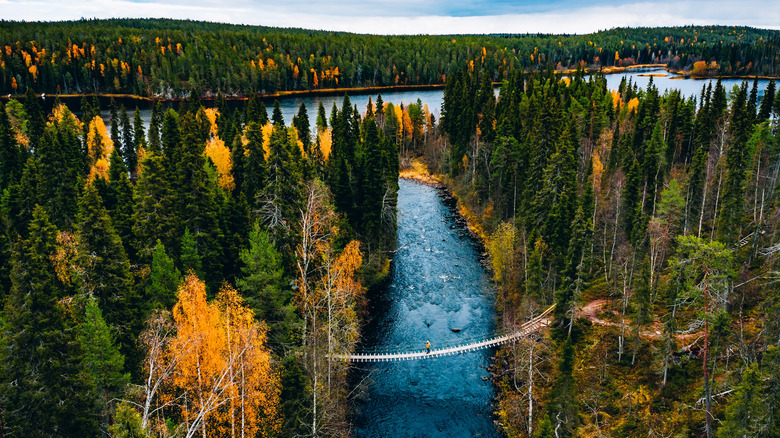 nblx/Shutterstock
Choosing when to visit Oulanka National Park depends entirely on what you hope to get out of your experience. However, the best time to explore the park and take in the scenery is typically during the fall. Although the park is much busier at this time of year, visiting during the cooler months means you won't have to deal with mosquitoes during your hikes. Plus, catching the vibrant autumn foliage before winter also means the ground won't be frozen — setting the stage for some great hikes.
Reaching the park is also quite straightforward. The closest major airport is Kuusamo Airport, located roughly 34 miles away. From there, travelers can hop aboard one of the airport coaches to Salla via the towns of Hautajärvi, Käylä, Juuma and Ruka. For hikers, you'll want to stop over in Juuma. If you want to check out the Visitor Center, there are also connecting buses available during the week to take you there. Alternatively, you can also choose to rent a car and drive directly to the visitor center yourself. This means you can avoid getting on and off the public buses and travel around with much more flexibility — especially if you're hoping to explore the wider region.