This Underrated Pacific Island Is The Perfect Destination For Your Next Beach Vacation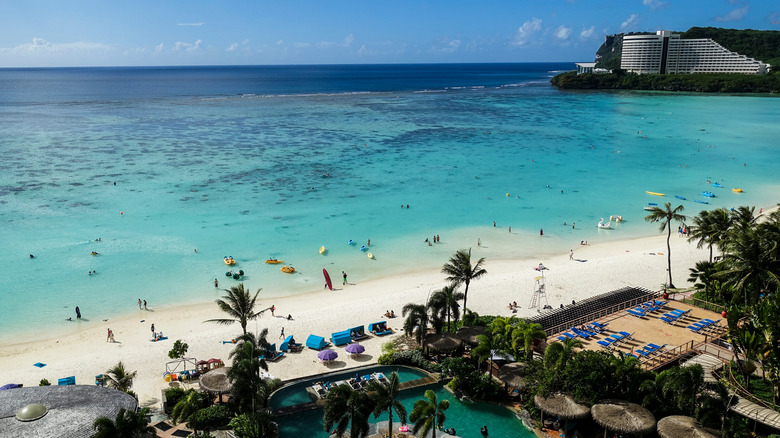 hyotographics/Shutterstock
A U.S.-owned beach paradise in the Pacific — you might assume we're referring to Hawaii, but there's another destination just as worth a visit: Guam. The island sits south of Japan, east of the Philippines, and north of Papua New Guinea as part of the Mariana Islands. Even though it's far removed from the rest of the country (San Francisco is 5,800 miles away, for reference), Guam has been a U.S. territory since 1898. Still, the Pacific island has a distinct culture all its own, which is heavily influenced by the Asian countries surrounding it, mainland America, and the local Chamorro people.
Guam's sights are just as rich and diverse. All along the island's coast, you'll find postcard-worthy beaches with pristine white sand and sparkling water. You'll also stumble upon mountains, waterfalls, U.S.-sized malls and shops, and more. Sure, Guam might not get as much attention as many other beach vacation hotspots, but it has just as much to offer — and once you visit, you might not want to share this hidden gem with anyone else.
What to do in Guam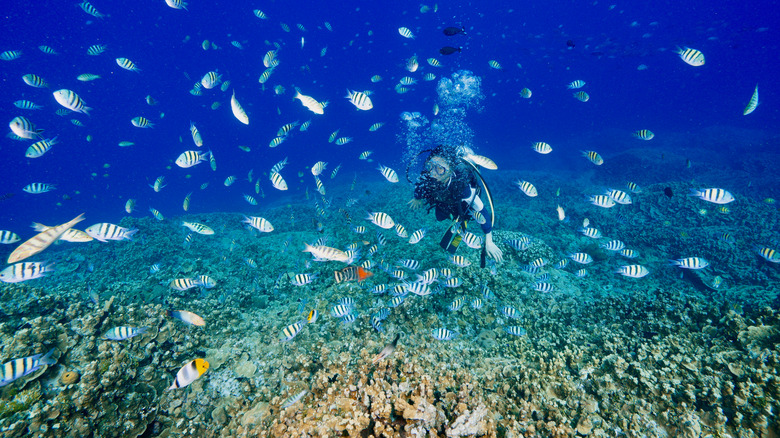 NAOTO JACK FUKUSHIMA/Shutterstock
Guam is a small island that's barely visible on most maps, yet it packs countless activities and sightseeing spots into its 210 square miles. First and foremost, don't miss the spectacular beaches that the area is known for. Head to Tumon Beach for a tourist-friendly vibe or north to Ritidian Point for a quieter feel (you can also snap the perfect travel picture from the nearby observation deck). Swimming and sunbathing are always a relaxing way to spend your vacation, but Guam also offers opportunities for fishing, surfing, boat tours, and diving. In fact, brave scuba divers even have the chance to explore war-era shipwrecks just off the Guam coast.
History buffs will find plenty of fun outside the water too. Visit Fort Soledad, a 200-year-old Spanish-style fort that once played a pivotal role in protecting the island's trade. Another architectural wonder is Guam's latte stones. These stones were once used to build homes on the island, and you can still find them standing today (head to Senator Angel Leon Guerrero Santos Latte Stone Memorial Park for a good look).
One of the most unique points about Guam is that, despite being a U.S. territory, the island has its own unique personality and flavor, and that comes alive most through its Chamorro culture. A stop at the Chamorro Village is a must to experience the locals' traditional crafts, dancing, and mouthwatering foods. Be sure to swing by on a Wednesday evening when the village's Night Market comes alive.
Planning your trip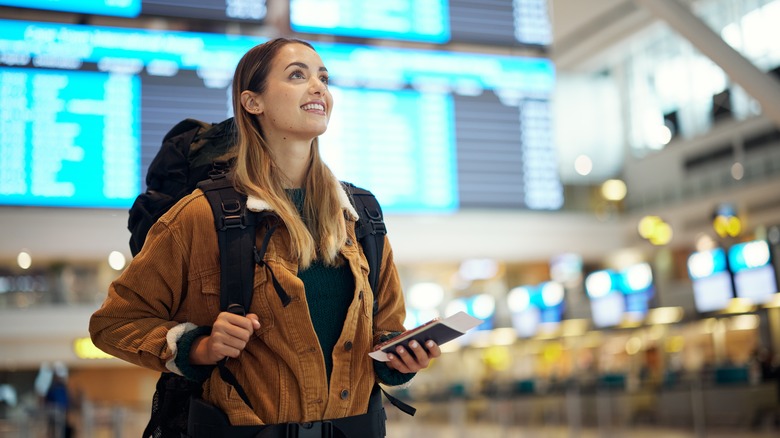 PeopleImages.com - Yuri A/Shutterstock
A trip to Guam requires the same visa and/or personal identification as any other U.S. destination. For American citizens, that means you only need a REAL ID, a U.S. photo ID, or a certified copy of your birth certificate, according to the Guam Visitors Bureau. Guam's weather is warm all year round, with an average temperature of 81 degrees Fahrenheit (27.2 degrees Celsius). That makes the island perfect as both a summer vacation spot and a mild winter getaway. It's best to note, however, that the Pacific locale has a rainy season from July to November, which could make these months less ideal for outdoor activities and sightseeing.
When budgeting for your trip, expect your money to stretch a bit further than in other beach destinations. For example, many tourists find Guam to be less expensive than Hawaii. The Guam Department of Revenue and Taxation also states that while you'll likely have to pay local hotel occupancy taxes, you won't be required to pay sales tax on most purchases, leaving you with more money in your pocket. However, plan to devote a sizable chunk of your travel budget to airfare. Unless you're already located near the Pacific Ocean, getting to Guam can involve multiple flights. Some cities with direct flights include Honolulu, Tokyo, Taipei, and Seoul.