Visit This Lake In Italy For A Rustic Travel Experience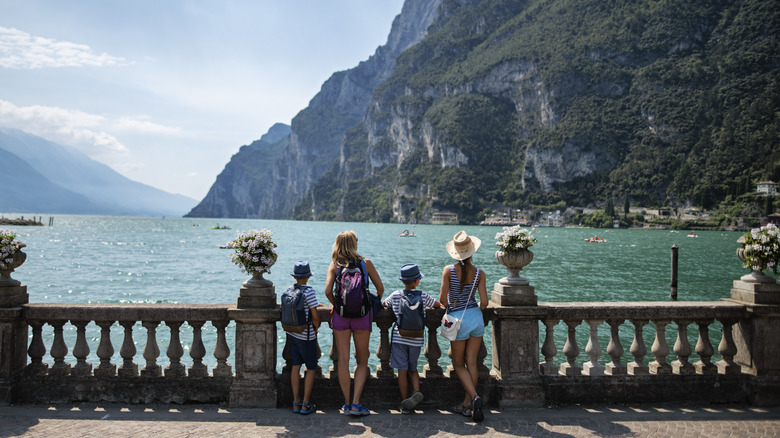 Imgorthand/Getty Images
When it comes to hidden gems, Lake Garda is — in our humble opinion — one of the shiniest of them all in Northern Italy. While Lake Como is known for its elegance and luxury and is one of the top destinations in Italy, Lake Garda (called Lago di Garda in Italian) is a more family-friendly destination with a rustic vibe that's flown a bit under the radar for non-Europeans. Additionally, you'll find that prices are lower in comparison to Lake Como.
And don't worry if you still want to visit other cities — Lake Garda is not far! One of the best things about this destination is that it is perfectly positioned between some of the most popular places in Northern Italy, including Verona, Venice, and Milan. If you want to get a two-for-one deal on lakes, you can also visit Lake Como while traveling around the area since it's not too far either. While getting to Lake Garda from any of these places can be accomplished by train, we recommend renting a car. This will allow you a bit more accessibility since public transport around the lake is limited.
However, this lake is so much more than just a convenient, family-friendly spot that's home to Italy's popular amusement park, Gardaland, though. Prepare to see ancient ruins, idyllic towns, and untouched landscapes — all complemented by the beautiful blue waters of Lago di Garda. Are you ready to experience a lake like no other?
The must-sees of Lake Garda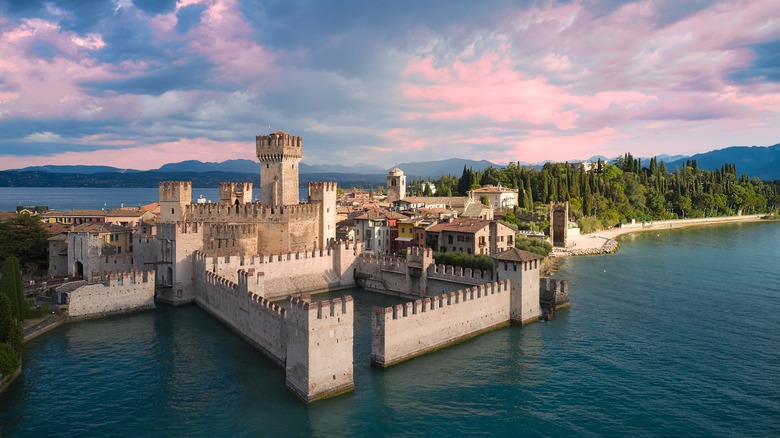 Andrea Berg/Shutterstock
Lake Garda has a fascinating history. After eight centuries of rule under the Roman Empire, many ancient structures were erected around the lake, which remain to this day, such as the Grottoes of Catullus and a Roman Villa at Desenzano del Garda. While not a Roman artifact, at Desenzano, you'll also find the Castle of Desenzano, which is equally interesting to explore.
However, one of the most famous castles on the lake was built by the Veronese Della Scala family. Today, it's called the Scagliero Castle and is one of the most well-preserved castles in Italy. This grand structure is located at the entrance to Sirmione, a town on a small peninsula that juts out from the center of Lake Garda's southern shore. While you may not notice it in person, you might recognize the castle from its aerial photos as it's home to a rare example of a medieval fortified port.
Another place you could get lost in for hours is Malcesine, an idyllic town on the eastern shore of Lake Garda well known for its colorful buildings, the Malcesine Castle, and the rotating funicular that goes to the top of Monte Baldo. This is also one of the only places around the lake that has a dedicated bike path. So pack up some yummy food, such as local Italian cheeses and cured meats, and take a day to wander toward one of the other picturesque towns to the north or south.
Here's why you should visit Lake Garda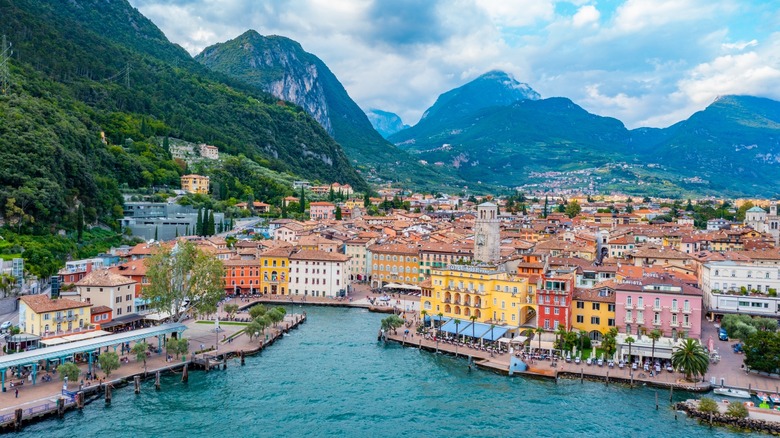 trabantos/Shutterstock
Ultimately, Lake Garda is for those who enjoy more rustic and authentic experiences. You may find it bustling during the summer months, but it's more popular among Italians, Austrians, and Germans than Lake Como. So, if you're looking to rub elbows with locals, this is the perfect place. Secondly, beyond the southern shores, the lake is less developed. So, if you get tired of the hustle and bustle in Sirmione, you can simply head to one of the more tranquil spots around the lake, such as Salo, or head to Riva del Garda and enjoy views of the lake's untouched nature from another popular funicular.
You'll also find Lake Garda is well-suited to watersports, and there's great walking and hiking trails around the lake. As such, Lake Garda may be more up your alley if you're an outdoorsy backpacker. Additionally, Lake Garda's best attractions are pretty much all concentrated on its southern shore, with trains and buses connecting most of these towns. However, if you want to see more of the coastline, you may want to rent a car for a day or two since public transport isn't as robust around the rest of the lake.
While Lake Garda can easily be done as a day trip, we think you would get the most out of this destination as a slow travel experience. Take three or four days to enjoy this lake to its fullest!