What Really Came Of The Seventy2 From Shark Tank?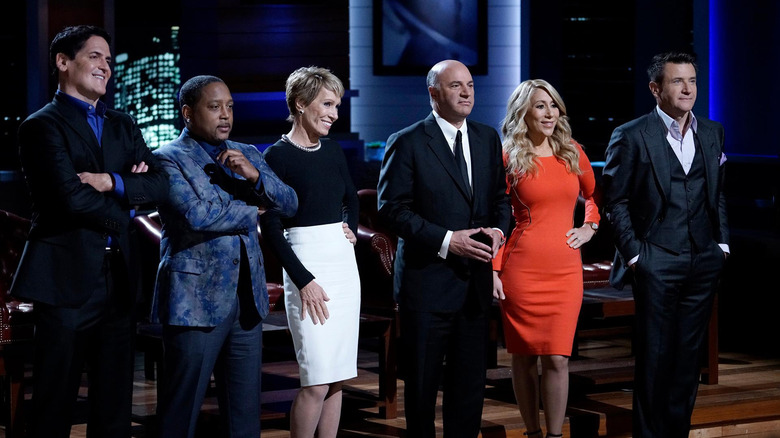 ABC
A good gimmick can really make a pitch stand out from the rest on "Shark Tank," and Christian Schauf and Mike Escamilla made an earth-shattering impression on their potential investors in Season 9. Entering the studio with confidence initially seemed like their presentation was going disastrously wrong before it even started.
As the guys introduced themselves to the sharks, a demonstration set of shelves suddenly started shaking, sending picture frames and vases crashing to the floor. The business tycoons looked perplexed, but it wasn't long before it became apparent that the mishap was part of the show, leading the pair neatly into their enthusiastic presentation for The Seventy2, a comprehensive all-in-one survival kit.
Hailing from Wisconsin, Schauf told the potential investors that he grew up on a farm and knew how to fend for himself outdoors, but a move to Los Angeles made him realize just how unprepared most people were for an emergency. This gave him the idea to design a survival kit, and the year before his appearance on "Shark Tank," he co-founded Uncharted Supply Co. and crowd-funded the development of The Seventy2 Survival System.
The name refers to the statistic that 95% of all survival situations are resolved within 72 hours and, as Schauf added persuasively, "What you do in those 72 hours can be the difference between life and death." It was a terrific intro to the pitch and an attention-grabbing hook, but would the sharks bite?
What happened to The Seventy2 on Shark Tank?
Having commanded the attention of the sharks from the get-go, Christian Schauf and Mike Escamilla asked for $100,000 in return for a 5% stake in their company. From the reveal, it was clear that The Seventy2 was a high-quality kit, with 35 items ranging from emergency ration packs to a wind-up combo flashlight, radio, and mobile phone charger, all packed neatly into a convenient and attractive backpack.
The duo struck a fine balance with their pitch, evoking fears of the unthinkable while keeping it professional and good-natured. They also made the smart move of handing out sample kits so the sharks could feel the quality and have a good look at all the survival tools inside. At $350, The Seventy2 came with a relatively high price tag for a peace-of-mind item that might never get used, but the sharks were impressed by the numbers and the assured presentation.
Nevertheless, Barbara Corcoran and Mark Cuban quickly stepped aside, leaving the bidding to the remaining three sharks. Robert Herjavec took the lead with an aggressive tactic, doubling both the figure and the equity to $200,000 for a 10% cut, but demanded an answer before they could hear any counter-offers. Lori Greiner tried to cut in with her offer, but Herjavec pushed his deal over the line and shook hands with the founders before she could make herself heard.
The Seventy2 after Shark Tank
The Seventy2 was doing okay for sales before appearing on "Shark Tank," but Robert Herjavec's investment helped Christian Schauf, Mike Escamilla, and Uncharted Supply Co. to become an even greater success. With products stocked in over 200 retail stores, the company has significantly expanded its range from clothing to The Basecamp, a survival kit for four people that comes in a "nearly indestructible" box. In keeping with The Seventy2's promise to offer what you need in an emergency, the company website is similarly comprehensive, with an excellent blog offering survival tips for a range of natural disasters and recommendations for essential gear produced by other manufacturers.
By June 2022, the company was turning over an annual revenue of $1 million, and its products had developed a reputation for quality, boasting a 4.9-star rating out of five from almost 1,300 customer reviews. A range of Uncharted products have received glowing recommendations from various outdoor websites, and the company's reliable reputation has helped it secure deals to supply governments and security agencies around the globe. 
The company is still going strong today. Schauf is a regular face on Instagram, where regular posts and videos offer product demonstrations, survival tips, and endorsements. In an uncertain world where natural disasters are unfortunately on the rise, it's reassuring to know that Schauf and Uncharted take survival so seriously.