How To Easily Prepare For Your First RV Road Trip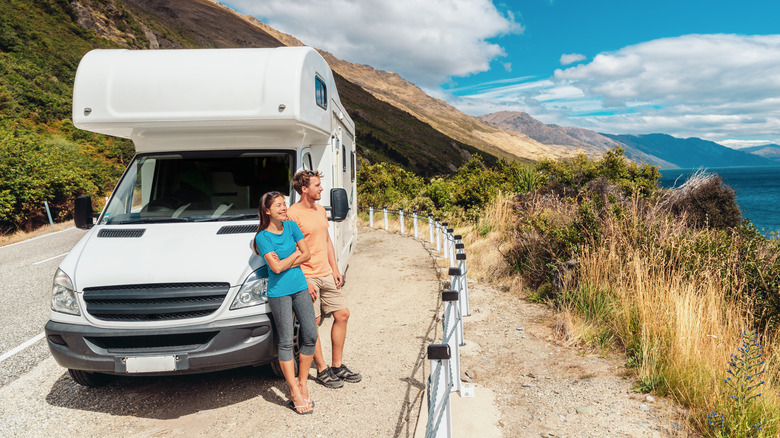 Maridav/Shutterstock
RV road trips are exciting, but preparing for them can be intimidating. If it's your first time, the process can be especially anxiety-inducing. You might be used to tagging along for the ride, only worrying about your suitcase and snacks. However, when you're the driver or owner of the RV, your responsibilities increase dramatically. Along with packing your personal luggage, you'll also need to ensure the RV is intact and ready to go, filled with gas, packed with cooking and lodging essentials, etc ... There are plenty of details you'll need to consider to help ensure a smooth trip.
Before you even pack your RV, though, you need to also plan for the trip itself. Otherwise, you'll be more prone to make amateur road trip mistakes. Where are you going? When will you go? How long will it take? Where will you stop? The questions go on. In many cases, RV trips require much more planning than road trips in cars. Luckily, there are a few simple tips that'll help you prepare your RV for a road trip and plan a route with RV-specific considerations in mind.
Planning RV-friendly routes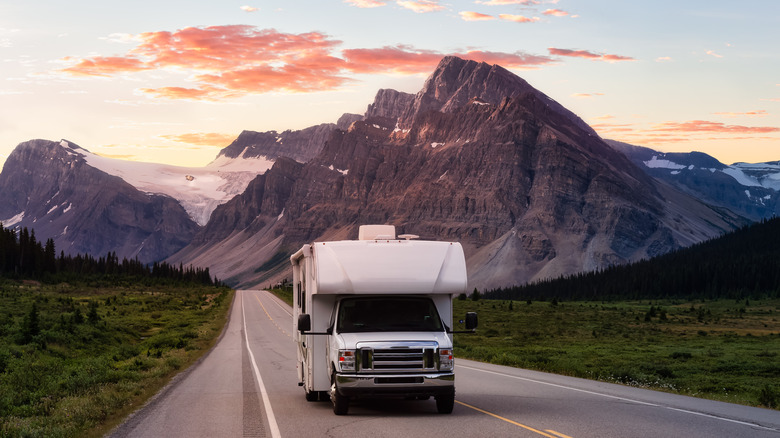 EB Adventure Photography/Shutterstock
Parking (or lack thereof) may be one of the biggest differences between an RV adventure and a regular road trip. If you're going to a campsite, make sure to reserve a spot in advance to avoid scrambling to find one upon arrival. Apps like Campendium make it easy to find and book campsites. Next, plan your travel days. When figuring out how far you'll go each day, consider the 2-2-2 or 3-3-3 RV road trip rule. You drive 200 miles, arrive by 2 p.m., and stay for two nights. For the 3-3-3 rule, you drive 300 miles, arrive by 3 p.m., and stay for three nights at the site. These methods are great if you're going on a cross-country road trip.
Once you've determined the destination and about how long it'll take you to get there, you can figure out how you'll get there. This is when you'll need to be mindful of the size of your RV. While it sounds simple, new RV drivers tend to forget about the sheer size of their vehicle. You'll need to consider low-clearance bridges and tunnels, as well as steep gradients on mountain climbs, to ensure you plan an RV-friendly route. Fortunately, apps like RV Life Trip Wizard and Roadtrippers Plus can help you plan. 
Packing and preparation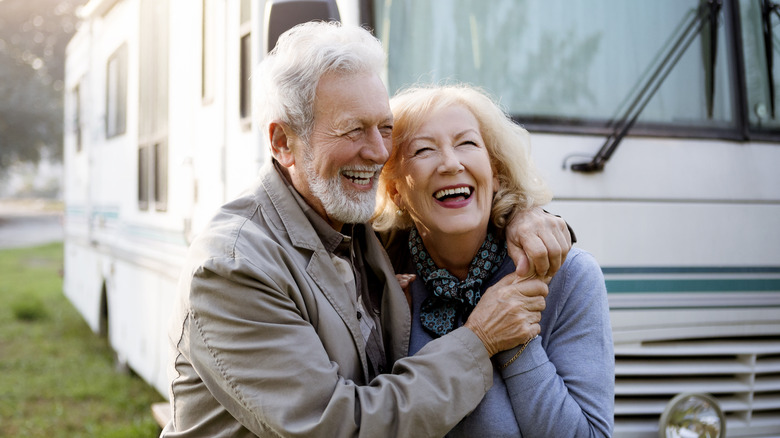 Nastasic/Getty Images
When it comes to packing for your next RV road trip, you'll need to consider every aspect of your home on wheels, from food and kitchen supplies to bathroom cleaners and backup electricity sources. Although it can be overwhelming, breaking your packing list into sections can help. For example, start off with the kitchen. Think about what you normally use in the kitchen, write it down, and check it off the list as you pack it away. Do the same for the bathroom and bedrooms.
After considering the basic necessities for travelers, you'll need to ensure you've packed RV essentials for maintenance, upkeep, and emergencies. Do you have your jumper cables? Leveling blocks? Backup black tank chemicals? Remember, you'll be able to grab toiletries on the road, but forgetting your emergency roadside kit will be more consequential — especially when you're in a situation of needing it. When it comes to successful RV road trips, planning the right routes, reserving parking in advance, and packing wisely are the pillars of preparation.